A Kingston lecturer has developed an app which offers smokers a fun way to stick to their new year's resolution of giving up the habit.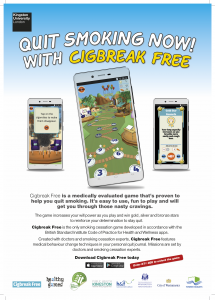 Cigbreak Free is the UK's first smoking cessation app that operates a game mode that sees players destroy cigarettes in return for reward points.
Hope Carton, who lectures part-time in computer Games Creation and Games Design, said: "The app idea grew out of our total commitment to making games in the science, engineering and computing faculty at Kingston.
"We're just putting the finishing touches on our latest version and want lots of smokers to download it and try it."
Carton, who is also the maker of the global hit video game Tomb Raider IV: The Last Revelation, developed the app idea in 2013 with the support from a medical team from St Mary's University and the NHS trust.
"Over the three years' development we have continually upgraded and improved the app and each step has been tested and trialled with smokers," said Carton.
The current version of the app is still under construction but the team behind the game are looking for Kingston students to participate in a study which will commence 1 January, 2017.
To participate in the study: Search for Cigbreak Free on your Iphone or Android phone store and download it. When asked for your log-in details, enter the KU post-code: KT1 2EE