Solo artist and former One Direction star, Louis Tomlinson played to Kingston Pryzm in February where he performed only four songs from his debut album walls.
The set lasted less than 25 minutes, and he was on stage for less than an hour after previously answering fan questions put to him by Radio1 DJ Jack Saunders.
During the Q&A, Tomlinson was keen to highlight the importance of the four years he spent working on his solo album since the hiatus One Direction took in 2015.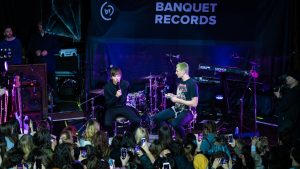 "This is what I've been working my whole solo career towards," he said.
Tomlinson was chatty about his album, and the processes he took when creating songs and videos, and emphasised how he enjoys having a role in the major decisions making.
"I'm interested in every part of the creative. I don't want anything to happen without me being like 'yeah it looks really cool'.
"What's been nice about that process, is not necessarily something I got to do in One Direction, really getting involved in the video, being able to sit back and watch it and see how it all comes out," he said.
He explained his process and how he has had to learn to trust himself more when making decisions.
Tomlinson said: "I think at least half of this writing process was me developing and working on exactly what it was I should be doing.
"I think more than anything over that time, I got a better understanding over what I wanted to make but more than anything, I got more confident in trusting my gut."
He spoke about how he developed the sound that became the album Walls, and how he wanted to "follow his heart".
"I basically put out this statement about wanting to follow my heart instead of following the radio.
"I had a lot of conversations around those weeks, and I was feeling good about the people I was chatting to and the things that they were saying so around the time I put that out, it was a real kind of breakthrough moment for me, I felt really good about it."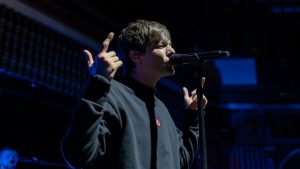 His album focuses on deeply personal matters such as falling in love too young and coping with the death of his mum.
To encapsulate the feelings and level of detail he felt in these situations, Tomlinson said he emulated the way Amy Winehouse would write her songs.
"Normally I'm working off memory, and the best thing to do about that is, if I feel like there is something that happened in my life that's interesting or a concept that I've just come up with, I'll try and write in my notes about that idea.
"Obviously, it's not lyrics, it's more of a story, and that's kind of the start of it.
"I've always been amazed at the level of detail of Amy Winehouse. She would have things happen to her, and she would note down what she could see, what she could smell, everything about it, and I thought that the level of detail was genius.
"I think as much detail as you can fill in lyrically, the more relatable it feels," he said.
Tomlinson thanked his fans repeatedly for how well the album had been received between the four songs he played after the Q&A.
He began his extremely short set with Don't Let It Break Your Heart, followed by Made It, then Too Young before concluding with his personal favourite song and lyrics on the album, title track Walls.
He said: "One [lyric] that I'm always drawn to, it opens and closes walls, 'Nothing wakes you up like wakin' up alone'."
Tomlinson also shared a secret from his time as part of One Direction, saying his band-mates Niall Horan and Harry Styles were the reason one video ended up being different from how it had been imagined.
Drag Me Down was supposed to be filmed in zero gravity but Tomlinson shared with a laugh that Horan and Styles were too afraid.
His album Walls is out now on all major platforms and tickets for his upcoming world tour can be bought from his website.