The final week of love island has been and gone, and we have only got one show until we have to face our boring, mundane lives again.
What could possibly fill this void? Hopefully, we will not be waiting too long for the summer edition of our favourite trash reality show. Tribute to Caroline Flack
Monday's episode started with a Voiceover from presenter Iain Stirling making a tribute to his friend and co-presenter Caroline Flack. He said some beautiful words as he spoke over the scenery of waves and mountains and the show started without the theme song.
— Love Island (@LoveIsland) February 17, 2020
The Just Eat adverts were also replaced by the Be Kind campaign inspired by the death of Flack. Noticeably missing from the episode was Stirling's loud Scottish voice and sharp tongue as the crew paid their respects.
Baby challenge!
Once again, viewers were graced with the gift of watching the islanders try to take care of fake babies. This challenge is always entertaining, and we get an insight into what our islanders would be like as parents.
We discovered that Jamie, Ched and Callum are great single dads, Mike and Priscilla are the perfect parents and Luke T and Siânnise were robbed. How did they fail that challenge?
https://twitter.com/LoveIsland/status/1229899680462577664
Jamie was especially funny in this challenge as he failed to put the brakes on the pram, sending it hurtling into the pool, then later stated that the baby had no feelings "just like his mum" Natalia, who said she "doesn't trust the baby".
Double dumping
After the baby challenge, couples had to vote on who they thought was the least compatible couple and unsurprisingly, every couple was voted for apart from audience favourites, Siânnise and Luke T, and Paige and Finn.
In the end, it was Natalia and Jamie (no surprise there) who were voted off first. Natalia made it painfully obvious that Jamie is not the one for her, so I doubt they will meet up on the outside.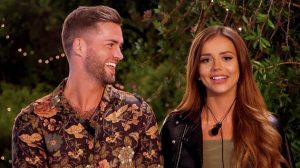 Next to leave was Molly and Callum. This seemed to shake up the villa as Callum was one of two original male islanders left, but I am hopeful that this couple could make things work on the outside.
Final dates
The final five couples then embarked on their final dates of the series. Each date was unique and romantic, and all couples spoke about their futures together as Mike and Priscilla became boyfriend and girlfriend, Paige and Finn spoke about moving in together, and Siânnise and Luke T dropped the L bomb.
Jess and Ched also became exclusive, and Demi and Luke M planned future dates and spoke about travelling together. They all seemed to become stronger after their dates, and you could definitely feel the love in the villa.
Our hearts could not help but melt at all these adorable couples, and this may be one of the first series where all the remaining couples can actually see a future together.
Talent show
Where do we even start with this… We saw dancing, guitar-playing, singing, drumming and quizzing but it was the choreographed jazzercise routine by Jess and Ched that won the talent show and ultimately- a night in the hideaway.
Personally, I thought Finn should have won.
The perfect man doesn't exi– #LoveIsland pic.twitter.com/zGEhD61wtP

— Love Island (@LoveIsland) February 20, 2020
Meet the parents
Another staple of Love Island, this episode is always highly emotional and sweet. It was lovely to see all the islanders parents come in and greet their children as well as meeting their kids other half. All the parents seemed to get on with the couples, and Luke T's mum even said that she "loves" Siânnise!
https://twitter.com/harrymassonnn/status/1231220639387865088
Even Jess's somewhat forgotten twin Eve turned up to have a catch up with her sister and meet Ched. It was unusual to see Jess back with her sister after weeks apart.
Unfortunately, not every couple can make it to the final, so one couple was booted out on Friday night. Priscilla and Mike were the latest couple to leave, but at least they are going together as boyfriend and girlfriend.
Final four
Jess & Ched – These two are lovable, funny and a great match. I am hopeful that this could work on the outside as they seem to bounce off each other, especially after they won the talent show.
Demi & Luke M –Perhaps the most smiley couple to ever grace the villa, these two cuties won over viewers after realising their feelings for each other. Their date was romantic, and they keep growing.
Paige & Finn –The longest-running couple in the villa, these two had an instant connection when hunky Finn entered the villa. They have had many ups and downs, but they are perfect for each other, and we expect them to last on the outside.
Siânnise & Luke T –Probably twitter's favourite couple, these two bring joy, laughter and entertainment to the show. Like Paige and Finn, they have had their ups and downs, but they solidified their title of the best couple after THAT dance routine in the talent show.
What is in store for our last four couples? Who will leave with £50,000? Who will stay together when they get back to the UK? All I can say is that I will miss these gorgeous couples when the show finishes.