Friends and family have paid tribute to a Kingston student who was killed in a car accident.
Charlotte Staplehurst, 21, was a third year pharmaceutical science student who was killed in horrific car accident after a night out with her boyfriend and his friend.
When they left, Charlotte returned to the pub because she had forgotten something and in a rush to get back to her friends "the worst happened" and she was tragically hit by a motorist.
Paramedics fought for 50 minutes before Charlotte was pronounced dead at the scene outside the Royal Oak pub on Coombe Road in New Malden.
Her mother, Tracy, told The River: "I can honestly say Charlotte was one of life's givers. She grew up to be a beautiful young woman and saw the beauty in everyone just by being who they were.
"We will always miss her smile and infectious laugh and she will forever leave a void in our hearts."
Her mother also spoke about her "real talent" in the field of science and her aspiration to pursue a career in medicine where her passion was to help find a cure for cancer.
Other friends and family described Charlotte to be a "kind and loving" character with an "infectious smile" that brought happiness to everyone who knew her.
Her close friend from Kingston University, Farah Jawad, 21, said that Charlotte had a "heart of gold" and was the kind of friend that looked out for everyone and made sure they were happy and content.
"When Charlotte loved, she loved so passionately with every inch of her whether that was her friends, family, music, a hobby," she said.
"She had a smile and laughter so contagious to anyone around her. She touched so many lives and will be missed dearly by myself and by so many others. Charlotte will forever have a special place in my heart and I was so honoured to call her my best friend.
"Our friendship grew and blossomed into something so special.
"We were always there for each other, through the good and the bad. Always supporting one another, confiding in every aspect of our lives."
Shortly after her death, Charlotte's boyfriend Harry Foster, 20, said: "She of course meant the absolute world.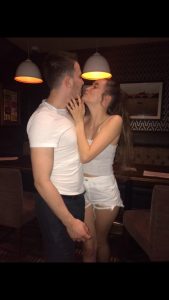 "Charlotte loved socialising, seeing her friends, eating out, having fun, clubbing, she loved festivals and her music and travelling, there's just so much.
"As much as she loved going out it was perfect when it was us just hanging out and just being in each other's company. We had so so many laughs and good times it's hard to remember them all."
Others said that Charlotte always put others before herself and had a beautiful selfless nature no matter who it was or what the problem may be.
Charlotte's funeral was held in her hometown in Eastbourne, East Sussex.
Among the mourners were her friends from home and university who travelled hours to pay their respects.
She had a love for dance and house music and the song Only the Innocent by one of her favourite artists Wilkinson was played at her funeral.
At the funeral, one of Charlotte's friends read the quote: "Heaven only takes the best, I'm so sorry it had to be you."
Maxine, Charlotte's younger sister, wrote a reading for the funeral that was read by a close friend as she was unable to speak.
Maxine wrote: "Charlotte was not only my sister but my best friend.
"We always spoke about how much she got up to and I'm glad she had such a full 21 years and I thank all her friends which she loved and cared for so deeply, Charlotte I will never forget you and will always love you more than anything in the world."
Her personal tutor and chemistry professor Dr Ian Beadham said: "Charlotte was a pleasure to have taught and I send my sincerest condolences to all of her friends and family."
Police arrested a 27-year-old on suspicion of death by dangerous driving but the driver was later released under investigation.