South Western Railway (SWR) has been operating on a temporary reduced timetable since January 17, impacting thousands of commuting KU students.
The affected routes include the Waterloo to Alton and Waterloo to Basingstoke services which are being reduced to hourly. Both stop at Surbiton which is the closest train station to the University's Penrhyn Road and Knights' Park campuses.
Communication and Graphic Design student, Ariana Ares is one of the many commuting students whose journey will be affected.
She said: "I live in Wimbledon which is not far from my campus but it takes an an hour to get to school everyday and that is with the SWR train on its regular schedule."
"Sometimes I have to wait up to 30 minutes for a train as [there are fewer trains when I finish my lessons] which is already frustrating so I can't even begin to imagine how the reduced timetable is going to start affecting my journey," she continues.
The disruption is caused by the spread of the Covid-19 Omicron variant, which has result in staff absences, leading to sudden train cancellations during peak hours.
Haider Razzaq, a KU architecture student is also feeling the negative effects of SWR's reduced service.
He said: "I live in Stratford and I commute to Kingston and it's difficult to get to uni on time because trains aren't available, leaving me waiting.
"The change in the train timetable makes it harder for me to get to lessons on time which could affect the quality of my education."
SWR said that the new timetable is sufficient due to the current guidance to work from home and will prioritise key workers and students.
It said the provisional timetable will be closely monitored and advise customers should check their journey as close to their time of travel as possible.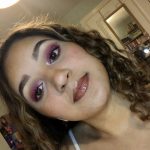 She/Her
Third-year journalism student at Kingston University
I like to write about sustainability, social issues, feminism and pop culture.