A number of taxi drivers from main cities such as London, Paris and Rio protested this summer, claiming the expanding taxi company Uber is putting them out of work. But surely there's a reason for this? What's so great about Uber that city folk are leaving black cabs in the past?
If you've never used Uber, you might be thinking 'why on earth is someone so bothered about a taxi firm? Surely they're all the same? You just ring up at pre-drinks and spend ten minutes asking the man who is far more sober than you for a taxi for four people? (Followed by calling him back five minutes later once you remember you are in fact with seven people thus will need a bigger taxi)
Well, it's now far easier than this. You can now feel like the rich, suited up, painfully suave business men who casually order a private taxi at 3am whilst you're trying to find your dignity somewhere in Soho.
Welcome to the modern, sophisticated and digital world of Uber. Below are ten reasons why you should use the firm:
1) The price – Despite the fact Uber is private car service used in main cities (yes, Kingston makes the London cut) it is still cheaper than most other taxis.
2) Safety – no more having to ring your mum (who is four hours away so can't help you in an emergency anyway) at 3am because you've gotten a taxi home alone after losing all your friends. The Uber app allows you to see who your driver is, what car they are driving, and their number plate before they even turn up. You can then match this to the car, to ensure it is an Uber authorized vehicle. On top of this, all Uber drivers have ratings out of 5, which have been assessed by previous users. I personally tend to cancel on any driver who is rated below 4 (which is very rare) just to be on the safe side.
3) You can request your own AUX lead – just in case your inner DJ forgot to play one last song request at pre drinks, you can plug in your own music during the journey.
4) Some rides are totally free – every so often Uber offers a promotion such as 'suggest Uber to a friend and here is £20 worth of free rides!' – I once got from Surbiton to Liverpool Street Station for only £6.50 with Uber, which is far cheaper than any form of public transport.
5)No need to carry cash on you – the Uber app is linked to your credit/debit card, so when the journey is over you can thank the driver and leave without the awkward 'I think I've dropped a pound on the floor sorry!' as you run to your front door.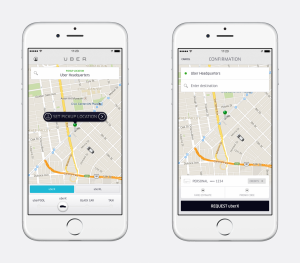 6)You can save your home address to your account – you don't even have to tell the driver where you're going because they already can already see on their own accounts.
7)You can share your estimated time of arrival with a friend (or your mum) – this automatically sends a text message to your chosen contact, so they can track your entire journey on a digital map.
8)You set up the pick up location when requesting an Uber – no phones call involved at all the. Most smart phones have a location service button you will need to switch on. The nearest Uber car will then pick up you up from your exact location: the map shows you how close the car is to you.
9)You will receive an 'Uber receipt' at the end of your journey – so you know how much you have spent to the exact penny.
10) The next day – you don't have to worry about the heart-sinking feeling when you wake up at 11am with the worlds worst hangover and realise your wallet is chilling in the back seat of last nights taxi. You can simply ring the driver or Uber and they will know which car you were in so it is almost a guarantee they can return your belongings.