After Ed Sheeran's tattoo artist admits singer's ink is s**t, Stefania Dall'Armi meets with five KU students to find out why they do regret their hasty choices.
Have you ever thought to get a colourful penguin Pingu or a Heinz Ketchup label inked on your body?
This may not be a natural decision for you, but it is for the English pop star Ed Sheeran, who has over 60 tattoos and counting.
However, his tattooist Kevin Paul, 40, does not think it the same way. Last week, he told the The Sun that working with the musician has been one of the best and worse things to happen to his career.
Tattoos are more than 6,000 years old and always used around the globe with particular cultural characteristics. In Japan, for example, they are symbols of protection, in South Africa, their complexity reflects the social status of a person and in New Zealand, Maori art expresses strong spiritual meanings.
However, it is the Western World that beats the records of the inked population, says a recent survey conducted by Dalia. Tattoos have quickly moved to the mainstream and the UK is in the top ten most tattooed nations, 40 per cent of the population has some body art. Tattoos may seem like a good idea at the time but as a study made by Advanced Dermatology reveals, almost half of those who have tattoos later regret them.
The same survey also shows that the main causes of regret are: impulsiveness, the too original style and poor quality.
I wanted to discover if KU students' concerns relate to these three categories and after some funny and awkward conversations, I could not agree more.
Every tattoo tells a story, but do we want to hear it?
NO SOONER SAID THAN DONE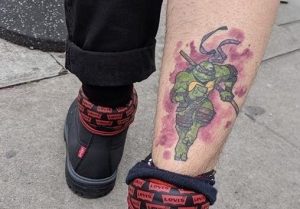 "I believe tattoos don't need to have a meaning and one should get one on impulse at least once or twice," says Cyber-Security and Computer Forensics student, Filipa Hristova. But? I ask. There is always a but. "Last year, I was watching a season of Teenage Mutant Ninja Turtles," she continues. "When I finished it I did a Buzz Feed quiz on which ninja turtle I was. It said Donatello so I was like 'alright I feel like getting another tattoo'. I called to book and it turned out it could happen the same day. So I just went and got it. Again I don't regret that decision, I just regret I made him with colour because it doesn't fit with my black/red theme."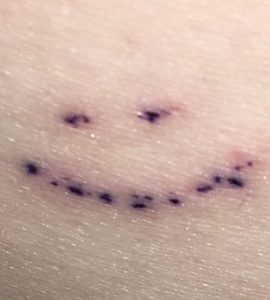 Maddie Fleetwood, Biomedical Science student, has a rather more romantic story to tell me. Once she went on a date with a guy from the same university and could not wait till the next day to get a proper couple tattoo. "We were very very drunk," she clarifies. "We decided to do sticks and poke smiley faces on each other's legs. Although, we used biro and sewing needles so now I have an oddly shaped half-smile scar on my tight."
TOO QUIRKY
If you want something too elaborate, most sure you will end up regretting it, or at least part of it.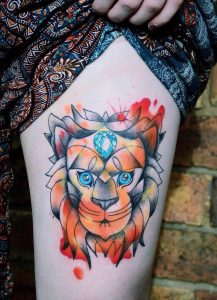 Catherine Poole, Journalism student, cannot pass unnoticed. "All my tattoos are in colour," she explains. "I am very rarely wearing dark clothing and I also want my tattoos to stand out." At this point, I wasn't even surprised when she admitted to like Ed Sheeran's colourful ink. She had a five-inch black and white lion tattooed on her thigh, "but it wasn't me," she adds. So she had the brilliant idea to colour it up with watercolours. This technique is quite researched as need particular skill by the artists but they always have a strong visual impact. "My lion tattoo is a watercolour and there is a red splurge that's low down on my thigh away from the tattoo so whenever I wear a skirt, the lion is hidden but this red splodge isn't which always leads to awkward questions," she explains laughing.
IT WAS A REAL BOTCH-UP!
Stephanye Spagola, Sports Nutrition student, looks like the perfect personal trainer: fit, smiling and, of course, with a dozen tattoos. The only one she regrets was oddly made in one of the most paradisiacal places in the world. "I went on a trip with my boyfriend in Thailand. Everything was as beautiful as in paradise. Also, everyone that goes to Thailand gets a tattoo done, so we knew what to do," she explains.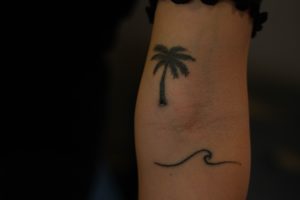 "Me and my boyfriend decided to get a traditional bamboo inked together, but the guy that did his was a different one. At the end his tattoo was good but mine was very bad. The lines were all mess up and I had to go back there the next day. The guy did it again but the ink exploded in my skin, ruining the whole thing!" Steph is removing it now, maybe she will do another palm tattoo in the future, "but not in Thailand, for sure," she adds.
Italian Nutrition student Greta Baldini, tells me about her first "young and stupid" tattoo. What does it say? I ask. "Do I have to say it? It was a quote from a song of an English group. Some people believe in God. I believe in music. Some people pray. I turn up the radio. The problem was not really how the tattoo looked like, but the fact that they misspelt believe twice. So when I moved to London I was very ashamed about it and I decided to do a cover-up. The worse thing is I asked for help from my mum, which advised me to go to a 'very good artist'. Never trust your parents when it comes to tattoos. I did not see it until it was done. The job was a real botch-up! It was very painful and at the end, I just wanted to set myself on fire!" She shows it to me. It is as a flower, maybe a lotus made with classic Japanese style and very bright colours. But, the worse thing is you can still see the writings underneath!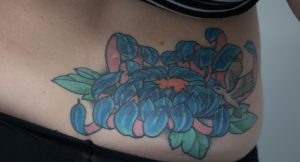 Perhaps, Ed Sheeran, thanks to his Heinz logo tattoo could create a new "X Heinz" bottle limited edition this summer. Perhaps Johnny Depp had a bright idea to change the tattoo of his former wife's name Winona Rider to Wine Forever. But perhaps the only thing everyone else not so rich and famous could do, looking back at their awkward scars and ink, is remembering why they got them for a laugh.