A KU graduate's from-zero-to-hero story of his early years in comedy has inspired a big-budget film which was released in the UK on DVD last week.
Stand-up comedian James Mullinger, 38, has come a long way since his first ever gig in a Caribbean bar in Shoreditch in 2005.
He is now selling out stadium arenas in Canada and had his life's story turned into a £3.5m film 'The Comedian's Guide to Survival', directed by British director, writer and designer Mark Murphy.
"It is weird to watch a film being shot where an actor is recreating things that happened to you just a few years ago," said Mullinger, who also makes a cameo in the film released October 31.
"But this isn't a biopic. It doesn't stick rigidly to the truth.  It's about the difficult open mic years when I had a day job and worked all day and then gigged all over the UK, bombing most of the time."
In 'The Comedian's Guide to Survival' he is portrayed by 'The Inbetweeners' actor, James Buckley, who stars among well-known comedians such as Jimmy Carr, Omid Djalili, Mike Wilmot, Gina Yashere and Luisa Omielan.

The official trailer for The Comedian's Guide to survival    credit: James Mullinger
The comedian found his years at Kingston University life-changing and inspirational and referred to them as the time he managed to build confidence and started believing in himself thanks to his lecturers.
Mullinger said auditioning for RADA (Kingston's Really Amateur Dramatics Association) and getting a part in a production of 'Habeas Corpus' by Alan Bennett was the experience that pushed him towards comedy.
"I was very nervous on the big stage but loved getting laughs in my role as the breast inspector," said Mullinger. "And needless to say, writing essays and journalism for the university newspaper – then called 'Rhubarb' – definitely helped me get in to journalism. Kingston is a great university and I will always be grateful for what it did for me."
After graduating from KU in English Literature and Women's Studies in 2000, Mullinger spent 15 years working as comedy editor for GQ magazine, ten of which he was also doing gigs after work.
Journalist by day, comedian by night, he worked extremely hard, dreaming of becoming one of the comedians he interviewed for the magazine.
"The time that I was performing and working was insane," said Mullinger. "There was a period when my eldest son was born that I was waking up at 4am to film links for a TV show I hosted before getting in to GQ at 9am.
"Then at lunchtime filming interviews with Hollywood stars for the show, then at 5.30pm after finishing work running to the train station to take a train to Birmingham, and spending that time writing scripts or material, to do a gig before arriving home at 1am. Then three hours later getting up to do it all again. That's what it takes to make it happen."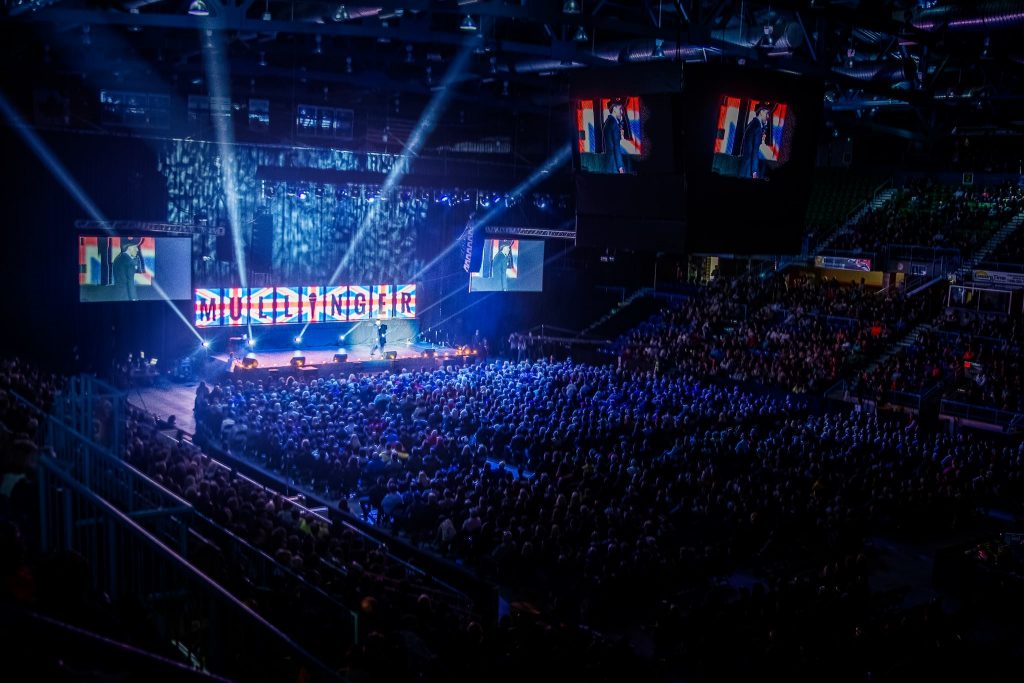 Comedy was going so well for Mullinger he decided to leave GQ and move with his family to Canada.
In April this year, he sold out Saint John's Harbour Station Stadium Arena in Canada outselling Iron Maiden, Alice Cooper and Guns N' Roses when they played the same venue as well as beating one of his idols Jerry Seinfeld's sales record for the venue.
"My act has completely changed since moving to Canada. I am a fish out of water there, which is a dream for a comedian so my act is pretty much all about this," said Mullinger.