The new MacBook Pro is finally here. Apple has not redesigned the MacBook Pro since 2010, and it is long overdue. The new 13-inch MacBook Pro has a new processor and display technology, is a slimmer, lighter design, and has Touch Bar and Touch ID. But just how good is it?
Design and build quality:
The new MacBook Pro's design and build quality is a class of its own. There are no other brands that can compete against Apple in terms of build quality. The new MacBook is slimmer, lighter and it also comes in Space Grey. The entire laptop feels solid and well made.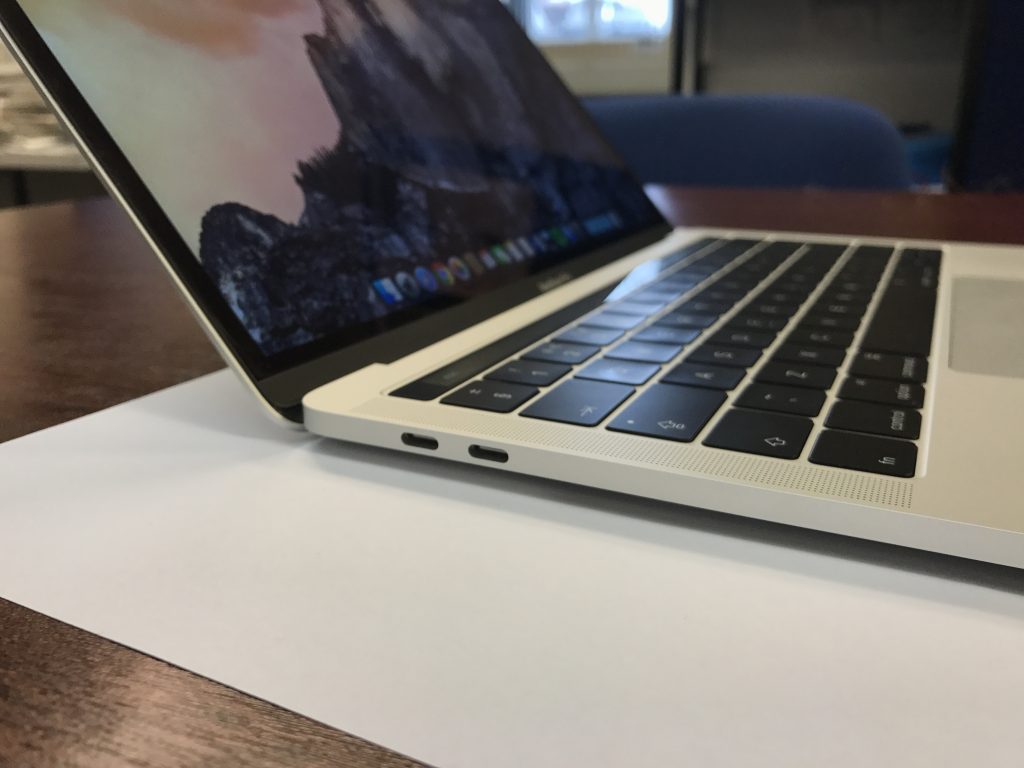 Screen:
This model has a 13.3-inch 2,560x 1,600-pixel IPS Retina display. The resolution is the same as the previous 2015 model, but it has DCI-P3 wider colour gamut. This means it can display many more colours than previous MacBook, and it is currently the only laptop to have a DCI-P3 display. The screen is much brighter than the previous models, so it is possible to use outdoor. The viewing angles are equally excellent. It is the best screen currently on a laptop.
The Touch Bar and Touch ID:
The Touch Bar is "app aware", meaning that it will change depending on which app the user is using. For example, watching a YouTube video in Safari will display the video time bar so the user can scroll through. Using Final Cut Pro will have the scene timeline so the user can change scenes quickly. Right now, the Touch Bar is a little premature because only a few apps support the feature.  However, this will change when more apps become available.
The MacBook also has Touch ID, which is the same one found in the new iPhone 7s. It is lightning fast and it always works. It is now possible to login without typing a password and pay using Apple Pay.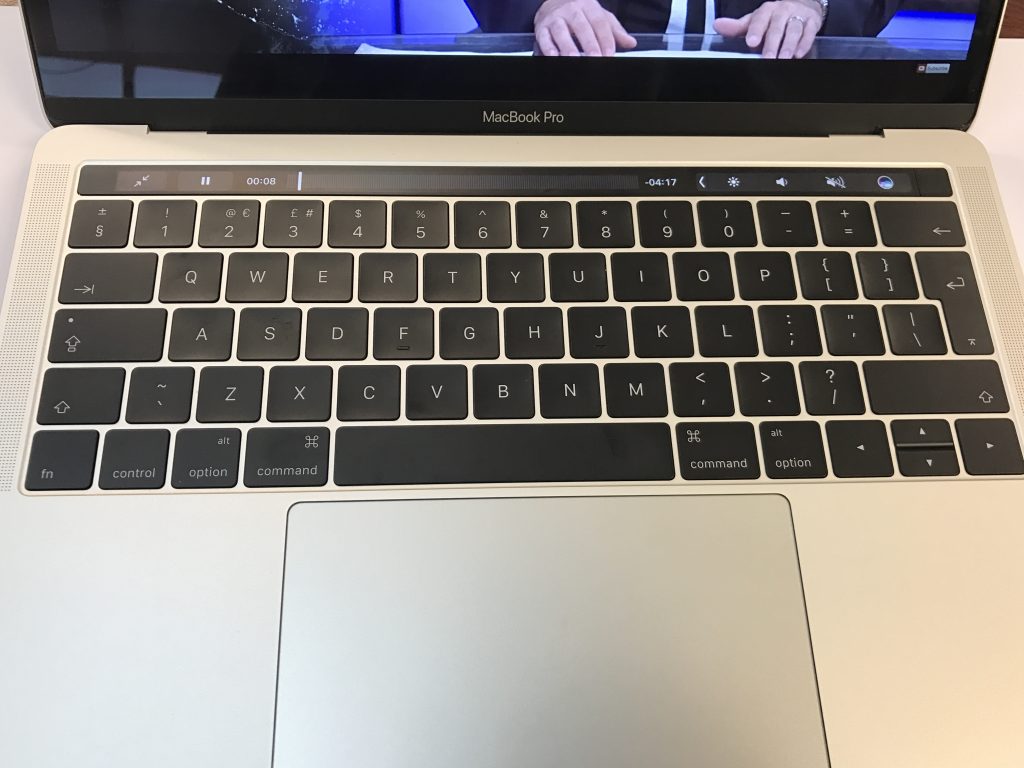 Performance – CPU, GPU and SSD:
This model has an Intel i5-6267U 2.9GHz dual core CPU which can boost up to 3.1GHz. The performance is basically the same as the previous generation 13-inch Retina MacBook Pro. There is not much noticeable improvement here. The CPU holds up well against everyday tasks like browsing the web and writing on Microsoft Word. However, editing 4K video in Final Cut Pro will slow the laptop down.
The MacBook Pro has integrated Intel Iris Graphics 550 GPU, which performs roughly the same as previous 13-inch MacBook Pro. Since the graphics card is integrated, the graphics performance is weak. It is possible do some light video effects work but nothing too intensive. It is also possible to play low graphics intensive games but not high-end games.
The speed of the HDD is always over looked by consumers. Many consumers do not know that CPU speed is not everything when it comes to every day speed of a computer.  A PC can have a super-fast CPU but it will perform slowly if it has slow HDD. The new MacBook Pro has amazing lightning speed HDD. Apple said it has read speeds of 3.1 gigabytes per second, and write speeds of 2.2 gigabytes per second. This means it can transfer huge files within couple of seconds.
It comes with 8GB of RAM. Since MacOS Sierra is very memory efficient, there will not be any lag in every day to day use and even Photoshop runs fine. However, video editing or rendering will eat up the 8GB, so it is advisable to upgrade to 16GB when buying the laptop.
Keyboard and Trackpad:
The new MacBook Pro uses the new "Butterfly Mechanism" which was first introduced last year. However, it was not well received and users complained that it was too shallow and felt more like a click rather than a keyboard press. Apple improved on the design and it is a lot better than the previous one. The keys now have more depth and typing is an absolute joy. It is one of the best keyboard currently on a laptop.
It has the same Force Touch Trackpad as the previous MacBook Pro's but it is much bigger. The technology was introduced last year. It is hard to explain how the new trackpad works so it is best to watch the video below. MacBook's are known for having amazing trackpad and it is not different here. It works perfectly. There is also no need to worry about accidently touching the trackpad while typing as it has amazing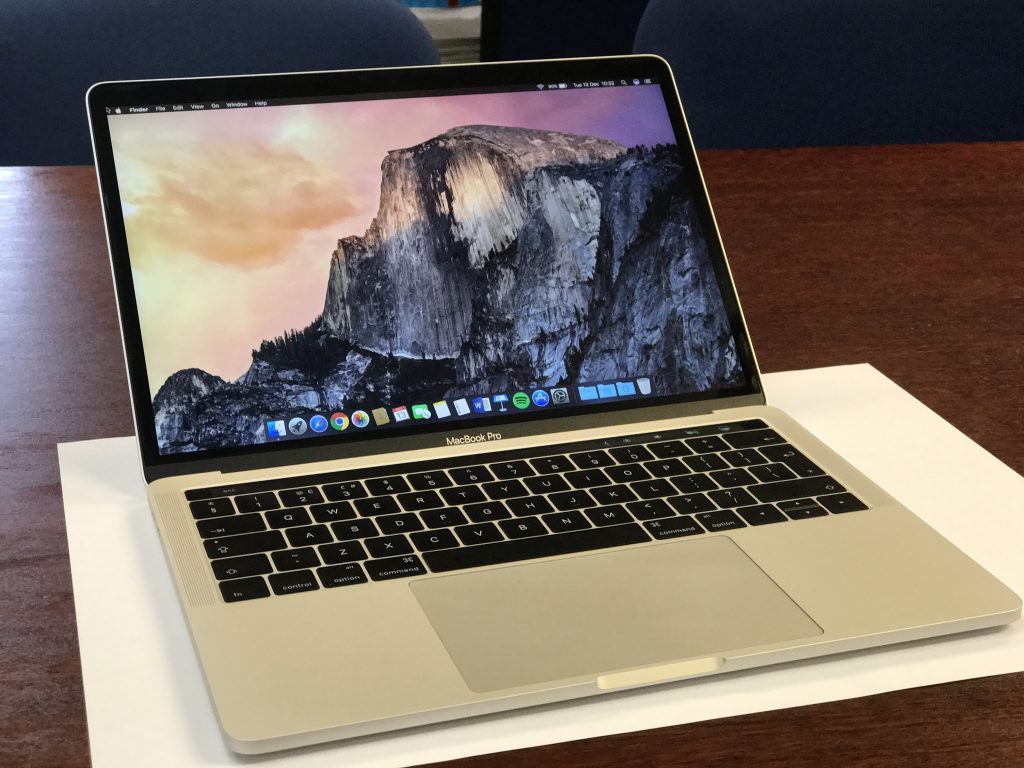 Battery life:
The battery life is lower than what it was advertised. On Apple's website, it is advertised as having up to 10 hours of battery life with. However, it lasted around 4-5 hours while browsing the internet on Safari, watching YouTube videos and writing on Microsoft Word with the medium brightness setting and Keyboard backlight turned off. This seem to be a huge downgrade from the previous MacBook Pro which lasted around 8 hours for me.
Ports:
There are now 4 USB Type-C ports, which combines Thunderbolt, HDMI and DisplayPort. There has been some controversy about buying lots of adaptors, but the only dongle you need buy is the SD card to USB-C. For everything else, you can buy new USB-C cables from Amazon. It also has a 3.5mm headphone jack.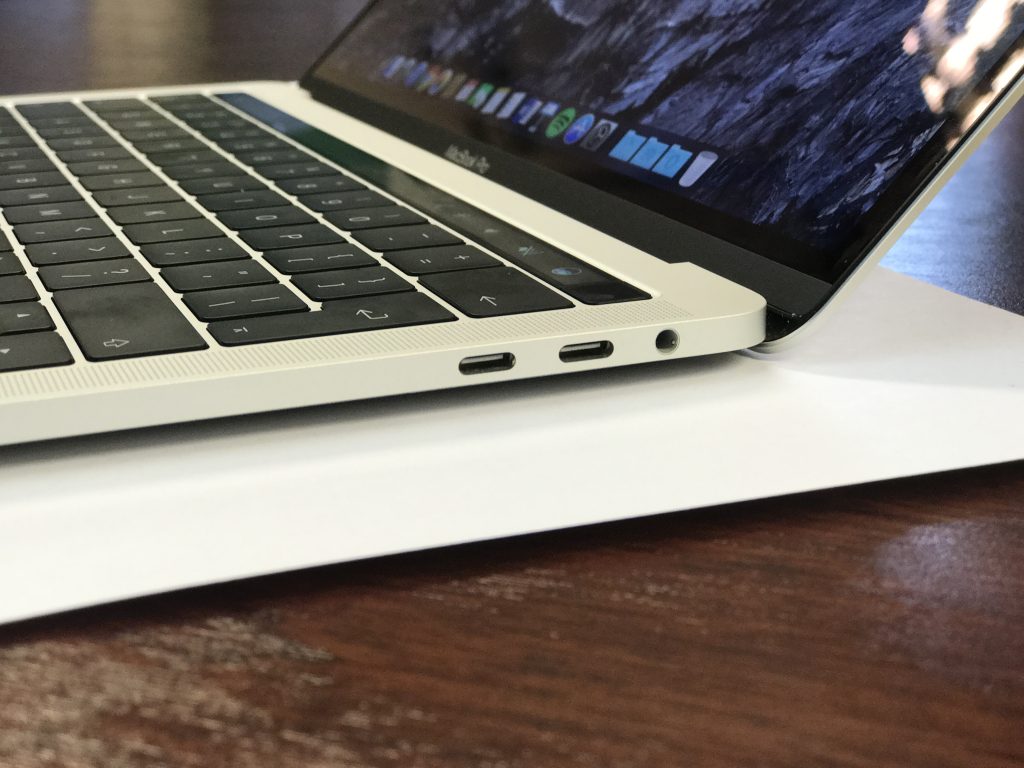 Audio:
The speakers have been hugely improved. It now has front facing speakers that are louder, clearer and have better bass than the previous 13-inch MacBook. The previous MacBook had speakers facing downwards and it can easily be blocked. You will not have that problem here.
Overall rating:
The 13-inch MacBook Pro gets 4 out of 5 and here is why:
Overall the new 13-inch MacBook Pro has really good features from the previous model. However, it costs £1,749.00 and the performance is basically the previous 13-inch MacBook Pro. If you have the last years MacBook Pro, there is no point in upgrading because the previous model is still good.
If you have an old laptop and want to upgrade, the new MacBook Pro will not disappointment.
The Good
Good build quality
Bright and colourful display
Excellent keyboard and trackpad
Fast SSD
Useful Touch Bar, and Touch ID
Bad:
Nearly the same performance as previous 13- inch MacBook Pro
Poor battery life
Very expensive