Good afternoon people of KU. Thanks for tuning in to today's live blog, which will focus on positive news.
The news agenda tends to be dominated by conflict, discontent and inequality, and it is no secret that this can lead to a feeling of overwhelm. That is why we want to dedicate this live blog to all the good things happening in our local area.
Stick around to learn more about the exciting things going on at the University and all the student achievements worth celebrating.
Goodbye from The River team

We are wrapping up our live blog, thank you for joining us today. Hopefully, you have used this as a reminder of all the good in the world.

Until next time… 

Comment: It's okay not to be okay

Credit: Pawel Krupiński

As the night draws to a close, and after 14 positive stories about KU up on the website, it is time we said goodnight. Remember, if daylight saving has been hard to adjust to and you feel your mood is lower than usual in the winter months, it is okay not to be okay.

Video: KU students help transform Kingston town centre

By Elijah Cruz

Photo: Elijah Cruz

Vacant units in Kingston town centre have been transformed by unique and vibrant artwork created by talented KU art students. In this video, Shareena Merzi from Kingston First talks about how the project came about and how it is constantly developing.

KU's latest Pick up a Pen event focuses on mental wellbeing and poetry

Author and poet, Cecilia Knapp. Photo: Hayley Madden

London's young poet laureate, Cecilia Knapp, took helm of Kingston's latest Pick up a Pen event as she attempts to show how poetry can be used to channel your innermost thoughts and create something beautiful.

Knapp, who is soon to become a first-time novelist, with the upcoming release of her book Little Boxes used her passion for poetry to guide students through the minutiae of their cluttered minds aiming to bring a feeling of catharsis.

KU students share their positive stories from the past week

Students celebrate the positives. Credits: Hava Kiani

What is the best news you have had this week? To highlight good news on a personal level, KU students have been sharing their stories of positivity.

KU Stylophone Orchestra releases long-awaited album

By Tara Rashica

Cello players in the string section of the orchestra. Photo: Rob Simmons on Unsplash.

After a year of hard work, Stylophone Orchestra's new album, which has been described as 'joyful, buzzy, queer and epic', is finally available for pre-order.

The orchestra, headed by KU lecturer Leah Kardos, was formed in January 2020, before the country was forced to go into lockdown.

Due to the Covid-19 pandemic, it meant the group was no longer able to rehearse together. "I didn't want the group to go on hiatus as I felt like we had only just started to get going. Thankfully everyone was up for a lockdown project," said Kardos.

Throughout 2020, the group worked on producing the album, looking at classic electronica that they could play.

Kardos said that while producing the album, they wanted to pay homage to the great electronic artists of the 20th century: "Wendy Carlos' amazing Switched on Bach, Vangelis' Blade Runner soundtrack… We had to include Space Oddity because it's the most famous song that features the stylophone."

Kardos' biggest aspiration for the project is that people will discover the record and enjoy the music. "I think if it goes well, we might have to plan another one for the future."

Stylophonika is available to pre-order either as a record/vinyl or as a digital album.

The wait is over! Adele is back

Adele performing on stage at Glastonbury Festival. Credits: Richard Isaac Shuttershock.

KU students have plenty of things to look forward to next week. For one, Adele is back and she is back with a new album titled 30.

Emergence of Levels of Self: KU philosophy student discusses her theory of consciousness

Pooja Soni. Photo: Diana Barber

In this interview, KU MA philosophy student, Pooja Soni, shares her experience as a published author of her book Emergence of Levels of Self: A New Theory of Consciousness and reveals what she is working on now.

"When you become one with the environment, the environment around you becomes self and those selfs try to control your actions."

KU's Town House is now open 24/7

By Eliza Wiredu

Town House. Photo: Dennis Gilbert

KU's landmark building, Town House on Penrhyn Road is now open to students for 24 hours a day as of this week.

This is good news for students as they prepare for their examinations and assessments.

Forensic science student, Madiya Farooq, said: "I feel like it's useful for people that live in and around the university, because they can actually use it. However, for people that commute, it wouldn't really help them because they would have to get home in the evening."

"It probably won't make a difference for me because I like to do like a nine-to-five study day and then just go home," said third year creative writing student Olivia Pearson. "But it's nice having the option there if you have deadlines."

Despite the mixed views, the extra hours will give students a better chance to boost their grades.

Get creative in lino printing greeting card workshop

By Jamelia Brown

Examples of Vanns' previous lino cards. Photo: @notmybeautifulhousekingston on Instagram. 

Kingston University alumni Emily Vanns will be hosting a lino printing workshop at Not My Beautiful House.

Vanns attended KU from 2011 to 2014, studied fine art, and has run lino printing workshops since 2019 with sessions that run for two hours to a full day.

At the workshop, you will be able to create and design your own greeting card and take it home with you when you have finished.

"Lino printing is great because it's easy to do at home or with limited space. It's suitable for people of all ages and there are so many ways to experiment with it," said Vanns.

"This particular workshop is a greeting card workshop focused on Christmas. However, if people want to create something less festive that's fine too."

When asked about the most important aspect of her workshop Vanns said: "Creating an inclusive and relaxed space for people to learn a new skill and socialise. I'm a big believer in creativity being really important for our wellbeing."

The workshop will be held at Not My Beautiful House, 19-23 Fife Road from 5-7pm today. Tickets cost £10 for KU students, £17 for general admission and all materials will be provided.

Check out Vanns' work which is available for purchase at @emilyvanns on Instagram.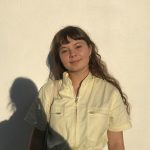 | News Editor | she/her
My areas of interest include LGBTQI issues, photography, and print journalism.