Christmas is the season of festivity so why not sit at home crying with laughter than getting emosh over your favourite Christmas films.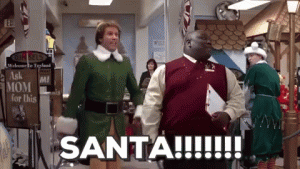 The American Christmas story sees little boy Buddy accidentally packaged to the North Pole, and then raised by Papa Elf and believe he is one, although he's a fully grown man and is told by the elves that he's human. He goes back to New York City to find his biological father. The iconic Will Ferrell spreads his Christmas cheer through the streets of New York, elf style.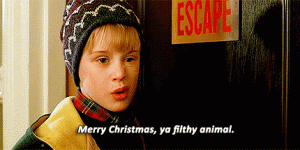 Kevin gets left behind by his family when they fly to Paris for their Christmas vacation. Initially, it's every kid's dream to have a huge house to themselves, but there are soon problems when two would-be burglars try to break into his home. This film is a classic Christmas comedy and it's hard not to laugh at Kevin's charm and his struggles of being a child but at the same time, a responsible adult because of his parents' absence.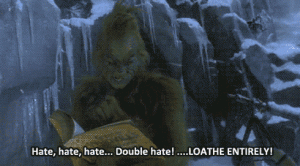 Dr. Seuss' How the Grinch Stole Christmas 2000
The film shows a revenge-seeking Grinch, who is the true definition of Bah Humbug, who plans ruining the Christmas holiday for the citizens of Whoville. Played by comedy legend Jim Carrey, the story shows a young Grinch bullied as a youngster because of his unusual appearance compared to the Whos (citizens of Whoville) at Christmas. You will find yourself watching this film every Christmas because there are moments where you can relate, no matter what age you are, you will always come back to the Grinch.

The night before 2015
The film follows Ethan (Joseph Gordon-Levitt), Isaac (Seth Rogen), and Chris (Anthony Mackie), a group of three friends, who wear fugly Christmas sweaters and go on their annual holiday tradition of partying the night away on Christmas Eve in New York City. It's full of stoner hijinks (Santa Claus is a drug dealer) and Christmas fun. It is an adult film that shows their transition into adulthood.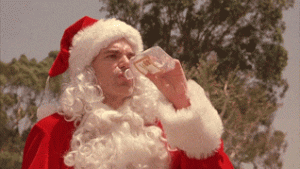 Bad Santa 2003
Full of traditional Christmas clichés and warmth making, this is a film full of cheer. Willie T. Stoke (Billy Bob Thornton) is a professional thief who disguises himself as a department store Santa Claus each year to pull off the perfect Christmas Eve Heist. His assistant, Marcus (Tony Cox), realises that Willie's alcohol addiction and sex addiction starts interfering with his heist duty. Willie is a parent's worst nightmare — he shows up drunk, has sex with store employees and pees himself — but this adds to his character and the humour of the film.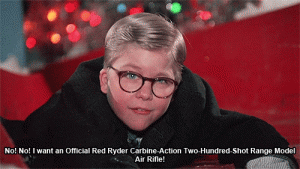 A Christmas story 1983
Based in the 1940s, a young boy named Ralphie tries to convince his parents, teacher, and Santa that a Red Ryder B.B gun is the perfect Christmas gift. He writes an essay about the gun at school and his teacher gives him a C+ with a note telling him he'll shoot his eye out and Santa has the same response. Ralphie fears that he'll never get the BB gun for Christmas, but there's a surprise in store for him. The film is an old but gold Christmas classic that is full interesting personalities.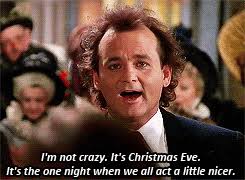 Scrooged 1998
A selfish T.V. executive Frank Cross (Bill Murray) is haunted by three spirits bearing lessons on Christmas Eve. He's visited by the ghosts of Christmas past, present and the future — the aim is to show Cross his inconsiderate ways through life and that, if he continues, it will have serious consequences. It's a classic Christmas favourite that will make you realise the true meaning of Christmas.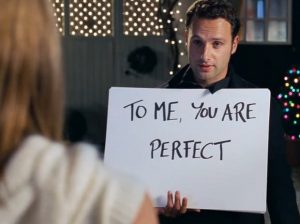 Love Actually 2003
Love Actually is a romantic comedy following the lives of eight different couples dealing with their love lives in different tales five weeks before Christmas in London. It's not your typical rom-com but has moments where you'll laugh and cry as it shows the problems couples face around the holidays and the warming romantic gestures give it an ultimate festive feel.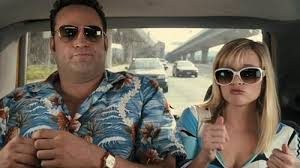 Four Christmases 2008
The film sees a couple struggling to visit all four of their divorced parents on Christmas, starring Vince Vaughn and Reese Witherspoon. Both come from dysfunctional families — siblings with out-of-control kids and divorced parents — so the two stray away from the idea of getting married or having kids. To try and avoid their families at Christmas they lie every year but there's no way of getting out of this one and travel to each family on Christmas day. Vaughn and Witherspoon work well and the different families have hilarious personalities.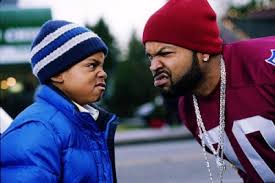 Are we there yet? 2005
Nick (Ice Cube), a young player, falls for single mother Suzanne (Nia Long) but doesn't worry about her two kids as he wants to be friends with benefits. This film shows a trip that Nick will never forget the kids challenge him because they believe no-one will ever be good enough for their mum. It could be the worst mistake of his life or the best way to win her heart. The best thing about the film is seeing playboy Ice Cube getting caught up and pranked by the kids, even ruining his brand new Lincoln Navigator, which is worth $72,000 dollars.