Cyclists dressed in Santa suits delivered presents to children at the Shooting Star Chase Hospice in Hampton for the fifth annual Njinga Santa Cycle on Saturday (December 2).
Shooting Star Chase is a charity that cares for children with life-limiting conditions and their families.
Riders were asked to bring unwrapped presents such as art materials, dolls and lego to place under the hospice's tree.
The event raised £3,000 in donations in 2016 and this year the charity aim to raise £5,000 through its Just Giving page.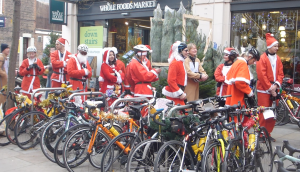 Ride captain Jane Adlam-Cook said: "The reception you get from staff and from the kids is absolutely amazing.
"When you see the tree, it's an absolutely massive tree just piled with presents for kids who just really deserve them, that's just brilliant."
Teacher Naheed Bashir was drawn to the event because she works with young children and felt the need to bring a smile to those who are less fortunate.
Bashir said: "My heart breaks when I hear that the other children are ill and are not able to do the things they love to do at Christmas."
Around 120 cyclists set off on the 18km circular route, which started at Whole Foods in Richmond Upon Thames at 8.30AM.
They were split into three groups led by ride captains dressed as reindeers and followed by support riders on motorbikes.
Some participants decorated their bikes with tinsel, fairylights and inflatable reindeers.