Scroll down to see a video of the event and interviews with our newly elected officers.
The voter turnout for the student election was at an all-time high this year, topping 20 per cent of the student population, according to the Union of Kingston Students (UKS).
The new Campus Officers, NUS Delegates and Student Trustees were announced at 5pm today, voted forward by approximately 3700 students.
"I am thrilled at the record breaking student voter turnout," said current Penhryn Road Officer Daisy Bow Du Toit, who was elected as Knights Park Officer for the next academic term.
"Although it is usually seen as a popularity contest, or just annoying to others, these positions have the power to shape the future of Kingston University."
The new Campus Officers are: Alayna Zangie for Penhryn Road, Petar Lachev for Kingston Hill, Daisy Bow Du Toit for Knights Park and Patrick Joseph for Roehampton Vale.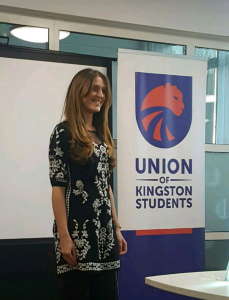 UKS Chief Executive Nick Posford said the voter turnout was of an all time high, more than double the 8 per cent best from 2015.
He said this was partially owed to a large number of candidates, 32 in total, who had worked hard to spread the Union's message during the past week.
"I think it will be a really exciting year," he said. "Whoever the student want we are always happy to work with.
"Our relationship with the university is really positive, and I think this will build on that."
One of the two new elects this year, Alayna Zangie, is already familiar with the inner workings of the union, being their current head of society and cultural representative.
"I feel overwhelmed, really overwhelmed," she said. "I think I've got to let it sink in that I've won.
"It's been a hectic week, but it's been worth it. I think we're going to bring some good changes to the union."
A total of 7 candidates competed for the Kingston Hill Officer position this year, backed by 2696 voters.
After the third round of recast votes was complete, Petar Lachev won with 1160 votes altogether.
"I worked so very, very hard, and I feel good," he said. "When I was younger I had a stutter, but I have done door-to-door sales in the past, which was much tougher. "
"I want students to be more involved in our union life. So I promise to work very, very hard every single day to make that happen."
Despite an unusually high number of candidates, only one of them, Patrick Tartarian, stepped forward to represent Roehampton Vale for the second year in a row.
His achievements from this year include introducing gender-neutral toilets to Penhryn Road campus.
"I was expecting to have more people running for [Roehampton Vale Officer] this year, but that didn't happen," he said.
"I am excited to start a new year. My main aim right now is just to get back to work."