The Kingston Men's Lacrosse team put the final touches on their pre-season with a strongly contested 6-2 defeat against Royal Holloway.
Kingston had the luxury of a large squad, quite unlike the majority of their debut season, made up of nine seniors and 15 freshers.
Vice-President Ben Murphy said: "It was a closely contested game with lots of chances for both teams but unfortunately we were unable to convert enough of them."
Improvements to make
Murphy, however, was very positive about the new additions to the team, mentioning that even the Royal Holloway seniors commented on how well Kingston's freshers did for their first game.
New boys Alex Parkhouse and Kasper Borys both got on the scoresheet for Kingston.
Parkhouse said: "I thought we did very well at times working the ball around and pulling the defence apart. There are still a few improvements we can make, like remembering to be calm when in possession and not rushing.
"But overall I thought it was a great opening game to get everyone back into the swing of the season and it tested all aspects of our game."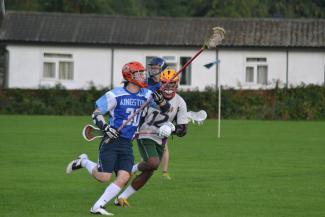 With only a few taster and training sessions under their belt, Kingston had to line up against Holloway with a brand new goalkeeper and a defender who missed the majority of last season with injuries.
Holloway took an early lead in the first quarter before Kasper Borys replied for Kingston, but Holloway would reinstate the lead with clinical finishing in front of some inexperienced Kingston defending.
Clinical finishing
A quick double in the second quarter for Holloway looked to put things to bed early as Kingston struggled to gain any rhythm to their attack and struggled with possession, before Alex Parkhouse rode two challenges to slot home a goal on his debut.
Kingston captain Keir Sweeney changed things up for the third quarter and put out his most senior team available but they were unable to find the breakthrough they needed, conceding the last two goals of the game in the third and fourth quarters respectively.
After the match Sweeney said: "I feel that the first pre-season match went really well, with a lot of determination and commitment from the freshers, which was great to see. Now we will focus on getting the new starters trained up and ready for our first competitive match against Hertfordshire."