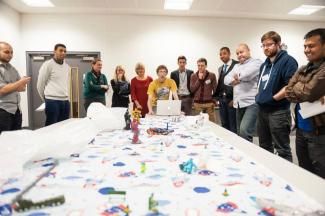 Three KU students have won prestigious places on a Software Engineering Graduate Training Programme run by Sky.
Third year students, Merrick Fox, BSc Games Technology; Brian Lewis, BSc Software Engineering; and Daniel Brown, BSc Computing with Business, all passed a number of assessments to earn themselves a place on BskyB's highly competitive scheme.
Brian Lewis, said: "Software development is exactly what I started university for; this is quite literally my dream job."
The KU Talent team supports all students in finding programmes like this as well as offering workshops for writing CVs and interview training.
Merrick Fox said: "The university arranged a Q+A with the head of the software engineering academy for us, and provided me with interview tips before my phone interview too."
This year Sky chose 16 out of 30 KU students who applied through the university career service, KU Talent, to take part in a remote technical assessment.
Opportunities
Sky came to the Penryhn Road campus for the last assessment which ran for five hours.
The students were given a brief to design and program a web interface for a remote controlled robot and at the end of the assessment they had to showcase their robots by controlling them across an assault course.
Fox, said: "It was quite hard work but I found my stride and settled into it pretty well. All the assessors were friendly and helpful too.
"Although I'm on a games development course, the games industry doesn't appeal to me right now, it's a volatile industry and I want to learn other aspects of software development anyway."
Last year, five Kingston University graduates were recruited by the programme. Conrad Langworthy, head of the BSkyB Software Academy said: "This is the first time the academy has run an assessment day on a university campus, but as a result is something we will definitely look to do more of."