Angie Bowie, glam rock queen, former wife to superstar David Bowie, Kingston University alumni and more recently, Celebrity Big Brother contestant, has a life that lends itself to some great stories. She is originally from Cyprus, but moved to America in her teens, leaving after having an affair with another girl at Connecticut College. She eventually studied economics and marketing at Kingston in 1967 aged just 16.
"By 1969, I should have graduated, but I had been moonlighting, going to Mercury Records with Calvin Mark Lee and Lou Reizner [close friends of David Bowie], because I wanted to make sure I could get a job in England and I never had to go back to the States," she says. But her time at Kingston did not spell out. "They said 'thank you for the lovely dissertation, you distinguished in that, but guess what? You can't graduate!'."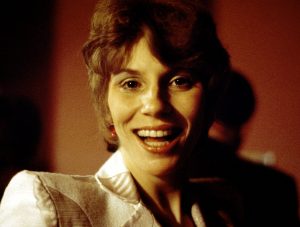 Her attendance was appalling, spending most of her time building connections with Lee, who would eventually introduce her to David Bowie in 1969, marrying in 1970. She fondly recalls her days at Kingston, specifically the entertainment committee and definitely nothing about her education. Her tone is whimsical and delighted when speaking about Kingston's musicians, saying: "Wonder World, Martha Brown, Marc Bolan [singer and guitarist for the rock band T-Rex], I mean it was fabulous".
"It was a wonderful place to be, very vibrant, very exciting. It was also something that was new, we were a new breed, we weren't the privileged bunch." But as ordinary as the Kingston Polytechnic students may have been, to be able to reminisce the days of hanging out with T-Rex, the pioneering 70's rock band whose hits such as Get It On and Hot Love led to them being on par with The Beatles in their heyday, hints to the incredible life she has had.
Her years at Kingston saw her develop her love for acting, starring in Oh! What A Lovely War, a satirical take on World War 1. "Whenever I think of those years, I think of Kingston, I think of the university, I think of Ewell Road, the fabulous bedsit I shared, and I remember it with such love and affection," she says. "At that time, we were very proud of being a redbrick polytechnic and it was extremely political."
"We supported the London School of Economics sit in – the president of the student union was my boyfriend, a friend and gentleman called Gary Morton and I worked PR for our support of their sit in."
"It was very important because the National Union of Students had a lot to say on what was a living grant for a student, and how it should not necessarily be a question of parents income." She adds, "So basically, they brought about radical change."
However, life after university was not at all what she had envisioned. "What I missed or what I didn't get from not getting a degree was totally irrelevant," she says. "The first job I got was in Whitmore Street doing the marketing for a gentleman who had pure silk scarves, and he chased me around the basement – I had to hit him with a bolt."
This ordeal led her to seeking a job in the marketing industry, but one where she felt safe. It resulted in her working for Mercury Records, the people behind glam rock and metal bands such as Bon Jovi and Kiss, but also Taylor Swift, The Killers and Iggy Azalea.
     But no one ever said to me, 'You know David's really sick? You know something could happen if you did Celebrity Big Brother?
"As an American in Europe with the qualifications that they required which was more languages than you could shake a stick at, and being able to go ahead and move around the area and do good work, that was interesting to me."
Another thing she is interested in is people, hence her appearance in 2016's Celebrity Big Brother. And nobody was more "gobsmacked" about David Bowie's death than Angie herself. She found out about David's death while she was in the Big Brother house, which led to the moment between Angie and Tiffany 'New York' Pollard, where she had mistaken this news to be about David Gest, and not David Bowie.
"To be honest with you the only thing that got my goat was that a couple of my friends who are journalists had hinted to me about David being ill."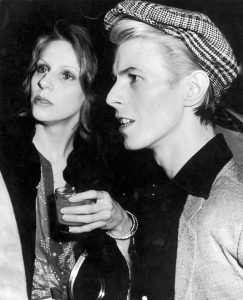 "But no one ever said to me, 'You know he's really sick? You know something could happen if you did this show?', no one said that."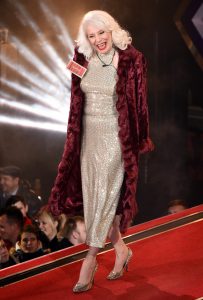 "I found it very hard with a straight face to say, after not seeing him for 30 years, how fucking upset I was, when in actual fact I knew he'd be up there laughing his ass off going, 'See Angie, I got the last laugh. You may be doing a TV show but, I'll take the headlight'." She adds, "It was all I could do to not burst out laughing."
She has a frank and honest attitude towards life. Her advice to Kingston University students is as simple as this: "I think getting a degree is fine, but if that's your main purpose as an economic indicator of what you're going to be able make later in life, then that is a load of bollocks".
"The college experience is what excites you and turns you on, getting a degree is a really good thing to do – and attending enough classes to
get the certificate!"
What excites her now is her writing. She has always been a writer, but when creating her 600-page book Pop Sex, a history of popular sexuality and its movements and changes. Angie felt she was writing something of importance. "I write like there's a voyage of discovery for a reader to come with me," she says with contentment in her voice. "I just thought that was interesting to bring it into the 20th and the 21st century's conversation, about the western world of sexuality."
The book was a success because she felt it allowed readers to look back on the history of sexuality and how activists wanted to change the characteristics of society if their sexuality was not accepted.
"To my surprise and my great happiness, all of the wonderful gay activists were able to finesse that into gay marriage becoming legal in a lot of places."
"Not that I'm particularly interested in people being able to get married because I think marriage is an antiquated institution, but in the question of health care and inheritance, it is essential that folks who are gay have access to the same privileges to people who are hetero."