Banquet Records manager is continuing his efforts to get Kingston residents and students to vote in the upcoming general elections.
Manager Jon Tolley, said: "Banquet won't tell people how to vote. Staff have differing opinions. But we're all agreed that in marginals such as Kingston, Esher and Wimbledon people should take part."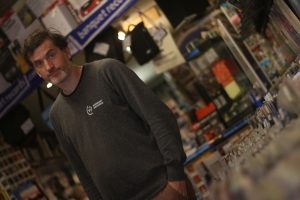 In early November a banner that read 'Register to Vote' and included the link to the government voter registration website spray-painted on it hung above the record shop for almost a day before Kingston Council received a complaint.
Tolley, who is also a Liberal Democrat councillor, has hung similar banners before, with no complaints, most recently for the 2017 General Election.
He said: "It's my take that younger people are always politically-minded but sometimes they're not involved in a political system.
The banner was moved to Pryzm and small posters were hung outside the shop. When Banquet Records' Twitter account tweeted that the banner had been taken down they again took the opportunity to share the link to the voter registration website.
This Friday Banquet Records tweeted a photoshopped photo of the 'Register to Vote' banner with the message whited out and replaced with a message advising people to find out where their polling stations were. This was also complained about.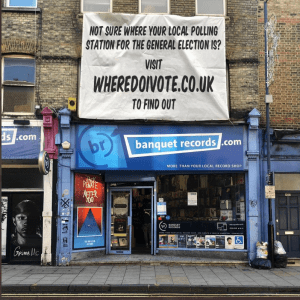 "That's the beauty of it," Tolley said, "Complaints about things that aren't even real."