4/5 stars
Known for their indie-pop style, Blossoms third album Foolish Loving Spaces sees them go down a different path as they experiment with groovy guitars, disco and electro-rock.
The five-piece from Stockport gained popularity in 2016 after releasing their colossal hit Charlemagne from their self-titled debut album.
Their newly released album showcases a joyous, gospel sound with lyrics exploring broken promises, therapy and ending relationships.
The first track, If You Think This Is Real Life, starts abruptly as frontman Tom Ogden sings over a synth piano.
Your Girlfriend is a groovy tune with soft moans of an electric guitar incorporated between verses.
The song is about the forbidden love of a friend's girlfriend and ends with a slow drum beat and the lyrics: "I heard they got engaged today."
Their third single, The Keeper, is piano-heavy with rhythmic yet subtle drums. It is an optimistic tune that gives a euphoric feeling when it gets to the chorus as Ogden explains he wants to "spend this life as one" with his lover.
My Swimming Brain has a cool, summer vibe to it, especially when paired with the harmonies of the backing vocals, even though the lyrics are about someone who cannot change.
For their latest project, Blossoms have delved into sounds similar to vintage alternative bands such as Talking Heads and Fleetwood Mac.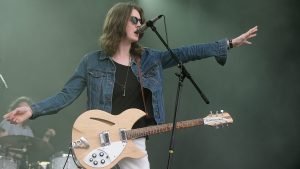 The band has previously dabbled into sounds of the 1980s by putting a fresh spin on David Bowie's Let's Dance at Reading Festival in 2019.
Sunday Was A Friend Of Mine emphasises that 1970s sound as it introduces a funky guitar, rhythmic bass and "ooh's" which adds to the smooth lead vocals.
The funky vibes continue through to track six Oh No (I Think I'm In Love) as this dance-like pop number is cheesy yet catchy with a repetitive chorus that will get stuck in your head.
"Come back, Oh come back babe" is the first line in seventh track Romance, Eh? It is slower than some of the other songs, but they keep their signature guitar and indie-synth sound with soppy and pitiful lyrics.
My Vacant Days is similar to the calm and sombre My Favourite Room from their debut album. The guitar is the only instrument heard until the one-minute mark, where a piano is introduced, creating a beautiful, melodic tune.
Their ninth track Falling For Someone sounds like a soundtrack to a teen flick from the 1980s as it emphasises that dreamlike daze of being in love.
The female backing vocals add to this as they sing: "Here I lay, lost in a moment, when will I wake up?"
The last song, Like Gravity, is unlike anything Blossoms have ever done. This electro-rock track has a guitar reminiscent of noughties rock bands, and the chorus is quite similar to The Strokes 2001 song, Hard To Explain.
Overall, this is the most ambitious Blossoms have been as the band continue to grow with every album produced.