A hat-trick from Kelvin Adjei was not enough to save a resilient Kingston from a 6-4 extra-time cup loss against University of East London's second team at Mabley Green on Wednesday.
Adjei scored three equalisers, two of them late in the contest, but his efforts were in vain as the clinical hosts survived several Kingston fightbacks to earn a quarter-final berth.
Adjei said: "I am happy I scored a hat-trick but I really do feel the game was up for grabs for us. I think we showed a lot of character, to go behind three times and then to come back in the game. We were unlucky."
Kingston found themselves on the back foot in the early stages of the South Eastern Conference Plate match and UEL, who had been dominant in possession, took the lead with a 15th minute volley.
KU then scored a quick-fire double; first Adjei finished off a well-worked team move in the 31st minute before forward Henry Awu gave Kingston the lead just three minutes later.
Goalkeeper Reece Harper kept the Cougars in front, going into the break with some fine saves but two minutes into the second half UEL scored a controversial leveller after the referee over-ruled the linesman's offside call.
Kingston, who were aggrieved after the referee's decision to allow UEL's equaliser, were left reeling when a stunning 25-yard volley and definite contender for the goal of the tournament gave the hosts a 3-2 lead, completing the turnaround.
Kingston captain Oscar McMillan said: "The decisions were weird ones, it is difficult but we cannot blame the result on refereeing decisions."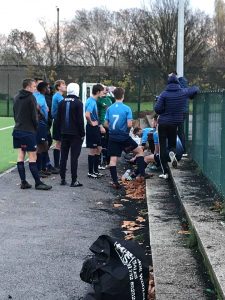 The Cougars were more infuriated when a 58th minute effort by Adjei was disallowed by the referee.
The away side controlled possession in the rest of the second half but struggled to fashion clear chances.
Kingston's work was finally rewarded when Adjei scored a second on the 87th minute and kept Kingston dreaming of a lengthy cup run to go with their solid start in the BUCS league.
Kingston made a slow start to the first period of extra time and fell behind once more in the 97th minute as UEL looked likely to cope with the demands of the extra half an hour of play.
It came as a surprise when the brave Kingston side found yet another equaliser, this time from a corner, with Adjei providing the finishing touch which sealed a stunning hat-trick.
UEL yet again showed the sort of quality that has helped them to first place in their South Eastern 4D league when they took a 5-4 lead before scoring a stunning free kick to make it 6-4 which sparked wild celebrations.
Kingston coach Besim Ali said: "Today we scored four goals, it shows we have got so much better at creating chances and the boys worked hard."
Kingston are knocked out of the cup but are still yet to lose in the league, recording one win and two draws so far to help them to third place.
Ali said: "This is our first loss of the season so we are still very enthusiastic about the league, our main goal is to try and get promoted. We have just got to keep the momentum going, keep training, keep playing and keep working hard for those three points."
Kingston, who are five points down from league leaders Royal Holloway but have played a game fewer, will return to league action next Wednesday at Berrylands against second place London School of Economics' third team.