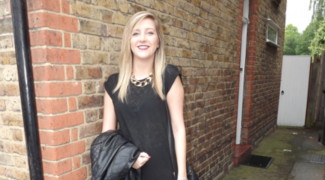 Kingston University is full of on trend students and lecturers and we are giving you a chance to shine and flaunt your best outfit. River Online were on the hunt again this week for Kingston's best dressed. Were you spotted?
Patterned Leggings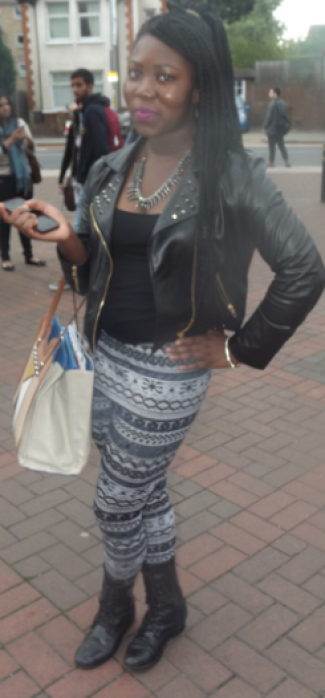 Name: Ade
Age: 21
First year pharmacy student
Jacket: Primark
Top: Primark
Leggings: New Look
Boots: New Look
Leggings are a wardrobe staple. They are a perfect 'go to' item and can be paired with almost anything. Wearing patterned leggings is a little more daring and it is best to keep the rest of the outfit plain so there isn't a clash of patterns. Here Ade has paired a dark jacket, top and boots to keep the outfit simple against the loud pattern. Adding a necklace makes sure the top half of the outfit isn't too dull.
Fashion tip: Pair patterned leggings with basics so the outfit isn't too overpowering
Tartan Trend

Name: Emily Hughes
Age: 20
Third year english language and journalism student
Top – New Look
Necklace – New Look
Leggings – Zara
Boots – Topshop
Jacket – Miss Selfridge
Bag – Primark
Tartan is back and it is huge this A/W 13 and can be seen in almost every high street store right now. Many celebrities have been spotted recently wearing the vibrant pattern including Rita Ora who was spotted in Paris last week in a tartan suit. Rita was seen wearing the jacket two days in a row…she is definitely showing us that tartan is a must have this season! Like Emily try wearing a dark lip as it is perfect for the Autumn.
Fashion tip: Add some leather to tartan for that edgy look
School Girl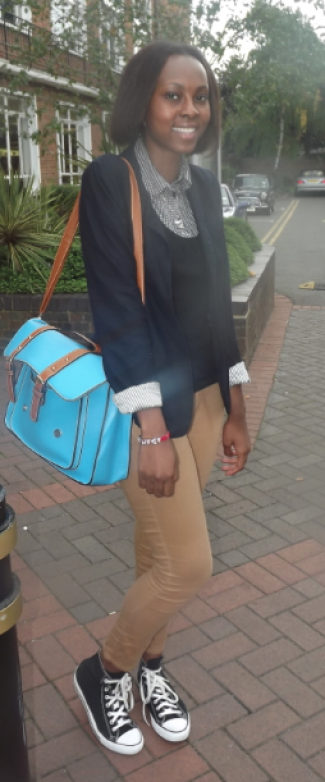 Name: Adama Morons
Age: 19
First year biomedical science student
Top – Primark
Blazer – Primark
Jeans – Peacocks
Converse – Office
Step back in time this Autumn as it's all about the school girl trend. A shirt, blazer and satchel are essential for the look. Rebel against the normal 'school girl' look and add chucks like Adama. The Viktor & Rolf SS14 catwalk was all about the school girl look too.
Fashion tip: Adding a colourful accessory can easily brighten an outfit without it being too over the top
Midi Skirt

Name: Jo Hakim
Age: 20
Third year journalism student
Top – New Look
Necklace – New Look
Jacket – Topshop
Skirt – Topshop
Satchel – Market
Converse – Office
Midi skirts have been huge this year and the trend is not going anywhere yet! They are a great item which can help transition an item between seasons. Pair with heels, flats, trainers or boots, midis are perfect for any style you want to rock. The midi skirt was a big hit at London Fashion Week so it looks like the trend will also be huge SS14. We better stock up!
Fashion tip: Seeing as the skirt covers up a lot of leg, it's acceptable to always wear midis with a crop!
Will you be spotted next week?