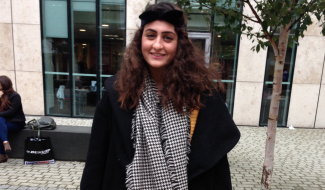 This week we are looking at how you can rock your plain old Winter essentials by taking inspiration from KU students we spotted on campus. You aren't featured this week? Better luck next time!
Midriff trend in Winter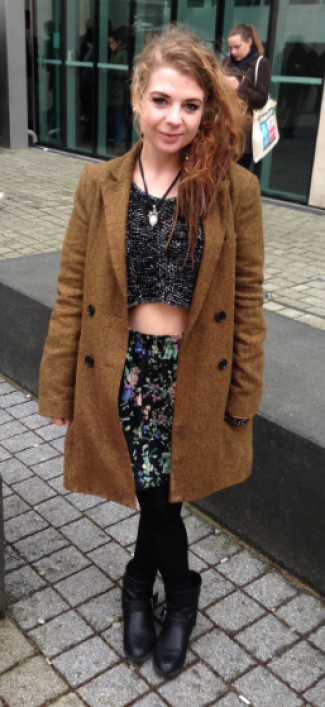 Name: Natalie
Age: 19
Second-year politics student
Coat: Topshop
Skirt: Silence and Noise from Urban Outfitters
Boots: New Look
The midriff trend has been popular for the past two summers and Natalie shows us there is not point stopping just because it's Winter! Natalie is wearing a cropped jumper, warm and stylish, and with her Topshop jacket she can easily cover herself up if she gets chilly.
Ellie Goulding was also seen on Italian XFactor showing off her midriff this weekend.
The trend is a great way to show off some skin but not over do it and feel too exposed. With a high waisted item of clothing, whether that be shorts, trousers or a skirt, it doesn't matter your shape or size. The midriff trend can suit everyone.
Fashion tip: Like Natalie wear a plain coloured top (or skirt) so you do not clash patterns.
Woolly Jumpers

Name: Aditi
Age: 18
First-year sociology and media student
Jumper: Bombay
Trousers: Hong Kong
Boots: Hong Kong
Obviously woolly jumpers are essential this time of year and now we have reached November the temperatures are continuing to drop. Try something different compared to a plain coloured jumper and go for something patterned for Aditi.
Jumpers are practical as well as stylish and can be worn with almost anything.
December will soon be here so why not look into getting a wacky Christmas woolly jumper?
Fashion tip: The darker your trousers the more vibrant the jumper, be daring!
Patterned Scarves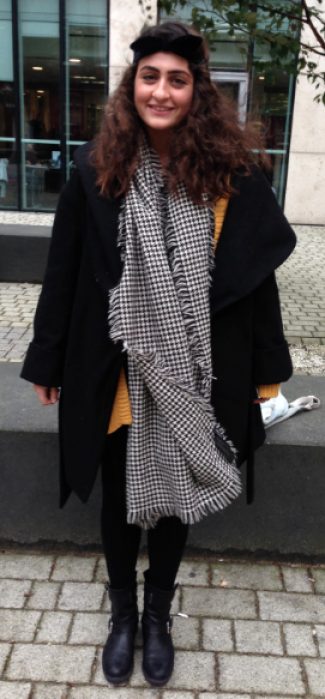 Name: Nour Bustami
Age: 19
Second-year psychology student
Coat: Zara
Scarf: Zara
Jumper: Forever 21
Boots: Zara
Headband: Topshop
Of course scarves are a must have every Winter but they don't need to be plain and boring. Why not try a patterned scarf to give your outfit a bit of colour if you are wearing mainly dark colours like Nour.
Wearing a headband is something different you can wear to add an alternative look to your outfit.
Fashion tip: If you are having a bad hair day and want to try something different, try a headband like this and create a updo with your hair.
Beanie Hats

Name: Grace Firmin
Age: 19
Second-year journalism student
Jacket: Vintage Levi
T-shirt: ASOS
Leggings: Topshop
Trainers: Adidas ZX800 via Offspring
Everyone seems to be going mad over the beanie hat trend at the moment. Right now you can buy a beanie in every colour with many different images and texts. Model Cara Delevingne is often spotted wearing hers so why not copy the trend? Grace has kept her beanie simple so it doesn't clash with her leggings.
This is the perfect example of the boyfriend trend with the beanie, oversized jacket, t-shirt and trainers.
As we have seen in past street style posts, oversized clothing for girls is a popular trend. Not only does it look great but it's perfect for layering and keeping warm this season.
Fashion tip: Keep the boyfriend trend feminine by adding something floral like Grace's leggings.
Look out for us around campus next week and stop being so shy as you could be here next time!