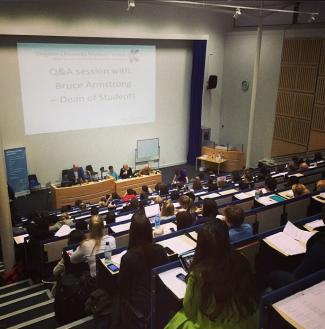 Kingston was the most recent university to join the nationwide campaign against The Sun's nude photographs, No More Page 3 at KUSU's annual general meeting.
KU will no longer be selling The Sun in KUSU stores after students agreed that the paper portrays women as sex objects.
Jess Falk, co-founder of the Gender and Sexuality Working Group at KUSU said: "It is KUSU policy now and we are the 29th univeristy to do it. I think many more will follow."
Other motions included the boycott of Starbucks which was passed as students felt like they were not consulted about the takeover of the cafe.
The company is considered unethical and a majority of students agreed that they no longer want Starbucks on campus.
Kingston University Dean of Students, Bruce Armstrong, attended the meeting for a question and answer session where he discussed other issues such as Wi-Fi on campus.
He said: "We will be rolling out new Wi-Fi in the first couple of months of the New Year. We will be focusing on student areas such as the LRC, cafes and lecture theatres and then staff areas.
"From the December 1 students will be able to download and install the MS Office suite on up to five devices. There has also been a discussion about putting Wi-Fi in halls and I think that's going to happen over the course of the next year as well."
With a great turnout, debate and discussion, the event was a success. Kingston University is also investing in more student social spaces and the new Wednesday timetabling policy allowing students to play sports should start next academic year.
A microwave on campus was another motion to move foward as not every student can buy meals and students can have the choice of heating up their food whilst on campus.