It is that time of year again, when Kingston is lit up with festive lights and the town is overflowing with stalls offering unique gifts and tasty food.
The Christmas lights were switched on at 6pm on November 17, and the town welcomed a brass band, carol singers and activities fit for the festive season.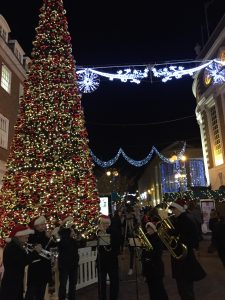 KU student Milly Gill, 21, said: "It's my favourite time of the year by far and it's great that Kingston makes a huge effort for it. It's the perfect place for students to go and enjoy to get away from the stress of university."
The town was crowded with merry people, and children clung to their parents with excitement as they counted down for Santa Claus to turn on the Christmas lights.
The festive lights stretch throughout Kingston town centre and light up the town, getting residents in the mood for Christmas and paving the way for the market.
The Christmas market is located at the Ancient Marketplace in the centre of Kingston, a square that stems back to the 1800s. It is the perfect place to get festive this year with all the history that the marketplace holds.
The Ancient Marketplace has been transformed into a festive wonderland, featuring chalets with different present ideas and handmade goods, many of which cannot be bought on the high street.
The annual Eden Craft Fair, at All Saints Parish Church, will also take its course and this year the council have surprised us with a new Alpine Village.
The market offers two large outdoor bar areas serving up steaming mugs of mulled wine along with classic German-style street food and entertainment that allows you to really soak up the festive atmosphere.
No matter how old you are you cannot deny the excitement and magic of Christmas, and this year the market is bigger and better than ever with stalls stretching through the surrounding streets of the market.
The market is open until New Year's Eve so it is time to get your hats and scarves on and venture into Kingston.