"It was one of the happiest moments of my life," recalls 27-year-old Kingston University student Ludovica Guerrieri, arriving for her first day at the Kingston Hill campus.
Known by her stage name SaintLudo, she arrived at Kingston University back in 2013 as an Erasmus student from Italy, and since receiving her degree in international economics, has begun her own record label Femme Culture. She became an artist manager and has had countless gigs across the UK as a female DJ.
"I remember being picked up in a coach from Heathrow which took us to Kingston Hill," she says. "I felt so empowered. Standing at the steps with my big suitcase, I thought to myself, 'this is the beginning of the rest of my life'."
Six years on, Ludo has had an exhilarating journey. Back before it all began, like most students, she was straight out of university and into a graduate job.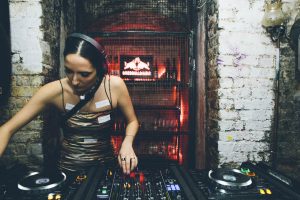 Her first job was in account management for advertising company Engine. Shortly after, Ludo left to work in PR but soon came to the conclusion that this also wasn't for her.
She decided to switch roles and became a marketer at a record label.
"My job was already shifting to becoming more creative," Ludo says.
It was during this time that Ludo decided to begin her own record label Femme Culture along with friend and artist Elka.
The label champions empowering women in the arts, showcasing women and the LGBTQ+ community in music.
"We've been releasing music since 2016 and won a Best of British Award in 2018 for Best Breakthrough Label. It's taken us abroad and been a social movement too."
As well as owning the label and DJing, Femme Culture has a show that airs on Foundation FM, a diversely led female radio station that showcases emerging underground talent within the music industry.
Ludo says: "Foundation FM has offered and built concrete opportunities for women – they got me my Wireless Festival set.
"For the whole day, I was jumping around. It was definitely a power move, and I was very proud of myself."
She continues: "It's so easy to forget that when you're having fun at a festival or a club that the person having such a great time pulsing those tunes to you and your friend's ears is actually at work.
"That's the beautiful thing about being a DJ. You can connect with people in real life and see their faces. You get to see how you're making them feel."
Through the fame, Ludo still puts her degree to use and has seen many ways that a degree that differs from her career path has had its benefits.
She says: "My degree prepared me for life, so it's still relevant today. Most things are powered by money, and it's taught me all about business, and how to approach my passion with a rational business mindset. I'm forever happy about having something to fall back on.
"A piece of advice I would give to my younger self would be to have taken my side hustle more seriously. I would have found a way to make more money to buy equipment then as opposed to after I graduated. I would have started this all earlier."
Ludo feels that an individual pursuing both academic and creative subjects can definitely be successful. Her advice: "It's up to you to decide how to dedicate your time."
Within music, women have progressed across many fields that are not restricted to dancing and singing. The female presence is becoming more recognised across the many different paths within the music industry.
"Now, there are more options for us," says Ludo. "Think of women in the music industry 20 years ago. Look at Skepta, for example. His manager is Grace Ladoja, a woman. We're killing it. We need to keep at it. We have empathy in our music."
Retrospectively, if there is one thing, we can learn from Ludo, it is that being an individual, true to yourself and what you are passionate about is the key to your success.
"I'm explicit and funny, and it has worked in my favour," she says.
"Things have gone so well for me because I'm not afraid to be myself. If I toned myself down, it would be different.
"It's good business. What's your selling point if you're not you?"