With Netflix failing, so far this season, to surprise us with something great, Boxing Day never looked so exciting.
SCORE 5/5
Little Women is the newest remake of an 1868 novel by Louisa May Alcott which, when only depending on the book or previous versions of the movie, would be appealing to a very selected audience of incredible romantics or classic loving women. But with the touch of cream of the crop, of the Hollywood actors and outstanding interpretation from the director, Greta Gerwig's, this movie about four middle-class sisters trying to make through their lives, feels like more than just a great holiday season movie. It highlights a very contemporary subject of women inequality movements and shows us that the patterns they are put in are usually very wrong.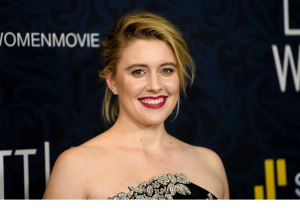 For those who are not familiar with a plot of the great novel by Alcott, mentioned even in the iconic production of the American series Friends, it is a story of March sisters and their coming-of-age struggle in the late 19th-century world, brought to life by Greta Gerwig in the flashbacks form rather than beginning to end timeline.
The first scene brings us right in the middle of one of the sister's life and does the trick by building the curiosity of the audience with the question, how did she get there? Gerwig makes sure, however, that the story is easy to follow distinguishing for us the past and present with different warmth of used colours and make it obvious which events we are witnessing.
The movie hook is all-star A-list cast. With the names like Laura Dern, Meryl Streep, Louis Garrel, James Norton, Tracy Letts and Chris Cooper, the poster of the movie will already look inviting. Some of them as contemporary attractive, they might look are not such a great choice. like Timothee Chalamet who plays Laurie. He works his magic as a boy next door but not necessarily fits great to the womanizer bachelor in Paris, give him a sandwich! Christian Bale who portrait Laurie in 1994 version would be a better option now as well, despite his age.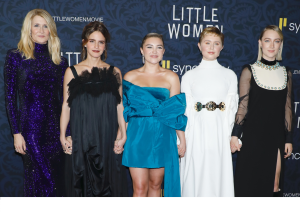 Then there are the sisters. Meg the oldest of them is played by, in theory perfectly fitted to the idea, Emma Watson. However, unfortunately, our beloved Bella/Hermione seems to be somehow too modern for that part and not that convincing with her acting skills. Maybe a feminist and admired activist side of Watson was too hard to hide while playing firstly splendour chasing and then very much family orientated Meg. Then there is Jo. the energetic young teacher/writer who shows us a true passion and motivation towards her goals, played by Saoirse Ronan, to whom we bow in admiration. Her way in expression and extremely convincing way of acting reminds of Meryl Streep in her early years. Beth is played by Eliza Scanlen, who, having an important place in the story, neither surprise or discourage. And last but definitely not least Amy played by Florence Pugh who gave her character whole new image and made us firstly dislike her but swiftly start to admire her awareness and determination. She proves that regardless of the acting experience you can create a very gripping role.
The newest ecranisation has a couple of improvements compared to the previous versions. The most obvious one is the music by Alexandre Desplat. It plays with the emotions and set the viewer in the right atmosphere rather than being a cheesy addition to a costume movie. Thank you, Hollywood! And then there is that little surprise from Gerwig, the use of special effects. Who would expect that the slow-motion is not exclusively reserved for Marvel movies? It does the trick and surprises.
If you are not hooked and curious about this movie by now, go and watch it anyway. Watch it if you read the book because it is great to see the alternative story timeline. Watch it if you have seen and love the previous versions, simply to see how it should be done from the beginning. Watch it if you never heard of a book or a movie because it is a painless introduction to the classic novel genre.
Greta Gerwig proved herself with Lady Bird. However, considering the type of movie she was working with, this time she has outdone herself. With the mix of modern touches to the movie all-star cast, which does the best they can or sometimes more and music for an additional motivation boost, she will please any audience. On top of that with the easy to follow plot the subject of gender inequality and assumptions of women role in life are visible for those who like to read between the lines. The movie shows that women position in society always had certain canons and maybe the job description changed slightly but each of the sisters can be a poster for certain group to which they are allowed to belong. Jo – career-obsessed, Meg – family orientated, Beth – free activist, Amy – no offence, gold-digger. But it will also prove how each of these allowed models, as in the past as now, is not all women wants or are.
Little Women is a movie which is pleasant for all, challenging for some and will make some others run home with a head full of the bright ideas for the future, but also with a light heart – that despite all struggles life always finds it ways. In cinemas in the UK cinemas from December 26 to enrich your holiday season.