Recent Kingston University pharmaceutical science graduate Jamal Dexter Dolor aka Chef Grizzy is a rising star in the London rap arena, and has released his first music video which is gaining thousands of views.The 25-year-old artist understands the value of education but decided to follow his life long passion: "Music was always plan A. Anything else is plan B, it is of course very important to have something to fall back on but as it goes, I'm very much enjoying my journey within music."
He started his lyrical adventure at ten-years-old, writing poetry and discovering rap music. "I recorded my first ever song when I was around 13/14 years old, fell in love with the craft ever since," he said.
When asked about his science background, a field opposite to the art he is so passionate about, he said: "To be fair I didn't really have too much of an interest in science until GSCE. There are a lot of promising career paths associated, in the event that music isn't always for me I have something to fall back on."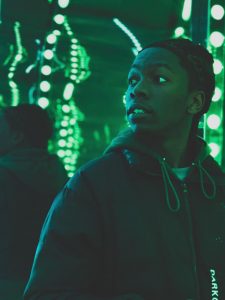 He also considers it the result of his character to choose his "plan B" career: "I remember telling one of my teachers I wanted to study something to do with pharmaceuticals and he laughed. Although I was being unrealistic, that was quite a driving factor [to begin the course]," Dolor said.
Regardless of his choice of study, he has a big faith in music and everyone who wants to get into the field, and acknowledges how unexpected it can be: "I believe that no one who truly has a love and passion for music has the idea of it going well as a primary thought," Dolor said.
"As time goes on and more people hear my stuff and tell me how much they like what I do, the idea of potentially making a career from it becomes more feasible," he added.
Dolor gives a lot of credit to his university adventure as it also helped him to develop as a person whilst helping his career: "Uni taught me a lot about people and myself there." Even if your dream is to pursue a music career but you're studying for one that is the opposite, Dolor proves you can still do both.
You can watch his first music video here.