The new action comedy Gringo is a mixed bag.[checklist][/checklist]
Directed by Nash Edgerton Gringo follows down-on-his-luck businessman Harold Soyinka (David Oyelowo) who is flown out to Mexico to deliver a new drug the company he works for has developed.
However, things quickly derail as he is kidnapped by members of a Mexican cartel when it is brought to light that his company used to supply the cartel with narcotics but recently cut them off.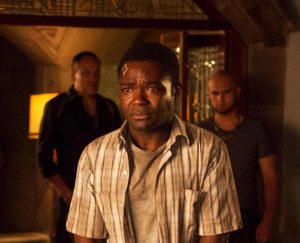 They decide to hold him for ransom unless the company continues to supply them so It is then up to Harold to escape Mexico and the cartel.
Although the plot of the film sounds incredibly serious, Gringo never takes itself too seriously, with comedic moments sprinkled throughout the film and plenty action scenes.
Gringo does attempt to take a few risks which occasionally pay off but most of the time fall flat.
Gringo feels very similar to the stoner comedies of the early 2000s like the old Harold and Kumar films.
This becomes clear when you discover that the drug the main character is delivering is a "weed pill" and his company is trying to cash in on the medical marijuana industry.
In terms of comedy Gringo has plenty of laugh out loud moments but be warned, most of the film's funniest moments have been used in the trailer.
This is another instance where a film has already told the audience what to expect.
Gringo would be much more enjoyable going into it having not watched the trailer beforehand.
The cast all do a great job in this film, with big names like Joel Edgerton and Charlize Theron taking on the roles of the two most dislikeable office bosses ever.
All in all, Gringo is an entertaining film, it's got plenty of laughs even if some of the comedy falls flat at times.
There's a good mix of action and tension that will keep you on the edge of your seat.
The only issue is that there's nothing that sets this film apart from your average action comedy.
At the end of the day, it is not a very memorable film or something that you are going to find yourself itching to watch again.
Gringo hit the cinema on March 9 2018.
The River gives the movie three out of five stars.