After the birth of his daughter comes John Legend's next bundle of joy, his sixth studio album. As expected, Darkness and Light is lyrically romantic and we would not want it any other way. Love Me Now trails closely behind his biggest hit, All Of Me, which came out of 2013's Love in the Future, but details love for his baby daughter, Luna, as well as his wife. Its uplifting tempos sway it towards a loose and bouncy digest of R&B but thankfully this does not overthrow the importance of family and love that the track demands.
Legend creates a sense of urgency from the get-go. He opens the album with I Know Better, in which he addresses himself regularly through self-validation, and over the piano backdrop he recognises the mistakes he has made in the past.
Elsewhere, Legend offers a collaboration with rap artist Chance The Rapper in Penthouse Floor. This funk-ridden track boasts a breathy delivery from Legend where he is ambitious to soak up the city, and enjoy what he can from a penthouse suite.  The track delivers a fun groove but we see a more socially conscious Legend when Chance The Rapper enjoys life from the top but admits that "your other folk" still enjoy life from the bottom. He then gets racially abused and then is pushed to his death from the balcony.
Whilst a smooth Legend oozes charm in Penthouse Floor, title track, Darkness and Light, which follows is frantic and desperate. It begins with imagery of fire and ice, expressed by Legend in a vulnerable high pitch, to present the idea of a man and woman colliding and then eventually melting into one. The track then quickly escalates into a bizarre duet with Brittany Howard for the chorus.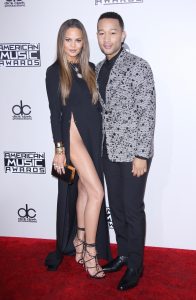 On paper, a John Legend and Miguel duet would seem too good to be true for those dreaming of a male only, heart melting, soft, R&B record. In reality, it's magical. Track five contains three minutes of the sweet-sounding pair, who appear to reflect on the relationship between Legend and his wife, model Chrissy Teigen, who still continue to love each other, regardless of the distractions that their careers bring.
The melody of Temporarily Painless is satisfying and although there are rushes of electronic interruptions, Legend's pace and rhyming gives it a cool, hip-hop feel, something that was needed by track nine. Legend manages to shine the light on every shade of pain that is explored in his romantically driven album. An uplifting 12-track collection to remind you that happiness can still be found in a bleak world.