Kingston Hospital Trust's maternity service has been rated the best performing in London by the Care Quality Commission's National Maternity Survey 2021.
In the survey, 242 respondents rated their antenatal care, the experience of birth and postnatal care.
The response rate was 66 per cent, higher than the average trust response of 53 per cent.
Lisa Ncube, a KU nursing graduate who completed her training at Kingston Hospital, agrees with the praise the service has received.
"The first few weeks [of my training] were a bit nerve-wracking but the team were reassuring and walked me through their routine and let me find my own working routine instead of enforcing theirs.
"By training in a department that is highly ranked, it allows students to absorb the qualities that make it the best, so it's ingrained in them.
"It means each generation of new student nurses can be passed that knowledge and wisdom."
Simone Berkinshaw, 41, who has given birth to four children at Kingston Hospital was "so pleased and proud reading that Kingston Hospital Trust's maternity service was named the best in London.
"I cannot fault them on the service and care I received each time for antenatal care, labour and birth, as well as my postnatal, follow up."
Kingston Hospital Trust was rated the highest in many sections including staff caring for patients, care at home after birth and antenatal check-ups.
Berkinshaw had her first daughter in 2013 and was classed as high risk to due high blood pressure.
"Because of this, I had extra care by seeing a consultant and having extra scans.
"As a first-time mum, the lovely midwives never left my side and made me feel so well looked after and at ease."
Of those that took part in the survey, 58 per cent were first time mums.
"[After having my son in 2015], I was back again in 2018, this time with twins.
"The midwives in the twin clinic were amazing, hearing their experiences and seeing the same midwives for the duration, including postnatal care, made such a difference.
"I had to be induced with the twins and I believe we held the record for the biggest twins born at Kingston Hospital in 2018," said Berkinshaw.
"I have always said I highly recommended Kingston Maternity for their service. The ward had everything we needed and the staff are so caring, thorough and professional," she added.
Kingston Hospital Trust's top score was for the involvement of a partner during the patient's hospital stay where they were rated 9.1 out of 10, compared to the national trust average of 4.7.
Kingston Hospital and Hounslow and Richmond Community Healthcare's Chief Nurse, Nic Kane, said: "We are delighted with the results of the National Maternity Survey 2021, which reflect the great dedication of our maternity teams at a time of significant challenge due to the COVID-19 pandemic.
"I am proud of the outstanding care that my colleagues deliver on a daily basis to the women of south west London and their families."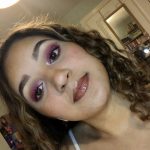 She/Her
Third-year journalism student at Kingston University
I like to write about sustainability, social issues, feminism and pop culture.