Kingston School of Art (KSA) students received an email from the Dean, Mandy Ure, recently encouraging them to attend all their on-campus classes following the return to mostly in-person teaching.
The email acknowledged that students may be used to the online learning environment after two years of remote teaching and may be out of the habit of coming on to campus. 
Maddie Erb, an interior design student, said she recognised this sentiment: "Since Covid, my attendance is probably less than it would have been as it's so flexible to be online now and work has been made more digital so can be done from anywhere." 
Similarly, Adam Wan, a third-year criminology and forensic psychology student, also said he had not been going into classes as much: "I think that because a lot of learning has been moved online, it shows that you don't really need to go into class physically for some courses, which is the case for me. And another thing is I keep forgetting to sign into classes."
Recently lecturers have been reminding students, especially international students, of the importance of signing in via the SEAtS app.
Russul Al-Madhi, an LLB international law student, actually finds it easier to commit to in-person classes, saying: "I attend 95 per cent of my on-campus lectures, but I don't usually attend all the online ones."
MSc forensic psychology students Tanvi Kunder and Aarohi Raorane said that their attendance had not changed since Covid. 
Feeling connected
The mix of online and in-person learning suits many students such as first-year aerospace engineering student Liam Alveywho said that, although he has only had in-person teaching he would prefer to have a mix of in-person and remote learning: "I think it works better as a mix just because you can get the same experience online as you can in some in-person lectures and it makes it so much easier to work around your schedule."
The email from Ure encouraged students to actively visit campus, touching on the benefits and opportunities it offers.
"Please do make every effort to attend all your campus-based teaching sessions, and to spend time on campus with your peers, as well as making use of the facilities and resources which are available to you here," read the email.
MSc Global Human Resource Management student Soniya Edappadathil thinks it's easier to come to campus as it is more interactive as some students might not want to participate in groupwork online. Also, "you might face internet issues or a microphone problem."
Edappadathil added that as an international student "coming to campus makes me happy and I feel more connected with fellow classmates."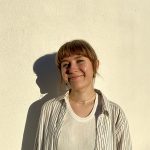 Nora Marie Vatland | Editor | she/her
My main interests include slow and investigative journalism, sustainability and plant-based cooking.