Radio 1 DJ Lucy Monkman has always loved music, listening to her mum's Prodigy and Chemical Brothers tracks as a kid. It is music that inspires her today. Lucy recalls the moment when she realised radio was for her. "A friend said: 'you know, I reckon you could do this.' And I was like, 'yeah, yeah, whatever'."
After studying law and economics at Godalming College for just six months, Lucy eventually dropped out of school, aged 16. Nine years later, she has a 1am-4am show on Radio 1 and 1Xtra. She says that going to university was not for her.
"I hope a lot of people can relate to this because I felt like I could just do a lot more by grafting and putting myself in the right places at the right time, than getting a degree," she says.
"I felt like I would be wasting my time because academically I wasn't that strong, but talking to people is my strong point."
After dropping out of college, her first call was to get some experience, she ended up at Kingston's local radio station Radio Jackie.
"Radio Jackie was the first station that I got a job at, but I didn't know where to start because I didn't have any ties in radio whatsoever after I left college," says Lucy.
"I kept bugging them, this one guy called Steve, and he was just like 'alright, you keep messaging me and you keep speaking to me, come in for a day because it would be good to meet you'.
"So I came in for a day, I didn't really do much. I just made tea and met everyone there and I stayed in contact with them."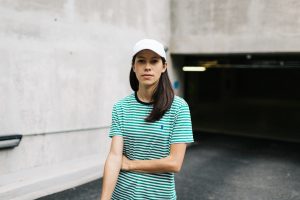 After gaining the basics from Radio Jackie, Lucy was offered work with her favourite pirate radio station, Rinse FM. Rinse started in 1994 with a group of friends in East London playing underground music that inspired them and their listeners to create music they wanted to hear, making it one of the best pirate stations around.
Lucy says: "Fuck, I love Rinse. This was back in the day where dubstep was just starting to happen… but things like Skream and Benga, those guys hadn't blown up yet, so it was a really exciting place to be.
"It took a while to get in contact with them because it's quite allusive when you're a pirate station."
Working at Rinse with five others, Lucy landed herself a four-year long show, before eventually going to Radio 1. Monki is a huge fan of Annie Mac, listening to her late Friday night show that came on after Pete Tong.
"I would listen to it religiously, especially around 16 – I was such a fangirl, and I have to think about that because now she's my mate."
At 17, Lucy messaged Annie Mac on MySpace, praising the show and how it had inspired her to get into music. Much to her surprise, Annie replied, and wanted to meet Lucy. Through Lucy's friend, she ended up as an audience guest on Annie and Nick Grimshaw's TV show Switch. The producer of Switch approached Lucy, asking her to star on the show, meet Dizzee Rascal and talk with Annie Mac.
"The producer came up to me and asked if I wanted to do a competition," says Lucy.
"I had to do really dumb shit. It was me versus this other guy from the audience. I had to eat more chillies than this other dude and then make Dizzee Rascal a present out of Blue Peter style arts and crafts stuff. I won, so that was alright.
"I got talking to Annie when the cameras were off and she said we should stay in contact and go for a coffee.
"I sent her some mixes, kept her up to date that I'd joined Rinse.
"She asked if I wanted to warm up for her at Koko [a well-established nightclub in Camden, London] and after that I stayed resident for about four years," says Lucy proudly.
Monki is now a permanent fixture on Radio 1 and 1Xtra's schedule, playing dance tracks inspired by those who encouraged her love for music.
She first visited Radio 1 when Annie invited her to sit in on her show.
"I was so gassed because this is the show that I've been listening to for the last couple of years that was one of the main reasons as to why I started this whole process," she says.
Her second time at Radio 1 was when she landed her show, the result of hard graft and networking.
"Play to your strengths, if you think you could do more by leaving university then maybe you should think about that.
"Be nice to people because things come around, the industry is so small and someone you might have known right at the beginning, you might end up working with.
"Networking is really important. Knowing people, being in the right place at the right time, but also kind of making you own luck. Things will come about naturally."
Monki DJs at Fabric, where she also runs a night called Monki & Friends.
"Seth Troxler [house and techno DJ from America] was in room one, I was in room two, and we have another night at Christmas," says Lucy.
"We do an annual EP with Red Bull called Monki & Friends where I get producers that I like that have never worked together before to collaborate. Then we have two weeks in the studio to make a ton of music. It's all a lot of fun."
Monki & Friends are on their fifth EP now, an exquisitely produced album mixing dance, chilled techno and house, making Monki the perfect 3am radio DJ.
Her sound is synonymous with her upbringing: EP five mixes that much loved Prodigy trance vibe with
Monki's own eclectic taste.
"The best night I've ever played was probably at Sonar, which is a big festival in Barcelona," she says.
"Myself and Melé [euphoric UK DJ] previously did this thing called Energy Flash where we played back to back… we played after Stormzy and [UK garage artist] DJ EZ – we were shitting ourselves."
She adds: "It turned out good because the crowd was amazing, everyone was super excited and energetic. To play
after people like that was a big deal."
Monki says that Kingston's nightlife is lacking in something for KU's creative students.
She feels that we would all benefit from a better event or venue that offered students alternative music choices.
"I feel like there are enough students for there to be something cool, but there is just not," she says.