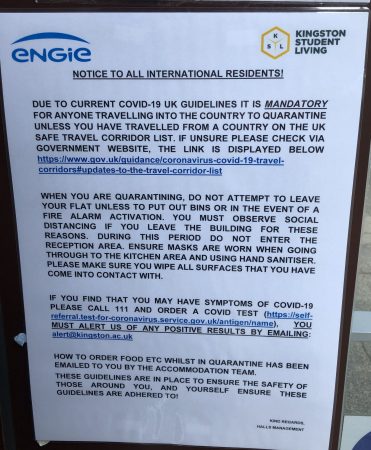 A disabled student at Kingston University has been denied a disability-adapted room in the newly refurbished Seething Wells halls that are expected to be complete this January.
Kingston students were informed one week before their move-in date at the start of September that refurbishment was taking place on several buildings in the halls of residence. They were then told they would have to change flats in January.
Rogan, who is currently in a disability-adapted room was told by a Kingston University representative over the phone that he will not be in a disability-adapted room in his new flat.
Rogan said: "I'm a disabled student and I'm not getting a disabled room when we move. I need a special bed, so I'll have to buy my own mattress."
The student believes that the University has failed to properly plan the refurbishments around all students.
A Kingston University spokesperson said: "The University's multi-million pound project to upgrade halls of residence […] is under way and will provide a suite of new, energy-efficient and state-of-the-art bedrooms, as well as a range of enhanced facilities that will transform the experience for student residents."
"The redevelopment work will also mean the University can offer a greater number of rooms with wheelchair access, improved layout and other adaptions to better support students with disabilities in the future."
This does not explain why Rogan's been denied a room that caters to his needs or why he must spend his own money to purchase something that was already being offered before renovations took place.
Rogan has expressed his frustration with Halls Management.
The refurbishments taking place at Seething Wells will remove 10 disability adapted rooms, three of which are wheelchair accessible, and replace them with 11 wheelchair accessible rooms.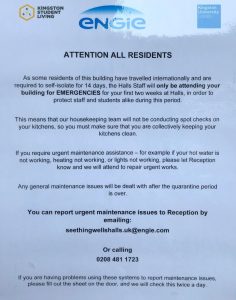 A Kingston University spokesperson said: "If a situation were ever to arise that meant the University was unable to cater for a student's needs for disabled facilities in its halls of residence, it would work with other private providers in the local area to ensure suitable accommodation could be offered elsewhere. The University has never needed to pursue this option to date."
The University did outline that rooms can be supplied with "vibrating pillows for deaf students for when the fire alarm goes off […] we added shower seats and handrails into some of our showers this September to assist students who struggle with mobility."
Due to construction Seething Wells is only able to house half its usual occupancy.
Therefore, this year halls management allocated rooms by grouping students together to make the best use of space.
As a disabled student Rogan is also considered a high-risk student and is expected to shield. However, he was allocated to a flat with international students who were subject to quarantine restrictions.
"I wasn't even told anything. I wasn't even warned," he said.