A revolutionary rocket that consumes its own structure as it hurtles into space is set have its engine tested next year at Kingston University.
The UK Ministry of Defence has pledged £90,000 for the development of the 'autophage' engine, which is set to be tested at a new KU rocket testing laboratory on the Roehampton Vale campus.
The revolutionary engine is being built by researchers at the University of Glasgow's James Watt School of Engineering.
"As the UK's space industry continues to grow and thrive, our investment in these facilities will provide a platform to support the next generation of emerging talent and allow us to partner with other institutions to help the country achieve its space ambitions," said Dr Peter Shaw, senior lecturer in astronautics at the Faculty of Science, Engineering and Computing at Kingston University.
The 'self-eating' rocket would burn up its own structure for fuel and reduce its mass while hurtling into space. The rocket could be used to launch small satellites into an orbit that is relatively close to Earth's surface (a low Earth orbit).
The developers hope that the revolutionary rocket could create new launch opportunities at the spaceports emerging in the northern parts of the UK.
If everything goes to plan, the testing of the engine will start next year.
Take a tour of Kingston University's rocket test lab.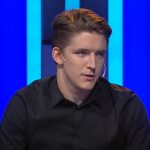 Journalism student from Kingston University and Editor of The River. Main interests: books, basketball and motorsports.