The Grammy Awards is the music industry's biggest night and this year celebrities walked the Covid-19 safe red carpet in bold and extravagant fashion choices.
The ceremony aired on Sunday night after being postponed in January due to the pandemic, which means the celebrities have had a lot of time to think about their outfits, and they did not disappoint.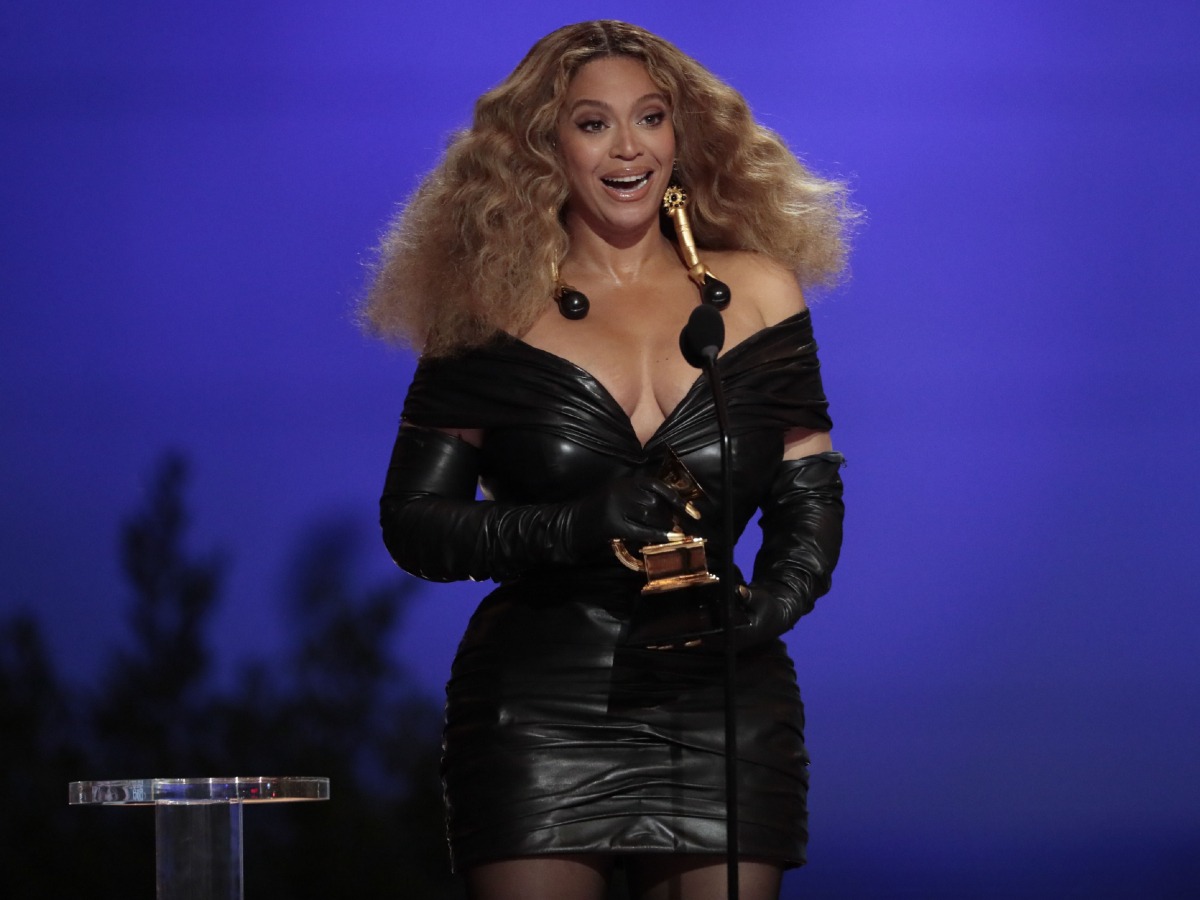 Beyoncé set a new record at the award ceremony with her 28th win wearing a gorgeous black dress with leather gloves incorporating gold fingernails designed by Schiaparelli. The star adorned her ears with long gold and black statement earrings also designed by Schiaparelli. The house is known for its surrealist fashion.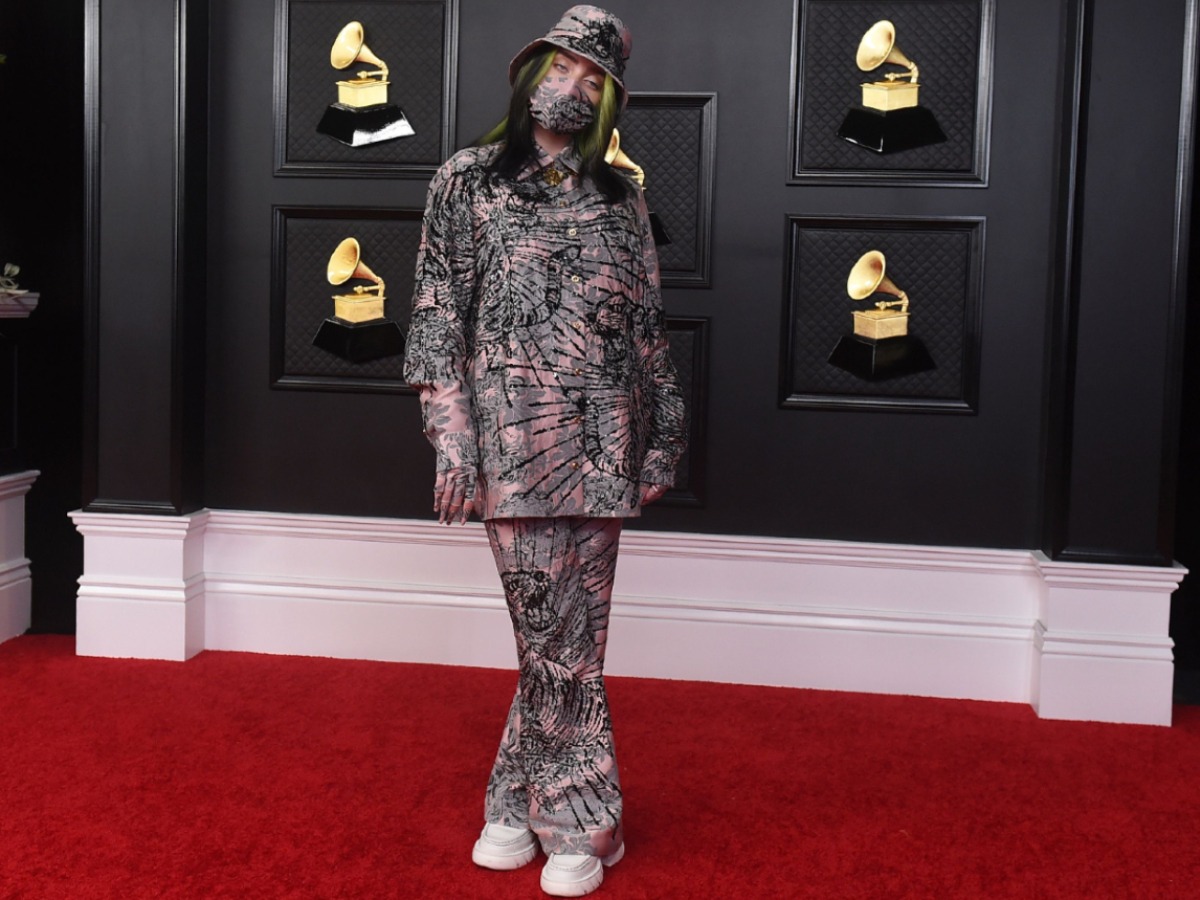 Billie Eilish. Jordan Strauss/AP/Shutterstock
Record of the Year and Best Song written winner Billie Eilish turned up in a co-ord set designed by Gucci, complete with a matching mask and bucket hat. Joining Beyoncé with the gloves and nails trend Eilish changed her nail art three times during the ceremony. Her second look, the one she performed in, was a stunning green co-ord set also designed by Gucci.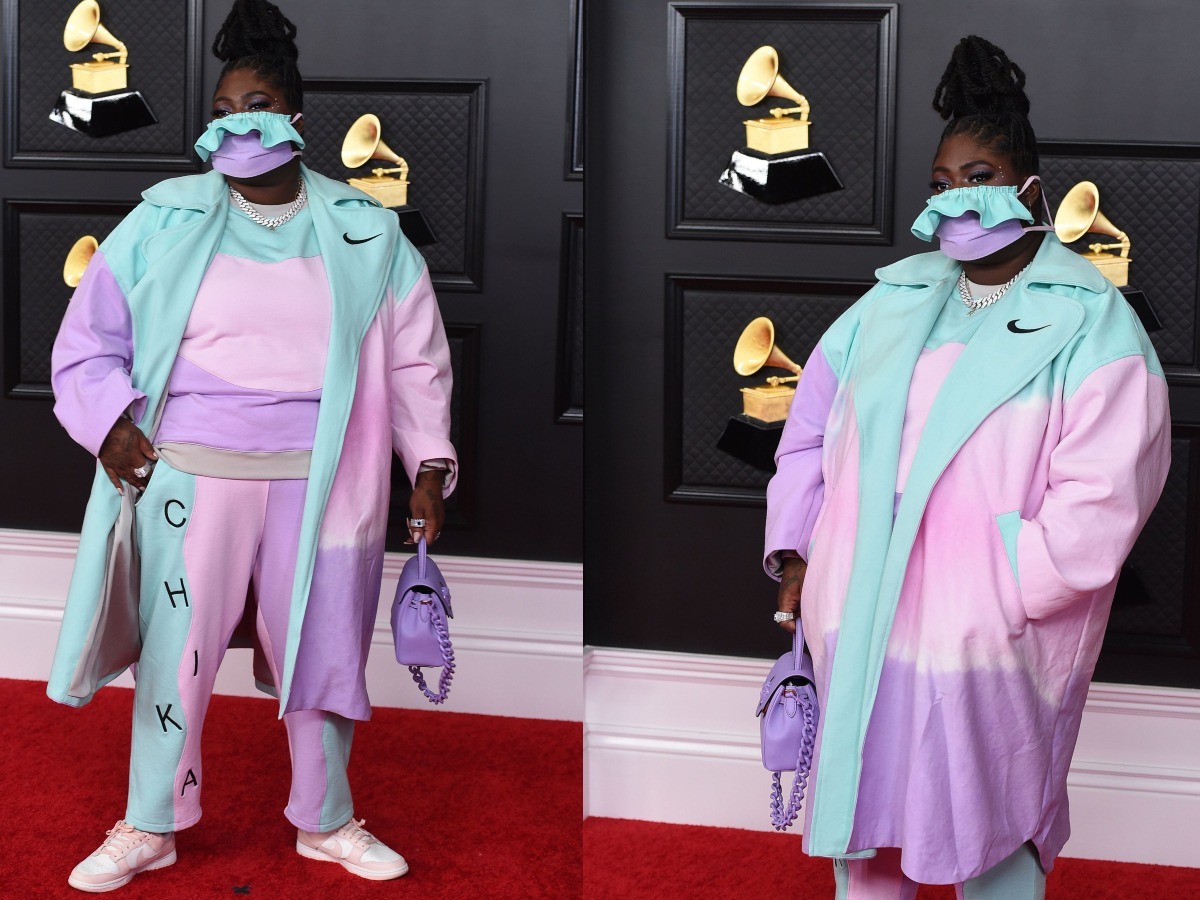 The Best New Artist nominee, Chika wore a custom-made pastel-toned Nike sweatsuit with a matching bag and flower-shaped face mask. The rapper's outfit defines lockdown chic and is probably the comfiest outfit debuted on the red carpet.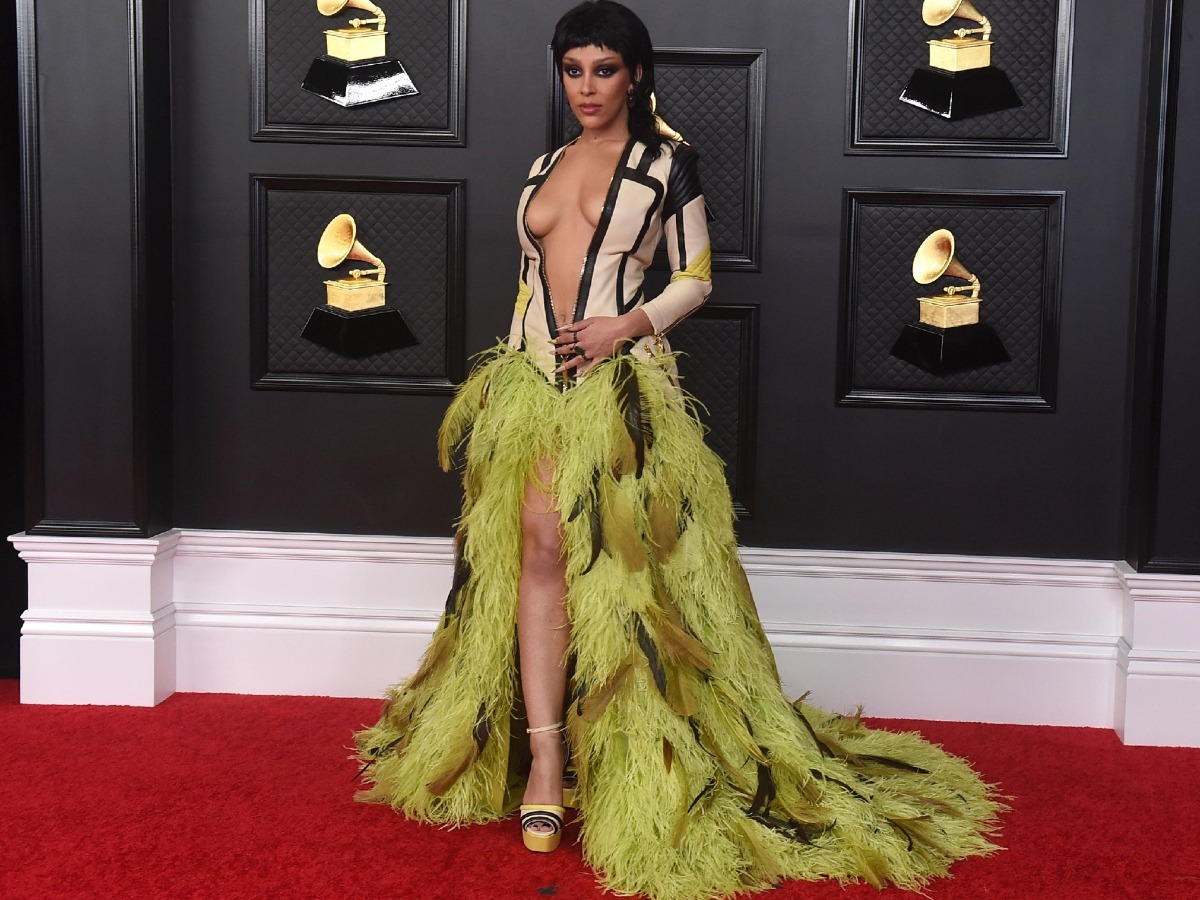 The rapper Doja Cat turned heads with a leather cream, black and lime green dress with a revealing neckline and feathers sprouting from her hips to the floor. The outfit was designed by Roberto Cavalli and got mixed reviews of both love and hate from people on social media.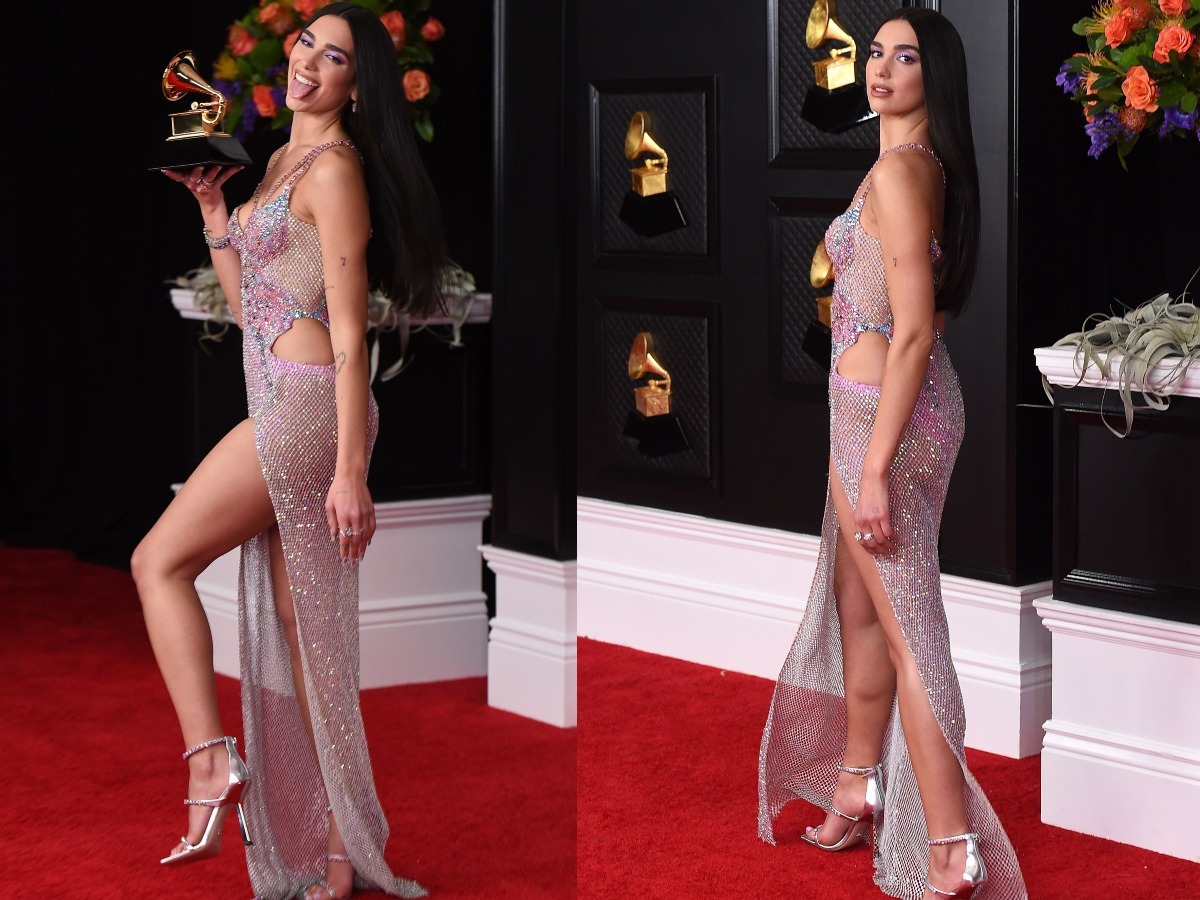 Dua Lipa won the award for Best Pop Vocal Album wearing one of the five outfits she appeared in at the Grammys. On the red carpet, she wore a transparent crystal pink dress with a thigh split designed by Versace. The singer performed at the award show wearing a pink ball gown that exposed one shoulder revealing a pink glitzy bra underneath. During the performance, she ripped off her clothing to reveal a matching underwear set in a glimmering pink. She then changed her outfit twice more during the award show.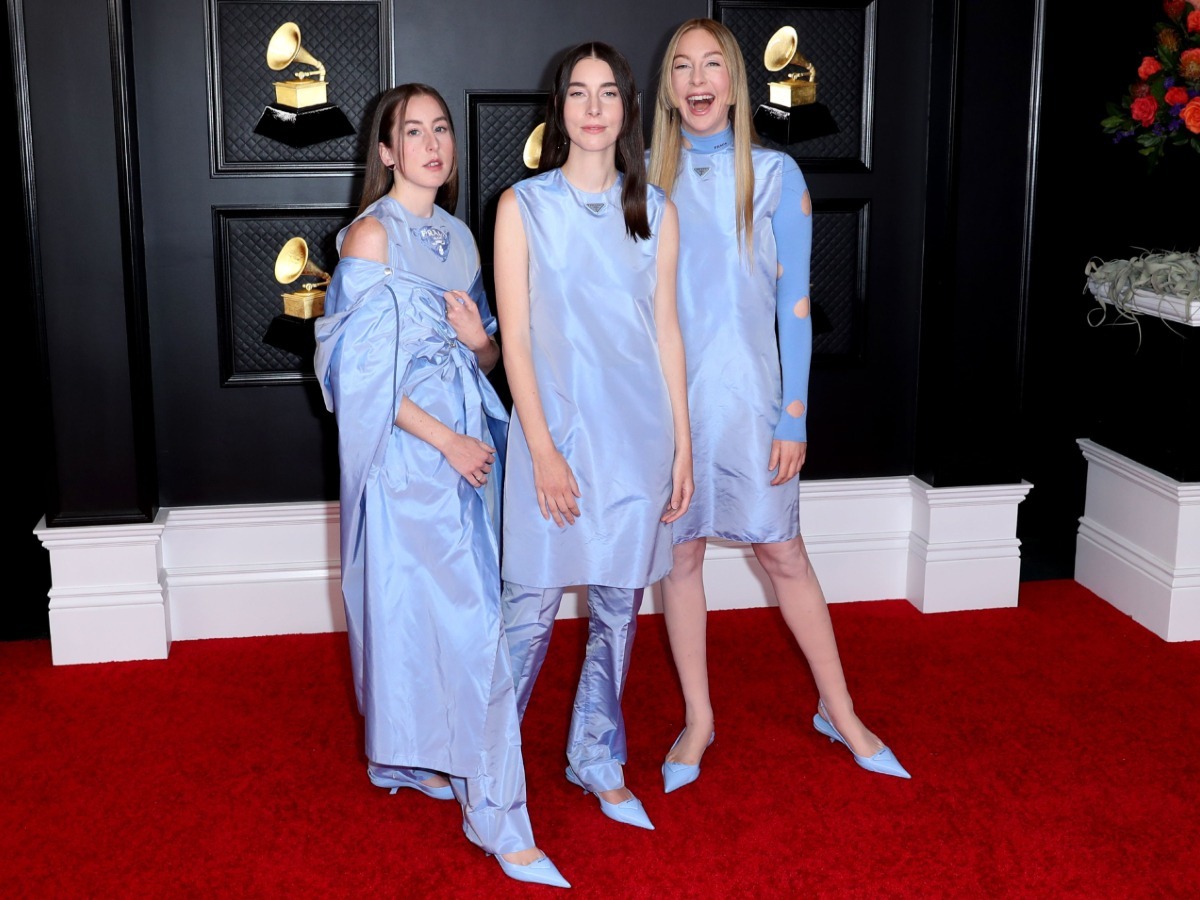 With the HAIM sisters, good things really do come in threes. The musical trio opted for matching outfits. They coordinated their custom-made baby blue Prada looks on the red carpet. The sisters gave their first Grammy performance after being nominated for the Best Rock Performance and Album of the Year awards. During said performance they sported completely new looks. Alana wore a sparkling gold dress, Este had on a classic little black dress and Danielle wore a black crop top and black trousers.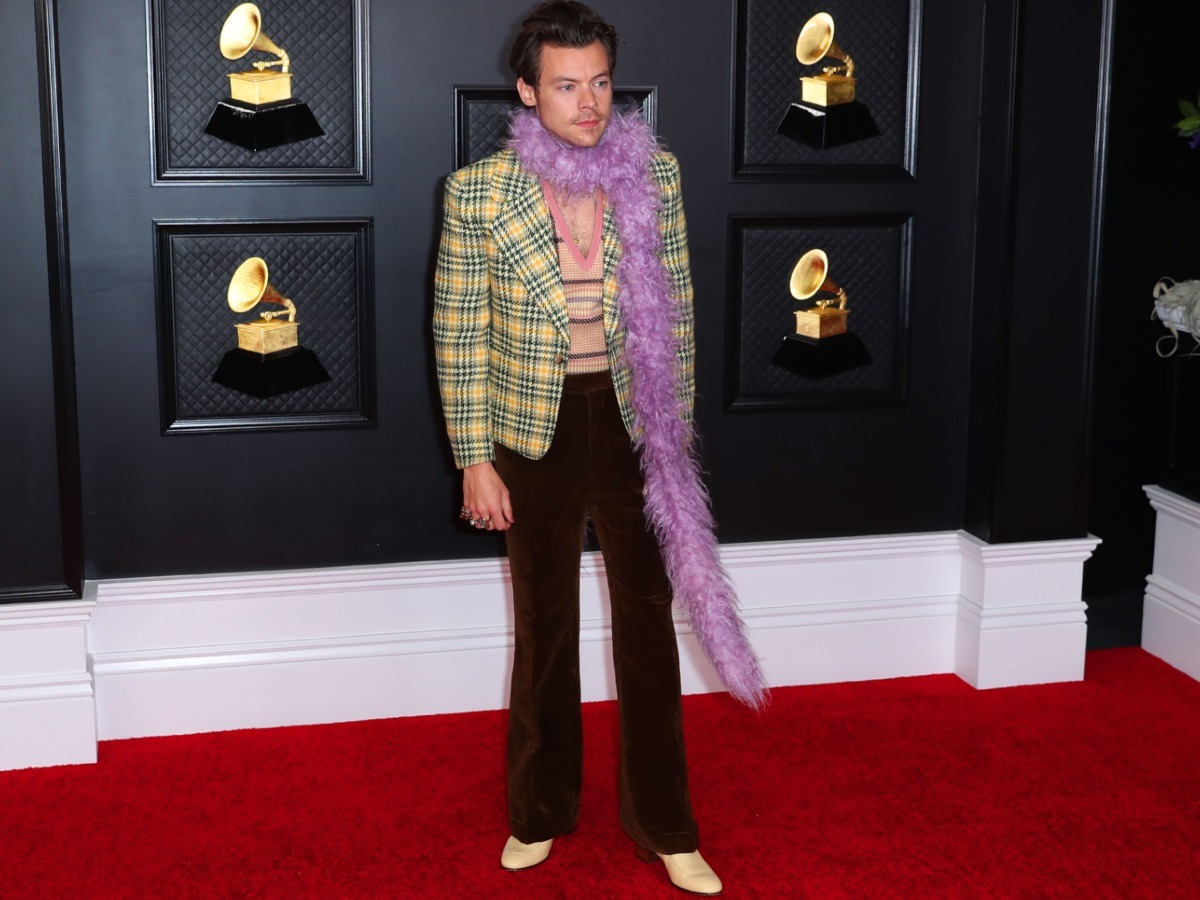 In true Harry Styles fashion, the singer wore a custom-made Gucci outfit on the red carpet, consisting of a pink and yellow sweater vest with a yellow houndstooth suit. Styles accessorised the suit with a lavender feather boa. He won the category for best pop solo performance. During his Grammy performance, he sported more Gucci and wore a black leather cropped jacket and matching pants, paired with a mint feather boa.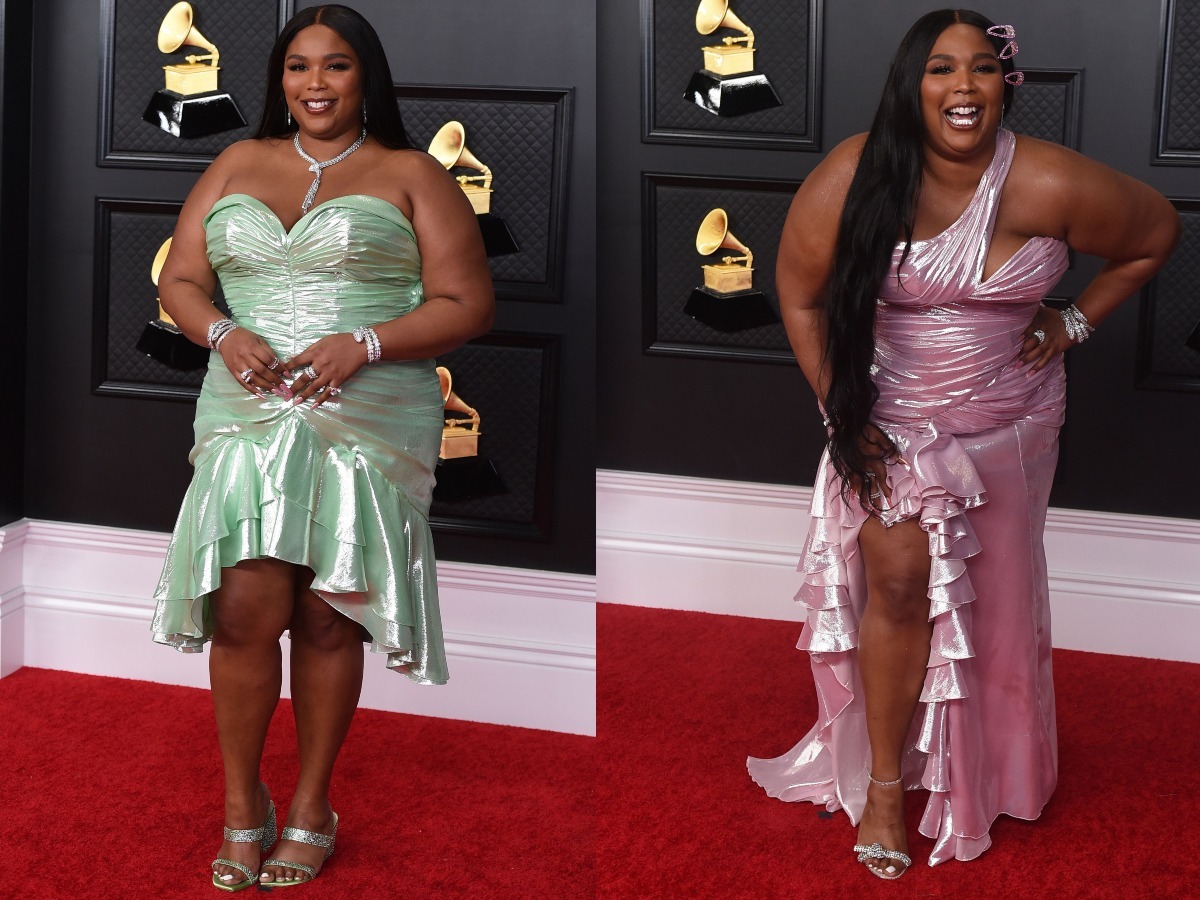 Lizzo wore two beautiful early 2000s inspired outfits on the red carpet, the first a ruched shiny mint green mini dress accessorised with glittering jewellery and matching shoes. The second outfit, a ruched pink one-shoulder dress with a thigh-high split, matching clips and shoes is just as beautiful as the first. Both outfits were designed by Balmain. Lizzo's stylist said that Diana Ross was the inspiration behind the outfits.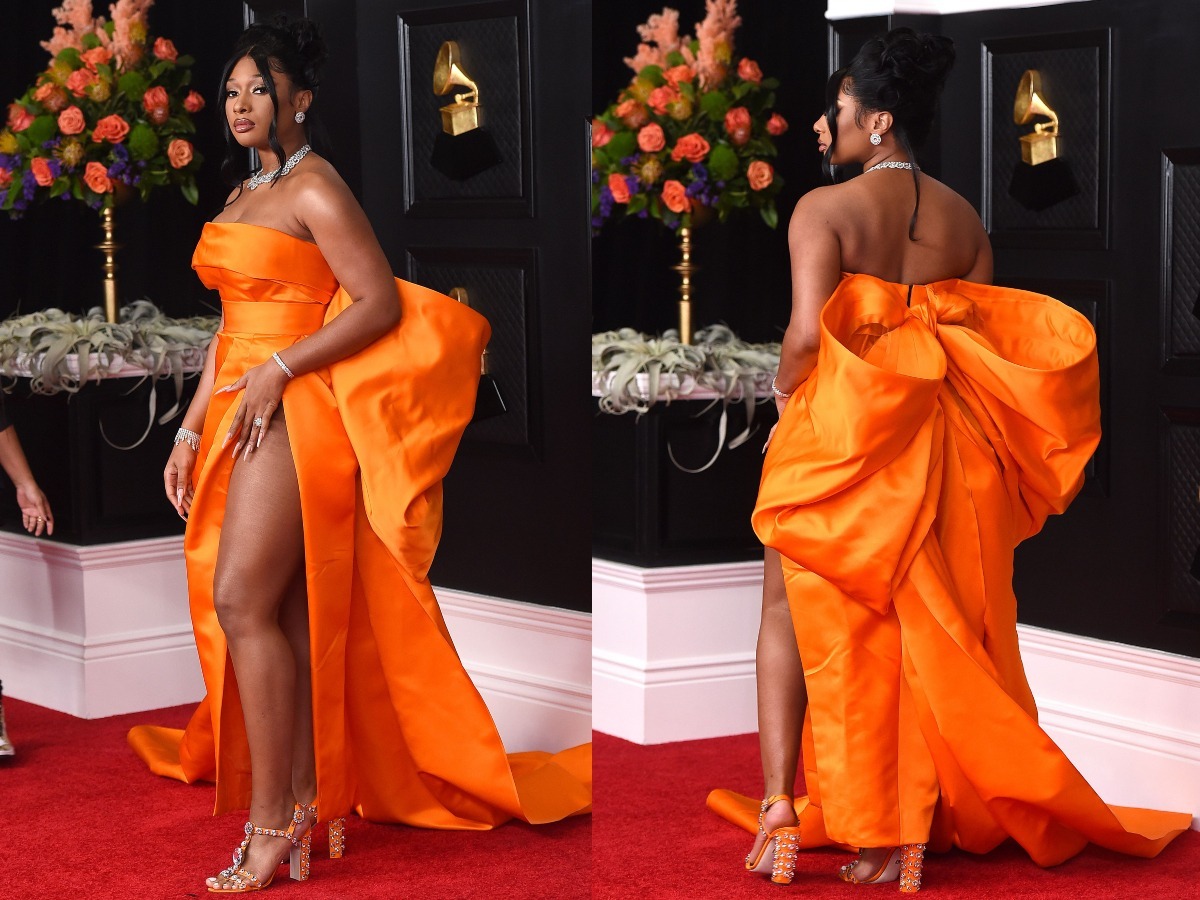 Best Rap Song, Best New Artist and Best Rap Performance winner Megan Thee Stallion came to the Grammys red carpet dressed in a burnt orange Dolce & Gabbana dress. The rapper came out decked in diamond jewellery. The style of the dress, with the big bow, gave a pleasant nod to classic Hollywood glamour. Megan described herself as a 'Ratchet Beyoncé' but the rapper looked stunning at the ceremony and the colour of the dress complimented her skin stone perfectly.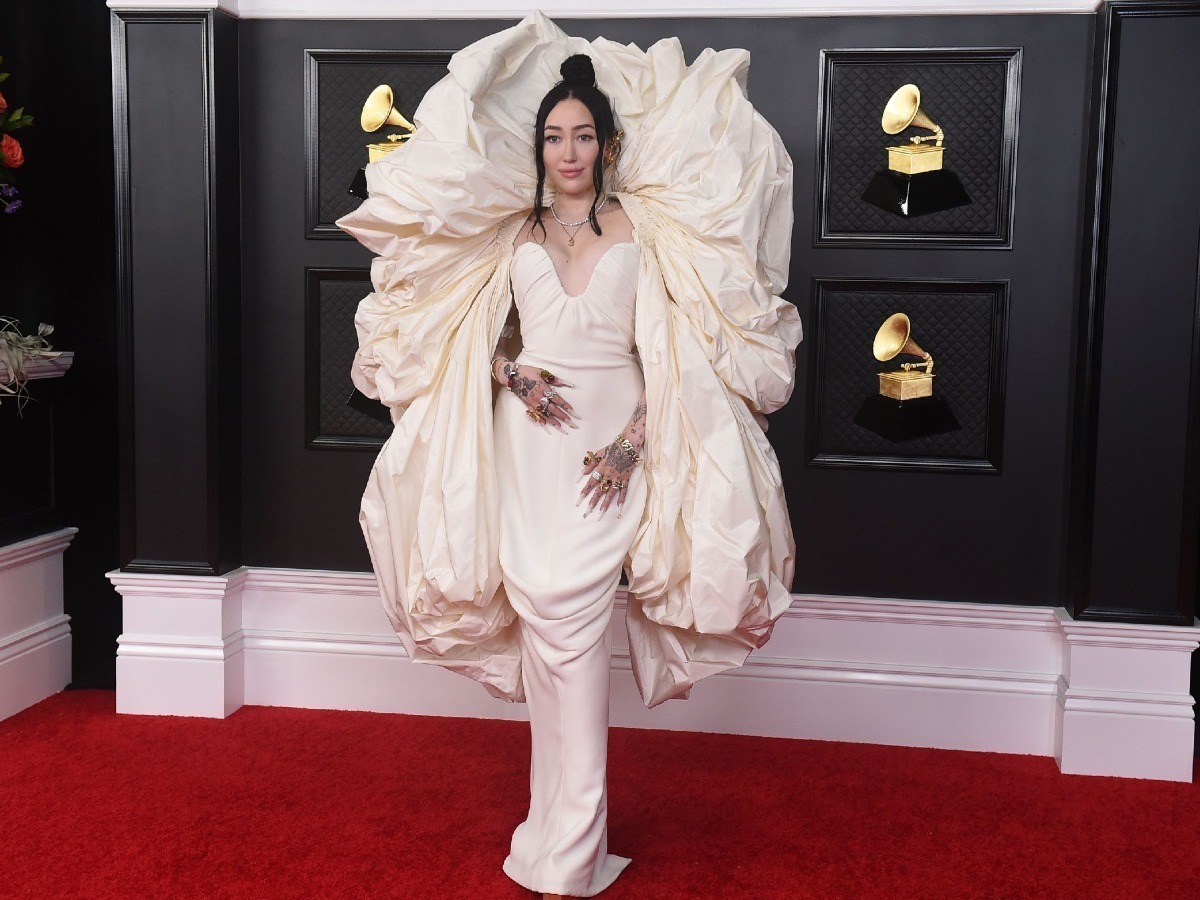 Nominated for Best New Artist, Noah Cyrus showed up in an angelic voluminous white Schiaparelli dress fresh off the couture runway. Her stylist, Brett Nelson, said in an interview with InStyle, "I wanted something that felt very original and iconic for her. I wanted to do something that felt a little bit more art-based. She's a cool little art kid, so I want to show that."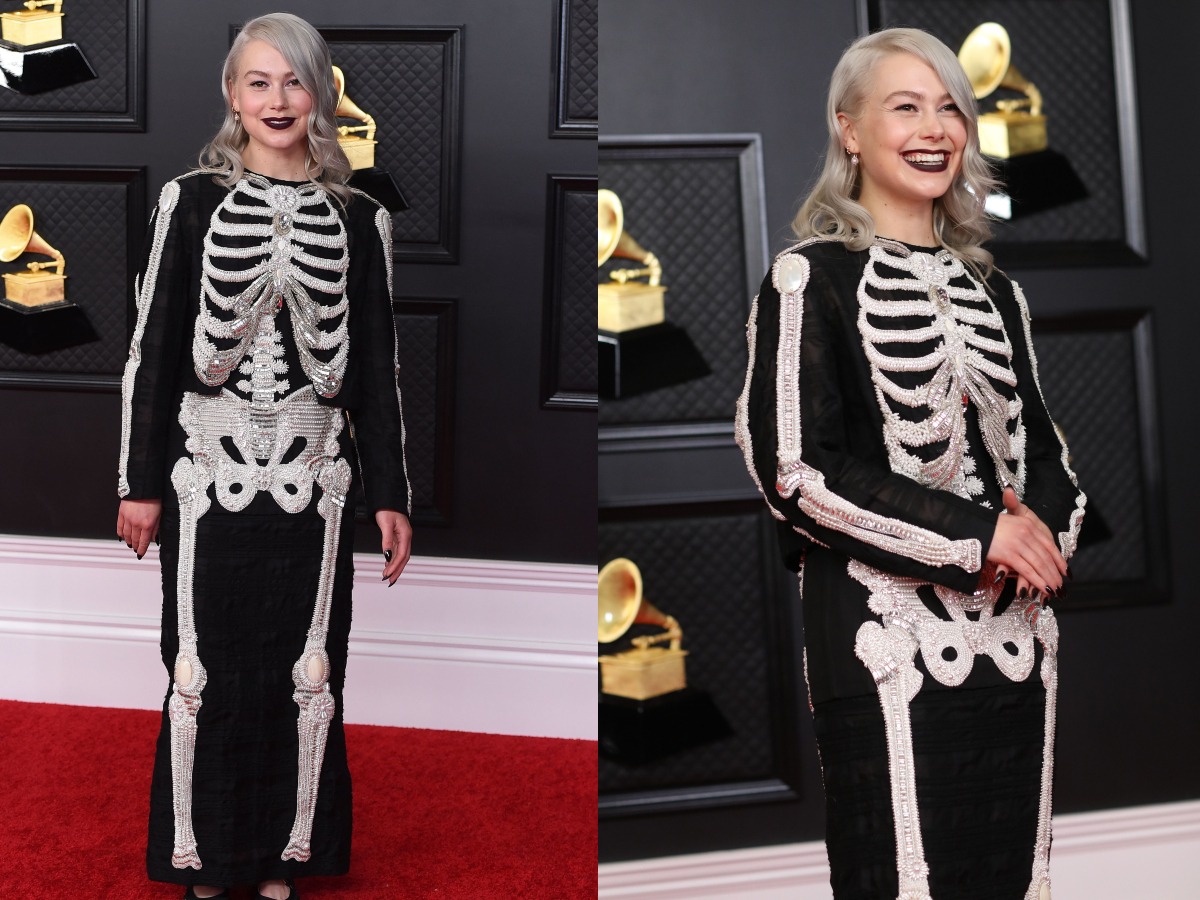 Staying true to her repeated aesthetic of skeleton related outfits, Phoebe Bridgers turned up to the event in an elevated Thom Browne dress in black with crystals in the shape of skeleton bones. The singer was nominated for the Best New Artist, Best Rock Performance, Best Rock Song and Best Alternative Album awards.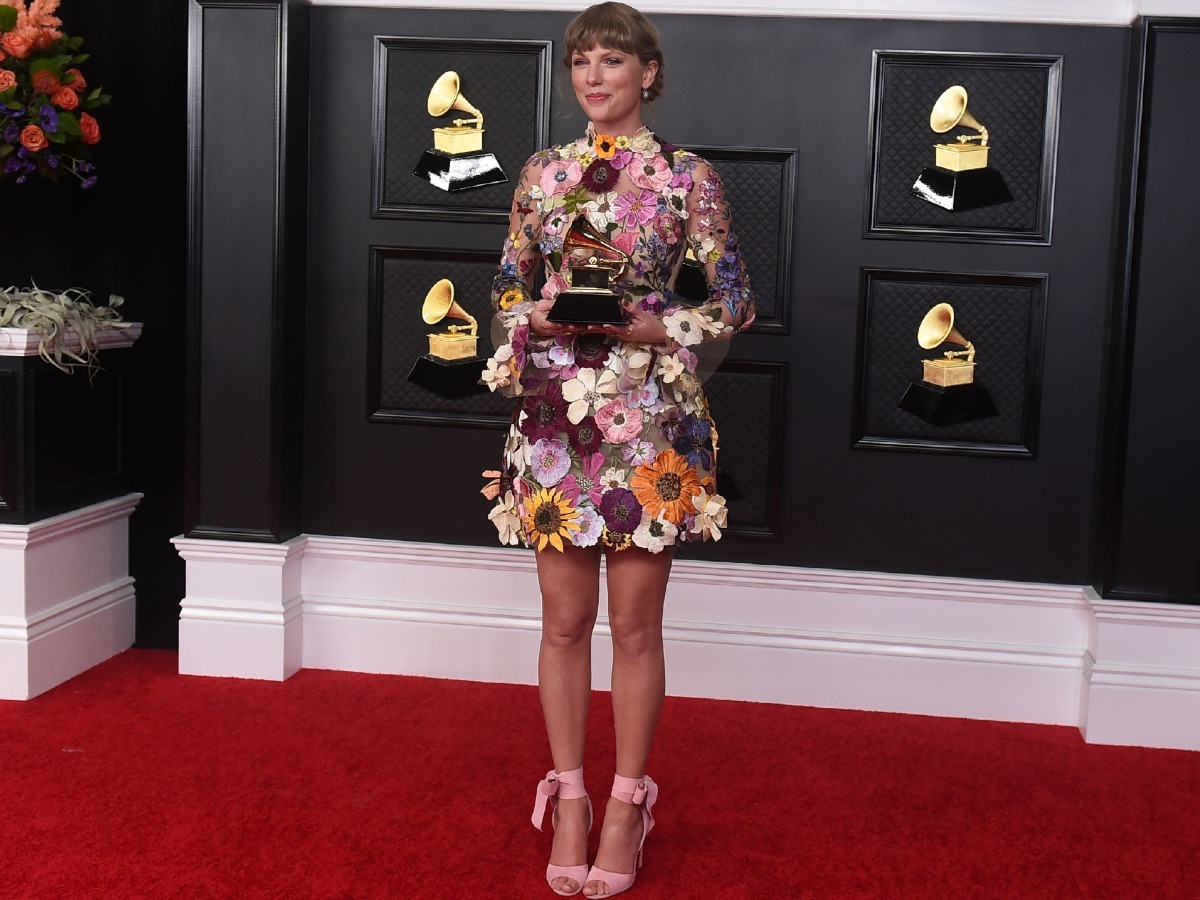 Taylor Swift made history by becoming the first female to win Album of the Year three times in a row. She took the idea of florals for spring and elevated it with the adorable Oscar de la Renta mini dress she wore on the red carpet. The singer paired it with pink Louboutin shoes that lace up into a neat, adorable bow.
It's impossible to choose a favourite outfit out of all these beautiful red carpet looks.