Nearly five decades on, Steven Spielberg's blockbuster Jaws still captures the imagination and opens up new opportunities for research on the movie that was released back in 1975.
KU Lecturer in Film, Media and Literature, Dr Matthew Melia, and Professor of Film Studies at De Montfort University, Ian Hunter, teamed up for a project of international research that ended up as The Jaws Book.
"The book takes in a wide range of perspectives on the film, from its surrounding myths, its production and reception, Jewish subtexts, fan edits, music and more," Melia said.
The Jaws Book is comprised of 12 academic papers – several of which were first delivered as lectures as part of the Jaws 40th Anniversary Symposium at De Montfort University in 2015. Most of the chapters in the book are developments of papers given at the conference.
"The book aimed to coincide with the film's 45th anniversary and is aimed at a wide demographic including scholars, students and film fans.
"It is the first major scholarly edited collection on Jaws. It was a delight to work on a book about my all-time favourite film and to contribute a chapter on Jaws as a Western," Melia said.
The book is split into three parts: Production, Reception and Style, which explores how Jaws was developed, Interpretation, which offers several original perspectives on the film, and Beyond Jaws, which explains the cultural phenomenon and the lasting impact of the movie.
The book was well-received within the industry. Entertainment Focus said: "Full of fascinating insights and fresh perspectives, Hunter and Melia have delivered in The Jaws Book a bounty of provocative essays, arresting voices and original thought as diverse and engrossing as the film it serves.
"The book encourages you to dive deeply, think broadly and explore new depths… Read it, before you go swimming."
Melia and his colleague Hunter are planning a follow up for The Jaws Book soon – a work dedicated to Jurassic Park, which they aim to publish in time for film's 30th anniversary in 2023.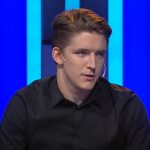 Journalism student from Kingston University and Editor of The River. Main interests: books, basketball and motorsports.