Dan Montague, 20 and Daniel Lawton, 20, run Silk Eventz, a business designed to make the underground techno club scene into an affordable night for students.
KU students Montague, studying music technology and Lawton, who studies business management, have spent the last year investing every penny they had into their idea.
We sat down with the two boys over a pint to talk about how their brand has taken off in a matter of months. Chatting money, passions and motivations.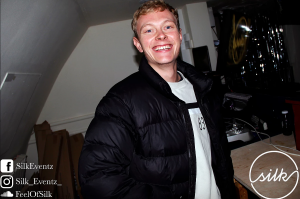 With three successful shows at KU so far under their belt, including the fresher's frat party at Hippodrome, Silk plan to branch out to universities across the UK and clubs in Europe.
Montague and Lawton have peaked interest from top clubs in Marbella, and are in talks with various UK universities, they also have received mixes on SoundCloud from techno DJs in Italy, Brazil and Canada.
Recently, they've been conversing with Lightbox, a club in central London, known for its after-hours underground DJ sets.
It all began when Montague spent nearly £100 on a night out at Fabric in central London. "Kingston is missing a central London, underground vibe, but to go to those places you need pay for travel to and from central, drinks and around £20 entry," he said.
"I got home after a night there, looked at my bank and I thought why can't I just set up a night where it's the same but it's cheaper? And it just clicked.
"It's all about keeping costs down, our goal is to get nights for students that are good but cheap, where they can have the same experience."
The boys are also passionate about using social media to boost their brand, with top DJs taking over the Silk snapchat for the day in Ibiza and Marbella.
"The Instagram has also been ridiculous, two days ago we started with 1900 followers and its now on 2500, I woke up this morning with like 100 new followers, it's just mad," Montague said.
Already in talks with Bournemouth, Newcastle and Nottingham Universities, the boys' next move is to create a poll where students from across the UK can nominate their university to host an event where the experience is like a top London club but the price is affordable. "You should want to go out without having to budget 100 pounds for it," Lawton said.
The two friends create and fund the events themselves, with Montague coming up with the ideas and Lawton handling the business side. Silk use contacts and equipment at KU to make sure entry to events remains free for students, using Hannaford's bar, at Kingston Hill, where Montague works, for a regular venue.
"It costs us nothing to out on these events. I think last time for the whole event it cost us 10 pounds because I forgot to take a projector back in time. That's literally nothing for a night that brings people together," Lawton said.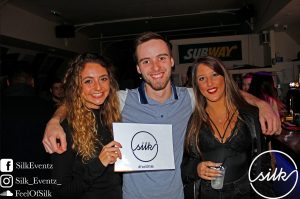 Both boys have made sure to take anything the university has on offer; they have friends in the graphic design course, who created the company logo and make visuals for the night. Any equipment; projectors, cameras, speakers and other sound equipment are all loaned from the loans room at University.
"We want to bring people together with music. That's all we want to do. We are not here to make money, we just wanna give sounds that we love to people and bring them together. That's what music is for, and that's all it's ever been about," said Montague.
The boys also fund the business with money received from orders from their Silk merchandise: "We're using it as a kick starter, pretty much a walking billboard to try and get a lot of hype. We have already had orders from people from all around the world for the merch and more people are interested," Montague said.
"Last year I was doing stupid amounts of work, we both were really, and we put whatever we could into it, bit by bit. We got flyers, we got the logo, and we registered the company. When I went to DJ in Marbella in the summer, I came back with a bit of money and I just invested it all," said Montague.
He added: "I love it. I live and breathe it. I wake up every day and I've got music in my head. We want to utilise the underground market, get out there and eventually get to a point where in 10-15 years we have a festival. We're not messing about, we have big dreams."
Keep up to date with Silk's upcoming events and merchandise store coming soon at www.silk-eventz.com
Follow the boys on Instagram @Silk_Eventz_  and on Facebook and Snapchat @silkevents