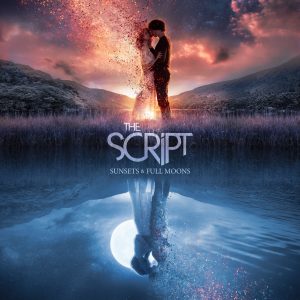 Those who know The Script will confirm it. Those who are yet to discover them will eventually come to this conclusion. They are like a long-term relationship: it is starting to be difficult for them to surprise us.
Once again Irish-originated band brought upon us, their nostalgic ballade style with powerful lyrics and ear-catching music but introduced, almost, nothing new with nine songs on the Sunsets & Full Moons album.
For the ones who don't know the three-piece group, this is their sixth album, since they emerged with huge success into the music scene in 2008.
Lead vocalist and keyboardist Daniel O'Donoghue, guitarist Mark Sheehan and drummer and bassist Glen Power signature are to load their songs with personal feelings. Always taking us through a full circle of emotions and leaving at the end with a light of hope sparkling somewhere in the back of your mind.
The ones who have been in love with them since their first album, called The Script, featuring songs like We Cry, will acknowledge how hard they have tried to find a new sound and failed. While you will dive into their new album, remember this warning, stay away from the Hot Summer Nights track which sounds more like a tacky version of the Backstreet Boys rather than powerful indie rock The Script.
However, there are more than a few good bits on it too. In the era of general worship of Ed Sheeran and Coldplay unsuccessfully looking for their new sound, The Script also stayed, partly, faithful to their old ways and deliver some comforting music.
The Last Time, which was a single for the new record, together with Same Time are nothing more and nothing less than tracks which reminisce, obviously as their style goes, on the past relationships. With a soft guitar and piano, both songs are giving us a comforting feeling of treating heartbreak more like a strengthening life lesson than the soul breaking disasters.
There are two other songs which, in traditional band spirit, are meant to give us a boost, motivate, keep us going with our lives and reach for any form of greatness. If You Don't Love Yourself and Underdog are loaded with motivational lyrics for those who need the push to believe they can be the masters of their fate.
If all of this sounds too familiar and mainstream, it is very important to mention the tune which saved the album from falling over the edge and frankly made me listen to it over and over again. Run Through Walls is about friendship, the subject so widely missed by the music industry. "I've got friends that will run through walls. Friends that don't text, they call," with its soft guitar melody and melancholic voice of O'Donoghue helps you explore a different type of love and leave the impact.
Sunsets & Full Moons album is not perfect, but perfect can be boring. The Script gets only slightly experimental but so far it would be better if they decide to stay comfortably familiar. On the other hand, the album is simply a very compact recap of all the styles, ever touched by The Script, for the audience who is just about to start to love them.
Optimistically one day they will introduce us to something new and it will be great, it was not this time. But there is always hope in the future, as the band taught us.
SCORE  3/5