Are you feeling extra generous this festive season? As the winter months set in, why not think about giving to the people that deserve it the most. Christmas is not just for receiving, so give generously and bring a bit of extra joy to someone's day!

Secret Santa
One to save for next year as the registration has already closed, but it's essentially a worldwide Secret Santa. Sign up to Imgur, receive the details of your 'match', send off your present and receive one from someone else in return! The ever-growing website had a massive 33,623 entries this year, and users can post pictures of what they received on the website. A really fun and unique way to make someone's Christmas.
Shoeboxes
You'll probably recognise this one from school as Operation Christmas Child was created by Samaritan's Purse in 1990 and has been going strong ever since. The organisation sends shoeboxes filled with treats, toys, books and clothes off to less fortunate children all around the world. To make it even easier, you have the option of building a shoebox online. Pick a gender, and age bracket, an essentials pack which includes toiletries and school materials, a choice of big toys, small toys and some accessories. You can even include a short message and upload a picture of your choice.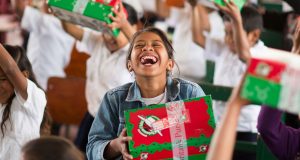 Animals
It's not just humans that enjoy Christmas, pets need some love too! Most independent animal shelters are always open to donations such as old blankets, toys and food during these cold winter months. While you're there, why not ask if you can volunteer for them? If you have time on your hands, spare a helping hand for our furry friends. It's not only super rewarding, but you'll make some friends for life.
Shopping
Charity shops are extremely underrated when it comes to Christmas presents. Often overlooked in favour of big-name chain stores whilst shopping for presents, the humble charity shop is a gold mine for hidden treasures. It's well worth a look when you stroll past on your way to the Christmas markets, and the money goes to charity, of course. You may not leave decked in diamonds, but spend a few minutes in the jewellery section and you might just find an absolute gem for a fraction of its cost. Not only are charity shops usually very fairly priced, but an amazing way to shop more sustainably and start taking steps towards a low waste lifestyle.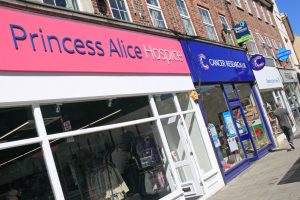 Toiletries
Stuck on what to buy the person who has everything? Toiletries and products are everyone's go-to, and something we all appreciate. Unfortunately, most toiletries are packaged in plastic, and more than 8 million tonnes of the stuff is dumped in our oceans every year. Online marketplace Wearth is the perfect place to find gifts for anyone and everyone, showcasing eco-friendly brands and products without the harmful packaging, like this unisex bamboo razor gift set and this set of three organic lip butter packaged in a tin. If you're looking to splash the cash on a big name brand, Jo Malone have this English pear and freesia solid perfume, and Diptyque Do Son solid perfume is the ultimate sustainable splurge.