Casa Amor returned this week, and boy did it deliver. Viewers always look forward to seeing whose heads get turned and who decides to stay with their partner back in the other villa.
It is without a doubt the best part of the show, and since Casa Amor's introduction in 2017, it keeps viewers on the edge of their seats as we shout at our screens and see heartbreak unfold before our eyes.
Before Casa Amor
The start of the week saw Jess and Mike snog after Mike's annoyingly persistent and cringe-worthy behaviour somehow won over this blonde bombshell.
Much to Luke M's disappointment, it seemed that Jess and Mike were now starting something.
Sophie and Wallace were also booted off the show by their fellow islanders after they found themselves in the bottom two with their partners Mike and Rebecca.
Seriously how long has this week been?
Casa Amor returns!
The boys were sent to the other villa, Casa Amor, while the girls were left behind in the main villa.
Soon after, the boys were joined by six stunning girls and the flirting and grafting began straight away.
In the main villa, the girls were met with six, well, pretty average guys (and Ched who is the size of a small house).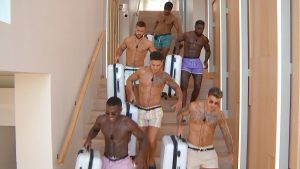 Challenges and games were played, which meant there was a lot of kissing, flirting and competitiveness.
The focus was on Callum who had been coupled up with the lovely but gobby Shaughna, but he did not seem to be thinking of her while sticking his tongue down new girl Molly's throat.
The main villa showed Shaughna's steadfast loyalty to Callum as she pined after him over the four days.
It was hard to watch knowing Shaughna was not interested in anybody else while Callum was spending all his time with Molly and telling the boys he felt "no sexual attraction" to Shaughna.
Reunited
The reunion was hard to watch as Demi and Shaughna were left heartbroken when they decided to stay in their couples, but Nas and Callum brought other girls back into the villa.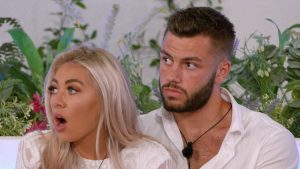 The best part was seeing viewers favourite couples Paige and Finn, and Siannese and Luke T reunite, which caused happy tears and sighs of relief within the villa and at home.
The aftermath
Friday night's episode saw the fallout from the recoupling as Shaughna cried, Paige was fuming, and Callum was scared.
Molly had to tell Callum to speak to Shaughna as the scaffolder seemed weary to talk to her.
I have no issue with Callum coupling up with Molly. But the problem is the way he fails to consider Shaughna's feelings. Why was Molly the one telling him to go speak to her? Is it so hard to know that you should immediately check in on the girl you just dumped? #loveisland

— Nola Thee Journalist (@NolaMarianna) February 7, 2020
Demi also spoke to Nas and wore her heart on her sleeve as she told him she was "gutted" that he chose to couple up with Casa Amor babe Eva.
Demi and Eva even had a civilised chat that saw both girls praise each other and speak freely about their feelings. More of this girl power in 2020, please!
The end of the episode left us on a cliffhanger as Molly and Shaughna were sent away from the villa to have a chat and clear the air… Roll on Sunday night!
Current couples 
Siânnise & Luke T – They seem to be Twitters favourite couple as they are both so smiley and cute. They are definitely relationship goals, and their reunion confirmed this.
Paige & Finn – Another audience favourite, it was hard to watch them apart, but everyone rejoiced when they reunited, and Finn said, "Thank f**k for that!" when he saw that Paige was single.
Rebecca & Jordan – Jordan seems to be Rebecca's type, and they bounce off each other well. Let's just hope he knows not to make her avocado on toast.
Jess & Ched – Jess had a hard time trying to choose between Scottish, tattooed Biggs or muscle-machine Ched. In the end, Jess went with the more confident out of the two and coupled up with Ched.
Luke M & Natalia – Luke M had a rough week after Jess dumped him for Mike, but he was not down for long as all six of the new girls admitted they fancied this Justin Bieber lookalike. Natalia seemed a good choice for Luke, but the preview for Sunday shows that she might be having doubts.
Mike & Priscilla –After grafting Jess for days, slimy Mike jumped ship as soon as he could and went for the beautiful Priscilla. The main villa was shocked to see Mike with another woman, but to quote Rebecca, of course, he was going to do it! Why are they shocked?
Nas & Eva – Nas was debating his connection with gorgeous red-head Demi but ultimately felt like him and self-confessed "Nicole Scherzinger lookalike" Eva were a better fit. I hope he has made the right choice as Nas and Demi were cute together.
Callum & Molly – Well, I think it is safe to say most of us knew that Callum would turn as soon as he got the chance. He immediately flirted with Molly, and everyone noticed how happy he was when he was around her. It is hard for Shaughna as it seems like Callum faked their whole relationship, but this is the best thing for both of them as Callum can be himself and Shaughna can go after a man, not a boy.
https://twitter.com/jean_mlondiwa/status/1225539983399931906
Who is single?
Demi –Even though one of the new boys, George, admitted that she was "mustard", she was loyal to Nas and did not pursue anyone else.
She was visibly hurt when seeing Nas walk in with Eva, but she composed herself and remained her usual bubbly self. I do not think this beauty will be single for very long.
Shaughna – I would not be surprised if she decides to leave the villa.
Despite her tough exterior and mouthy ways, Shaughna is a sensitive person and will be broken watching Callum and Molly play happy families.
It is unlikely that Shaughna will want to go after anyone else, but we may be surprised.
This week we also said goodbye to two girls from Casa Amor and Four boys from the main villa. This is not particularly sad as they had no air time and will be forgotten by Monday.
What will next week entail? Who will go home? Will two people come in and sweep Shaughna and Demi off of their feet? I hope so.