The untimely death of former presenter Caroline Flack has shocked Love Island fans. Tributes have poured in to commend Flack who took her own life on February 15.
Caroline Flack had presented Love Island since its first series in 2015 before stepping down for this year's Winter Love Island. She had also co-hosted The Xtra Factor and won Strictly Come Dancing in 2014.
Saturday's episode of Love Island: Unseen Bits and Sunday's episode were taken off air with tonight's show to feature a tribute to Flack.
— Love Island (@LoveIsland) February 16, 2020
Love Island narrator Iain Stirling who originated the show alongside Flack paid tribute to his friend with a touching social media post.
Today my friend slow motion walked into heaven. I will miss her always. Thank you for everything x
pic.twitter.com/gykAn9YE3U

— Iain Stirling (@IainDoesJokes) February 15, 2020
It is believed that the current Love Island contestants are yet to be informed about Caroline's death and while the UK continues to mourn, life in the Love Island villa resumes until the series draws to an end on February 23.
Week five was the penultimate week in the Love Island villa and with it brought all the entertainment that we were pining for… two relationship proposals, plenty of arguments, a new arrival, five shock dumpings and the fan-favourite newspaper headline challenge.
The Callum situation:
The week began with an anti-climactic resolution to Molly and Shaughna's conflict. The pair were sent away from the villa to chat and clear the air.
Shaughna revealed that she thought Callum had been leading her on before Casa Amor, but the girls managed to put their differences aside although the arguing didn't stop for the former couple.
Hideaway:
The islander's received a text to send one lucky couple to the hideaway, and of course, it only made sense to choose Siânnise and Luke T as their relationship is progressing.
The pair had a great night as Siânnise gave him a lap dance and allegedly got "naked".
Luke T's gentlemanly ways won the hearts of Love Island fans:
Siannise was literally dancing around in lingerie for Luke T and he still asked if he could touch her before he laid a finger on her. CONSENT IS THAT SIMPLE. WE STAN #LoveIsland

— Divya ॐ (@dudeitsdivya) February 9, 2020
Proposals:
Finley asked Paige to be his girlfriend after writing a passionate speech on his notes app on his mobile phone. A solid three out of ten on the romance scale.
As far as Love Island proposals go, it wasn't a patch on Luke T's relationship proposal to Siânnise which might be crowned as the most romantic of all of Love Island history.
Luke T asking Siânnise to be his girlfriend is like something out of a fairytale… literally 👑💖 #LoveIsland pic.twitter.com/sPsC2AVUDK

— Love Island (@LoveIsland) February 15, 2020
10/10 on the romance scale.
Dumpings:
After Paige and Finn made it official, viewers got to vote for their favourite couple. The two with the fewest votes were dumped from the villa.
Rebecca and Jordan received the least amount of votes along with playful Nas and Eva. It was saddening to see Nas' big personality leave the villa, but perhaps, it was karma for leaving Demi solo after Casa Amor.
New Arrival
Newcomer Jamie chose to take singletons Demi and Shaughna on dates. He particularly got on well with Demi who flirted with him over their date and left wanting to get to know him more.
The tattooed 28-year-old was adamant to pull Callum aside to lecture him about how badly he handled his situation with Shaughna. I can smell a gameplayer… I'm adamant this was to win over the audience.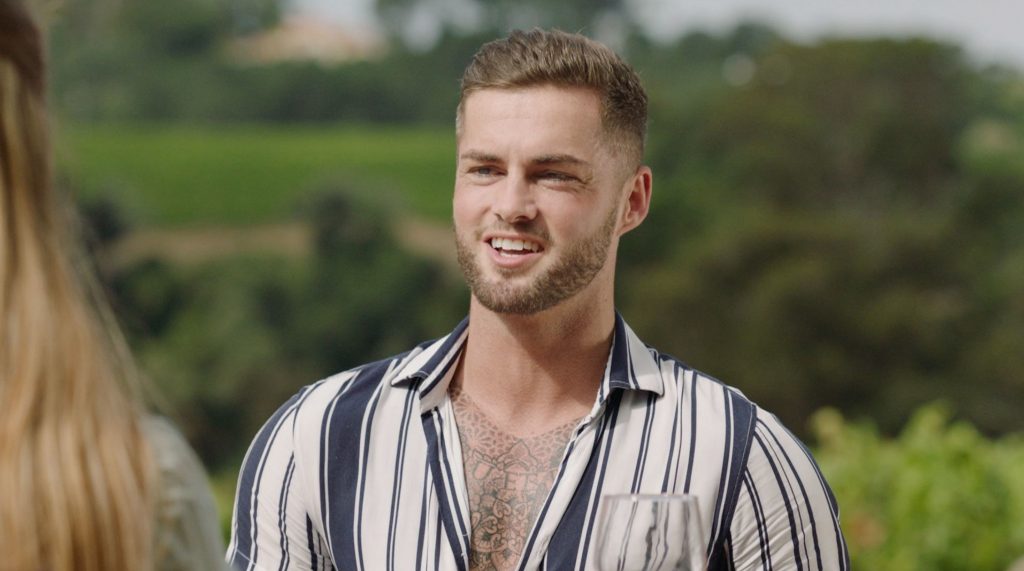 Shaughna's shocking secret:
Shaughna let the cat out of the bag and told Luke M that she fancied him even though he's getting to know Demi.
She did respect the 'girl code' though and told Demi first before pulling Luke for a chat.
Siânnise's reaction sums up every Love Island fan:
Same siannese #LoveIsland pic.twitter.com/JMKw8vzX70

— Georgia (@georgtolch) February 13, 2020
The headline challenge:
Paige came to blows with Finn as the public's favourite headline challenge revealed that Finn's head was set to turn in Casa Amor. We know that Finn was respectful to Paige, so we're not too sure where that headline came from… *cough* producers.
Luke T was in Siânnise's bad books as it was leaked that he told the boys that she got naked in the hideaway. Think before you speak, Luke.
Current couples:
It was time for another recoupling on Friday night. It was the fella's choice to pick the girl and whoever wasn't picked was dumped from the island.
Paige & Finley: It was the first recoupling as an official couple and Finn's speech about his excitement to meet Paige's family and her wee dog Kevin even brought a tear to my eye. No wonder Paige couldn't help but cry.
Siânnise & Luke T: Despite their little hiccup this week following the headline challenge, it's a wholesome journey watching their relationship progress.
Jess & Ched: Their relationship is beginning to thrive, especially after their date seeing the penguins. He hopes to get the seal of approval from Jess' twin, Eve.
Demi & Luke M: Luke M had a difficult decision to make – does he pursue Demi or get to know Shaughna better after her revelation? He chose to couple up with Demi, and I'm excited to see where their relationship might head. After all, Shaughna's bombshell did seem a little forced.
Molly & Callum: Callum chose to couple up with his Casa Amor sweetheart, Molly. It's fair to say that he does seem happier with Molly.
Mike & Priscilla: His loyalty was doubted as Priscilla was unsure whether Mike was playing a game. Despite Priscilla being the third girl he's been interested in, they do seem well-matched together.
Natalia & Jamie: After Natalia got the 'ick' for Luke M, she told Jamie that she would like to be chosen by him in the recoupling. He told her that she was ballsy, but it worked in her favour.
This series' superstar Shaughna was the unlucky islander who wasn't chosen in the recoupling and was sent packing her bags. We imagine Sean Paul isn't too happy after he named her as his favourite contestant.