If you're looking for a less impressive Suicide Squad and a less funny Deadpool, then xXx: Return of Xander Cage is the movie for you. If xXx was a contender on Britain's Got Talent, it would do as well as its name implies: three Xs.
Director D.J. Caruso, known for his films Disturbia and I Am Number Four, took over the xXx franchise after a 12 year gap between the second and third films that was so long that actors and even the original director, Rob Cohen, dropped out.
Agent Augustus Gibbons (Samuel L. Jackson) summarises the entire plot when he says: "Kick some ass, get the girl and try to look dope while you do it."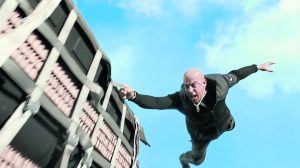 Xander Cage (Vin Diesel) is a part of the US government-run extreme sports programme Triple X and brings along a ragtag team including sniper Adele Wolff (Ruby Rose), stunt driver Tennyson (Rory McCann) and DJ "Nicks" (Kris Wu) on a search for a satellite-destroying weapon called Pandora's Box.
Vin Diesel continues to be typecast in his roles as the overly masculine, extreme sport star with the cheesiest one-liners in cinematic history. His comments often make the viewers cringe, especially when he casually drops lines like 'the things I do for my country' after an unnecessary orgy scene.
The film is saved by its culturally diverse casting including Donnie Yen, Deepika Padukone, Ruby Rose and Kris Wu. Although their characters were never fully developed, each of them had a scene where they got to shine and show off their skills.
The movie is bolstered by a set of strong female characters like the socially awkward Nina Dobrev and CIA agent Toni Collette. Alongside badass sharpshooters Ruby Rose and Deepika Padukone, the women in xXx show a whole new meaning of the term girl power.
Adrenaline junkies will get a fix from this film as it has gratuitous, slow-motion skateboarding, jungle skiing and motorcycle-waterskiing scenes. Unfortunately for them, however, most of Xander Cage's stunts are wildly unrealistic to the point of laughter.
Chinese-born actor and rapper Kris Wu was impressive in his first English-speaking film. Keen fans of his career will notice that the script makes a less-than-subtle allusion to his past as a member of the South Korean-Chinese boyband EXO by having his character test a secret weapon named the 'exo glove'.
Overall xXx: Return of Xander Cage is not good nor bad, not fantastic nor terrible, but in a year full of upcoming movies with high expectations, Xander Cage just can't stick the landing.