Students eagerly queued outside Kingston's Bentall Centre Tuesday evening awaiting party-like atmosphere in the shopping centre.
However various stores, such as Zara, were open during the event but did not offer discounts. Many students were remarking on the stores lack of participation.
Ashwin Bhandari, a third year student at Kingston University, said: "The music was unnecessarily blaring, no one wanted to visit the silent disco, and it was poorly promoted. Whilst some discounts were decent, more shops should have been open – it was falsely advertised."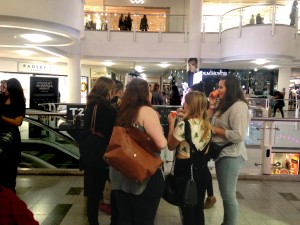 Students getting a tea sample from T2
The evening began at 6pm and ended at 9pm, offering a range of freebies and discounts in a number of stores.
House music pumped through the speakers creating a club-like mood. Promoters from Pryzm also attended the event, offering silent-disco on the bottom floor, to promote upcoming events at the nightclub.
Students felt the discount was nothing out of the ordinary, and had hoped for something more than the usual discounts they can find on a daily basis at various stores throughout Kingston.
A first year student at Kingston University, Aleigha Turner, said: "We got 20 per cent off which was a reasonable amount, but a bit more would have been nice."
The non-existent discounts were not the only let down of the night. A large majority of the shops were not open at all – including Bentalls as a department store.
Many left the lock in empty handed with only their thirst quenched, from the free tea and smoothie samples.