Spotlight came out of nowhere for many pundits, upsetting many Oscars predictions and buckling former Best Picture-favourite The Revenant's chances at a sweep.
Spotlight tells the true tale of the Boston Globe journalists' investigation into the child abuse of 90 Catholic priests in the Boston area. Meeting in Claridges' hotel in London last week, stars Michael Keaton and Mark Ruffalo sat down with director Tom McCarthy and the real-life subjects of the film itself, journalists Walter 'Robby' Robinson, and Mike Rezendes, to discuss one of the most horrific instituitionalised cover-ups of the 21st Century, and the experience of someone wanting to see their lives recreated on film.
"Our first reaction was disbelief," Robinson – who is portrayed by Michael Keaton in the movie – admitted, on his first meeting with Spotlight's creative team.
"It never occurred to us that anyone would find it interesting to know how we made the sausage, how the reporters did their work."
Mike Rezendes, played by Mark Ruffalo in Spotlight, agreed: "Listen, this was a roll of the dice, it is a risk. A story like this can go wrong six ways to Sunday."
"We were persuaded there was a story there," Robinson continued. "And over time we came to realise that Tom McCarthy and Josh Singer (screenwriter), once they got into the story, did so much of their own original reporting, that they were determined to tell the story almost precisely as it occurred."
For McCarthy, the production has been a labour of love. Having spent two-and-a-half years researching, writing, shooting and editing, for him there was never any other way than involving the men who lived through the experience, and broke the story: "From our first sit-down, I think it's important to note that there was no source material per se on the investigation," he said.
"We had to conduct our own series of interviews and research to try to unearth this investigation that occurred 12 years prior, for the most part."
"It was so compelling, immediately compelling."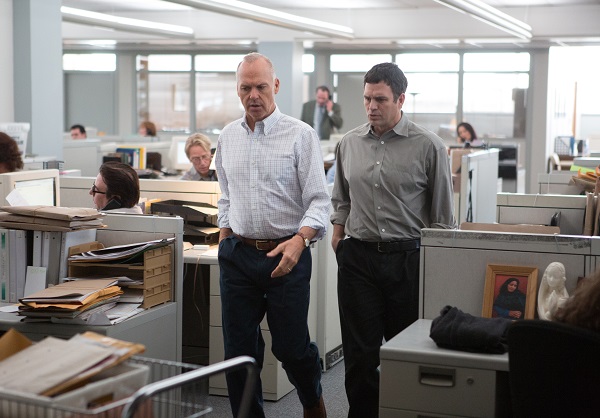 Meanwhile, actor Michael Keaton has had something of a defining career resurgence since 2014's Alejandro G. Iñárritu's Birdman. Previously stuck in a limbo of TV roles and voice-over gigs, the former-Batman has now returned to the limelight with a Best Actor gong and a penchant for hard-hitting dramas. With Spotlight his sophomoric acting effort since then, there is plenty riding on the role, though you couldn't tell from Keaton's nonchalant attitude, as he forgoes the traditional actor's mentality.
"We start to sound what people used to call 'highfalutin'," Keaton explained, "We start to speak from on high, like 'Oh, aren't we fabulous people because we did this?' But the fabulous people are the people from the Boston Globe who did this. I'm an actor, y'know?"
For Keaton, a former Catholic altar boy, the real struggle was in honoring his devout-mother's memory whilst still doing justice to the victims of the real life cases.
"My mom was about as devout a Catholic as there is, you know. And I think of what that would have done to her. To crush someone's faith, that's a whole different level."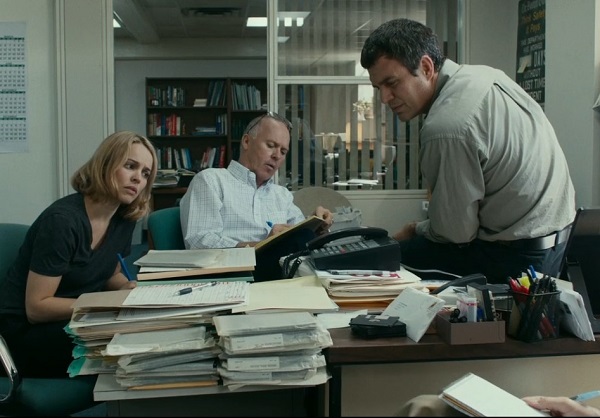 An understated and quiet presence, Mark Ruffalo measures his words carefully, wary of the studio system's tendency for shying away from such difficult topics: "I'm in the entertainment business, and we get to make different kinds of movies. Some are just purely for entertainment, and then sometimes you make a movie that pushes the culture to a particular place. That sort of happens from the culture as well. I read the script and I immediately felt 'this is a story we've heard, but it's time to revisit it again, and we have this new Pope, and there's a space open for this to really resonate in the world."
For the reporters of the Boston Globe, the very nature of their investigation, and the investigation that forms the lion's share of Spotlight's focus, has done its damage. Their impact on the culture is, especially in the majority-Catholic Boston, immeasurable. But their own views of the Church are forever tarred thanks to the hundreds of cases they uncovered.
"It was always about how to keep it quiet," Robinson seethed, "There was never, ever, ever a mention made, in any [Church] document, about what had happened to the children, "And that just blew me away. That the Catholic would enable this behaviour, cover it up, and not give a damn about a single one of the thousands of children."
In Keaton's mind, though, Spotlight isn't about one religion or another. It isn't about, attacking the Catholic Church, but instead the nature of widespread abuse by those in power: "It's about institutions; about people who take power, seize power, and use that power to take advantage of the disenfranchised and the powerless, "I'm not trying to beat up the Catholic Church," Keaton concluded.
"I still drop in, light a candle for my mom, meditate in a Catholic Church. It's familiar territory, it's kinda home-field. That's about as far as it goes for me though. But I'm not gonna beat it up. I'm gonna beat up the institution."