"Superficial, girly, emotional and two-faced" – that is how Sophie Yip would describe her character Candy which she plays in hit TVB sitcom Come Home Love: Lo and Behold, a Chinese must-see watched by millions of viewers every week.
However, her real personality is far from that.
From acting, travelling the world, carrying out charity work for children with cleft lip and palates, to looking after her kitten Cotton, no day looks the same for this 27-year-old actress and former KU student.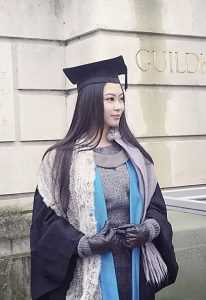 Her days of assignments and deadlines may be over, but her weeks are still jam-packed.
"I think my life is more hectic now," she says.
With episodes being filmed back to back, she admits: "Sometimes you have no time to rest. I once went 32 hours with no sleep filming three dramas at the same time."
Yip was awarded a fashion design BA by Kingston University in 2016, although her course was taught at Cambridge School of Visual & Performing Arts.
A year later, she got the role of Candy. She earned her way on set by enthusiastically studying her peers.
She says: "With no drama degree or skillset before entering the industry, I knew I would have to catch up as quickly as possible.
"I went to visit an actor friend of mine, Andrea So, who already had a role in the sitcom. I watched her every day and took notes.
"A director saw me and thought I was hardworking and passionate, so he offered me the role of Candy, who is So's friend in the sitcom."
Although she studied fashion design, she learnt to express herself through the arts as well.
"Both fashion design and acting, which is my job now, require me to tap into something deep within emotions, memories and my experiences."
But it was a career she least expected. Back in high school in Hong Kong, creative subjects were not nurtured so instead she had to focus on sciences and humanities, although she did have the opportunity to study textiles and fine art which prompted her to apply for an art foundation degree in the UK.
After graduating from Kingston in 2016, she said there were not many design jobs on her return to Hong Kong: "I tried to apply and was unsuccessful. I actually thought about starting my own brand, but I decided it was not a suitable approach, so I worked in a merchandising and fabric sourcing company.
"That is when I realised the reality is so different from university life."
Students often have great ambitions beyond their degree, and so it may be challenging to finish their studies when they no longer care for it.
But she says: "I don't recommend people to study something they are not into, but I respect their choices. If I were in their situation, I might pick another subject and start over."
She enjoyed university life but says she wanted to do something more "challenging", which is why she chose to pursue an acting career.
Her advice for art students in particular: "For art students who don't know which particular subject to pick, I suggest they do an art foundation degree."
However, she recognises that it is not that simple, and when it came to support, she faced some opposition.
"At first, my parents were not supportive. But they are happy for me now because they can see my love and passion for my career."
Yip found inspiration by experimenting with the things she loves but recognises that it is not as straightforward for everyone.
She says: "I know a lot of graduates struggle to find the path they want before or after their degree."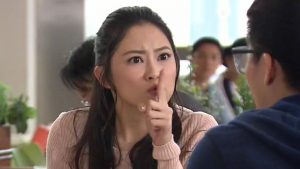 She advises parents to allow their children to try out different activities to help them figure out their future and encourage students to join societies at university: "I was a member of the A cappella group at Cambridge University, and I have participated in a Chinese society singing competition when I was studying in the UK," she says.
When it comes to the next steps, Yip is always ready to try new things.
"I believe there are a lot of opportunities waiting for me to explore, so I am up for all challenges," she says. "I love what I am doing, and I am having fun – that is what's most important."
She does not like to think of her debut into acting as "luck". She stands by the fact that she "focuses on herself" and gives her "best" every time.
Hopefully Hollywood might be next for the ambitious actress.