A Kingston University student commemorated the Jewish oppression during World War Two by designing chemical etchings inspired by Jewish artist and victim of the Holocaust, Charlotte Salomon.
Rosy-May Schofield, an illustration/animation student at Kingston University, recreated one of Charlotte Salomon's famous paintings displayed in her dramatised autobiography, Life? Or Theatre? In which she describes, through a series of gouaches, her life in hiding from Nazi oppressors.
Schofield said: "I wanted to do an artwork that would commemorate the Holocaust, which is why I used Solomon's works as a reference because she was Jewish and died during this tragic event."
The art student, who has Jewish ancestry, came up with the idea after attending an exhibition about Salomon's life at the Jewish Museum in London last year. The event featured over 200 small gouaches representing the late artist's complicated family life, the rise of the Nazis and her exile to France.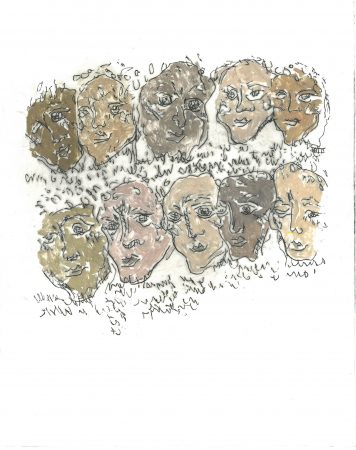 As well as being a full-time student, Rosy is also a student equality consultant whose task it is to help university staff with research on a variety of different topics and events such as LGBT History Month and Black History Month.
Tasked to work on one of the many case studies offered to her, she chose the Holocaust Memorial Day case study.
She said: "It's always been part of my life because my grandfather escaped Nazi Germany as a German Jew when he was six years old. Just in general with my Jewish history, it affects me a lot to hear about concentration camps, the showers and the atrocities all these people had to go through."
The etchings represent people in Salomon's life who have suffered Nazi oppression including Salomon herself, who later died in a concentration camp with her unborn child.
Being an art student who specialises in making autobiographical work, like Salomon, Rosy found it easy to relate to the Jewish artist when designing her etching.
"It's really good when you find allies who validate the work you're making because they do the same work you do, and that gives a purpose to it," Rosy said.
One day, Rosy would like to display her work in a venue such as the Jewish Museum in London, which recently retweeted the student's artwork on their main page.
She said: "It made me feel good but I wouldn't want my break to be about the exploitation of my family's trauma."
You can find all of Rosy's artworks on her Instagram page @rosymayschofield.