This past year has been incredible for film with amazing pieces of art of all genres being produced such as The Irishman, 1917, Jojo Rabbit, Parasite, Little Women and Us. While all of these movies were genuinely brilliant and deserve the praise they are receiving, it's now time to turn our attention towards the new films of 202. It seems like this is going to be another strong year for cinema with many exciting movies to look forward to. Here are seven movies that you should watch in 2020.
The Invisible Man (February 28, 2020)
Universal's attempt to launch the Dark Universe series with the rebooted The Mummy crashed and burned. But that doesn't mean we can't be excited for the next classic horror movie reboot The Invisible Man. With Elizabeth Moss starring in the lead of the much anticipated film, the story follows a woman being haunted by an invisible foe only she seems to believe is there. Moss's character slowly unravels as she is driven deeper and deeper into madness by this concealed villain in a movie that even those who hate horror films can enjoy. You can expect to see the film hit the big screens in February.
Soul (June 19, 2020)
Soul is the second PIXAR/Disney movie to be released this year. Featuring Jaime Foxx, the animated film has an Inside Out feel about it. The movie tells the story of a middle-school music teacher that dreams of playing at the legendary New York jazz club The Blue Note. This animated feature looks to explore what makes you…you. The movie will take you on a journey from the streets of New York to the never-before-seen cosmic realm. Soul has the potential to be the feel-good film of the year, and will be released in June.
A Quiet Place Part II (March 20, 2020)
In 2018 John Krasinski, most famous for his role on comedy show The Office, made his directorial debut in the biggest horror movie of the year. A Quiet Place was a completely different film experience than anything anyone was used to and shows how vital the use of sound is to a film. Following the success of the first instalment, Krasinski is back directing while his off-screen as well an on-screen wife Emily Blunt is reprising her role. The audience will finally get to see what happens to the family after the events of the first film left viewers demanding more. Joining the cast for the sequel is Peaky Blinders star, Cillian Murphy. Get ready for the viewing  experience of a lifetime this March. 
In The Heights (August 7, 2020)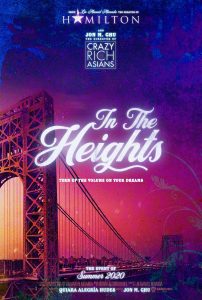 Bonafide musical of the year, the Tony Award-winning In The Heights hits the big screens for the first time in August. Before the creation of the hit musical sensation Hamilton, Lin Manuel Miranda was best known for his breathtaking work creating In The Heights stage play and knowing that the man is a genius in so many ways makes this a movie you cannot afford to miss. Set over three days, the story follows characters in a mostly Hispanic-American neighbourhood of Washington Heights in New York City. 
Black Widow (May 1, 2020)
This past year has been an incredible year for Scarlett Johansson with strong performances in Avengers: Endgame, Marriage Story and Jojo Rabbit – the latter two resulting in several leading and supporting actress nominations during this award season. Still, if you think she's going anywhere, then you are dead wrong. In May, Johansson gets to star front and centre in the highly anticipated Black Widow Marvel film which will explore the mysterious history of the feared assassin. She is done running from her past. Alongside Johansson is the incredibly talented British duo Florence Pugh and Rachel Weisz as well as Stranger Things star David Harbour, making this one of the most anticipated films of the year.
Tenet (July 17, 2020)
Since the start of the 21st century, there haven't been many directors as highly regarded among fans and critics as Christopher Nolan with films such as The Dark Knight, Inception, Interstellar and Dunkirk. Nolan is back with an all-star cast including John David Washington (Blackkklansman), Robert Pattinson (The Lighthouse), Michael Caine and Kenneth Branagh. Like many of his films, we can already tell it'll be a cinematic masterpiece on par with Inception and Interstellar. Not much is known about the plot yet but what we do know is that it's an action-thriller revolving around international espionage, time-travel and will be released in July.
No Time To Die (April 3, 2020)
The final ride for Daniel Craig as James Bond is set to hit screens in April with the 14-year-long story that started with Casino Royale in 2006 set to reach its ultimate climax with the 25th Bond movie. Considered by many as the greatest actor to play the legendary 007 agent, Craig is joined on his last ride by returning cast members Ralph Fiennes, Naomi Harris, Ben Whinshaw, Christoph Waltz, Jeffrey Wright and Léa Seydoux. Newcomers Ana de Armas, Lashana Lynch and Academy Award-winning actor Rami Malek will also make appearances. Craig's final James Bond film is something you just can't miss.
Honourable Mentions
But because there are countless movies to keep an eye out for this year we've decided to list a few honourable mentions; Wonder Woman, 1984, Mulan and Last Night in Soho. Get watching, Kingston.