Northern Irish rock band Snow Patrol have reworked 13 tracks into a new album released on November 8 with the same title, with three new bonus tracks.
Reworked contains classics from the band's third to seventh albums and is a tribute to their 25-year career.
Die-hard fans will appreciate the intimacy of this album as tracks from 'Eyes Open' like 'Open your Eyes' and 'Chasing Cars' are reinvented with softer instruments whilst still managing to sound like emotional ballads.
It's appropriate that the band are now touring and performing the new album, as it is great promo for it and allows fans to embrace this new chapter for the band.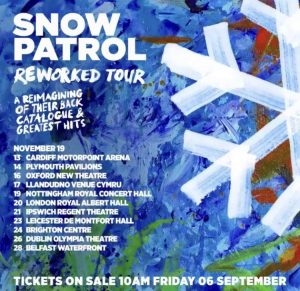 The opening track, Take Back The City, begins with a soft piano which sets the tone for the album. This piece is refreshingly consistent even for a reinvented album.
New tracks, include Time Won't Go Slowly, Made of Something Different Now and I Think Of Home. Time Won't Go Slowly is the first of three new tracks that open on a refreshing upbeat piano with connotations of a dreamy atmosphere. It is one of my favourites on the album, managing to stand out despite being a simple wistful track of time passing by.
Then there is electronic separation anthem, Made of Something Different Now which is a heartfelt track carried by Garry Lightbody's emotional vocals.
Thirdly, I Think Of Home is a similarly expressive track that is a nostalgic trip back to Lightbody's childhood in Ireland. I am biased when I admit that I Think Of Home is the standout track, purely because it is so raw and beautiful and doesn't need fancy production or lyrics for the message to be received.
That being said, I do have some critiques regarding the album, starting with Run. Run. For goodness sake, how could they butcher Run? The classic comes from the band's third album 'Final Straw' and is one of their most well-known hits, having spawned countless covers in the sixteen years since it has been out.
Lightbody has an exceptional vocal talent which displayed on the original of 'Run', but in this new version, his voice is heavily distorted and is displeasing to the ears.
Additionally, I'm not a fan of the weird new electronic sound that this album has going on for tracks such as 'Set Fire to The Third Bar' and 'Called Out In The Dark'. If you enjoy that genre, it's something you may want to listen to, but if you're an avid fan of the original tracks, maybe give this album a miss.
Whether you enjoy the funky electronic sound that is introduced, it's a commendable thing to revamp thirteen tracks from four different albums.
Regardless of my opinion, I think newcomers to the band may enjoy this album if you're looking to experiment and listen to new and evolving bands.
3/5 stars.