Good afternoon KU community, welcome to our live blog! Today we will be focusing on Black History Month, covering a range of interesting topics and news to educate and inspire.
Stayed tuned for updates.
Goodbye from The River team

We are logging off. A big thank you to everyone who joined in on today's celebration of Black History Month. We hope you all learned something along the way and were inspired to keep celebrating and staying educated about Black history.

See you soon.

Five books you must read this Black History Month

Literature has always been a way for prominent black figures within history to express themselves and allow the world to experience the joy and brutality many black people have experienced. Words have always been a powerful tool for black people to fight against systematic racism and oppression. Novels stemming back to 18th century continue to educate generations to come and narrate beautiful stories about the way black people have lived, loved and survived. As we enter Black History Month, we have put together an essential list of books you must-read this month. Hope you enjoy.

Photo: Thought Catalog / Unsplash

KU students question whether the university is doing enough for Black History Month

By Davina Jethwa

Students were quick to notice the absence of information about Black History Month in the Town House library.

The only items currently on display are a single art piece hanging and suggested books on a table.

A KU student, who wishes to remain anonymous said: "I must admit I have not seen a lot going on. In the library I have just seen some inspirational books, so they are definitely feeding the absence of this."

Throughout the next few weeks, the University has events planned such as a market display in Not My Beautiful House, an LGBT+ poetry panel, and several empowerment talks.

These events have been advertised on the Kingston Students Union's Instagram page and under the Black History Month subsection on the University's website.

Another student that wishes to remain anonymous called the university's efforts "decorations" and felt that "Kingston should definitely be doing more for Black History Month because there is nothing. They do not seem very invested."

To overcome what they saw as performance activism from the University, one student believes that the better approach is to "get their [Black students] own thoughts and experiences on it."

Black History Month books displayed in the Town House. Photo: Elijah Cruz

Black History Month: How are you celebrating it?

What does Black History Month mean to you? Do you celebrate it with your family? Are you attending any of the Student Union events? Is Black history something you are celebrating year-round? In this video, KU students discuss how they make the most of this significant month.

Celebrating Kingston's Black excellence

By Emily Kimber

Kingston University graduate, Asha Philip, is one of the most successful female athletes in British history. Having become the first British woman to achieve a global 100m title in 2007, Philip went on to win bronze at both the Rio and Tokyo Olympic Games as part of Team GB's sprint relay team. 

Born in Leyton, east London, Philip graduated from KU in 2012 with a BA in Drama, but it was the running track that became her stage. 

The former world junior mini-trampoline champion switched paths and found success on the track, going on to win multiple medals on the world stage including at the Glasgow 2014 Commonwealth Games. 

Team GB's sprint relay team at the Tokyo Olympic Games.
Photo: Dave Shopland on Shutterstock.

Top five artists to listen to this Black History Month

October is most commonly known as spooky season, but did you know that it is also Black History Month? A month that was proposed by Black educators in 1969. It is a time where we can celebrate and understand the trials,  tribulations and triumphs of Black heritage and culture. A time where we can come together and not only remember Black history but commemorate Black achievement. One way we can do that is by listening to some of our favourite musical artists.

Lizzo performs at Global Citizen Live in Central Park, in New York
2021 Global Citizen Live Photo: Evan Agostini/Invision/AP/Shutterstock

Kingston Green Party call for removal of statue "honouring a slave trader"

By Evie Barrett

Kingston and Surbiton Green Party has announced its opposition to the Queen Anne statue in Kingston town centre.

The party tweeted on Friday, asking: "Why does the borough continue to honour a slave trader who had little or no connection to the borough?"

The gilded statue of Queen Anne, found in Kingston Market Place, was built in 1706, and has stood on the former town hall ever since. 

Queen Anne, who reigned between 1702 and 1707, publicly supported the British slave trade, and arranged for Britain to provide enslaved Africans to the Spanish West Indies for 30 years, according to the National Portrait Gallery.

The campaign, started by one of the party's councillors, Sharron Sumner, has been running for more than a year, but has gained more traction in light of the Black History Month.

"It also involves the Queen Anne Suite too, which is part of the Guildhall and an important room within it," said a representative from the Kingston and Surbiton Green Party.

Statue of Queen Anne in Kingston Market Place. Photo: Evie Barrett.

Learn about diversity with KU's new Student Inclusion Module

The Student Inclusion Module was launched on Canvas this week to educate Kingston University students on equality, diversity and inclusion.

The key takeaways of the module are "embrace uniqueness and promote inclusion with your thoughts, words and actions," according to the module round up page.

Student Inclusion Module on laptop and phone. Photo: Georgia McJannett-Smith

Podcast: cultural appropriation in music and social media

For this week's episode of The River podcast, we are exploring a topic that is very important to many Black students. Cultural appropriation has recently gathered a lot of interest on social media and in the press, with the release of a new music video by Jessy Nelson. Follow the link to hear Chris speak with: Naomi, Madichi, Eleanor, Davina and Jamelia. Enjoy the podcast and please comment down below your thoughts.

Credit: Austin Distel

Comment: Toni Tone is right, Black voices need to be heard on more topics than just racism

In the midst of the celebration that is Black History month, it is important to not forget that there is still a long road ahead for true equality to be achieved.

Actress Toni Tone, one of the stars of the UK's first all-Black reality show, Channel 4's Highlife, told BBC Newsbeat: "There's so much black people are experiencing beyond racism." Rightfully criticising the levels of representation for Black voices and stories on British Television.

Toni Tone at a film premier earlier this year. Photo: James Gillham on Shutterstock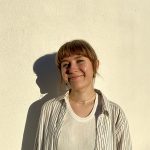 Nora Marie Vatland | Editor | she/her
My main interests include slow and investigative journalism, sustainability and plant-based cooking.