SOPHIE, the transgender Grammy-nominated pop musician and producer, has died tragically in Athens after a sudden accident at the young age of 34.
The Glasgow born artist Sophie Xeon, otherwise known by her stage name SOPHIE, worked with artists such as Madonna, Charli XCX, Lady Gaga and Kim Petras.
In a statement, SOPHIE's management said the musician had died at around four in the morning on Saturday following an accident.
A further statement from SOPHIE's record label said, "True to her spirituality she had climbed up to watch the full moon and slipped and fell," they posted online. "She will always be here with us."
SOPHIE's innovative productions drew on pop, trance and underground dance music influences, mixing them to create warped and disorientating waveforms that were instantly recognisable as theirs.
Madonna sought SOPHIE out to co-produce the 2015 single Bitch, I'm Madonna, and Charli XCX worked with the musician on her EP Vroom Vroom and the hit single After The Afterparty.
Their debut album: Oil of Every Pearl's Un-Insides explored questions of identity, non-conformity and reinvention, the video for It's Okay To Cry affirmed the pop sensation's gender identity as they had previously never featured their own face in music videos or when performing.
In a review of the album by NME, it was said the artist was "Crossing boundaries of pop music and chasing transcendence, Sophie achieves the rare feat of making abstract, difficult electronic music that hits you straight in the heart."
The album was nominated for a Grammy for best dance/electronic album. SOPHIE was also awarded the Innovator Gong at the Association of Independent Music Awards.
They used the platform to speak up for transgender rights, "To be truly deserving of this award involved not only changing the sound of today's music, but also ripping apart a deeply entrenched and deeply flawed patriarchal society," SOPHIE said while collecting the award, "Creating a more diverse, inspiring and meaningful future for us and the generations whose lives our decisions affect and help shape."
SOPHIE was a musician who redefined what pop and electronic music can be while helping countless people around the world to discover their own identities.
In an interview with Rolling Stone the artist said, "I think all pop music should be about who can make the loudest, brightest thing," and that's exactly what SOPHIE did.
SOPHIE's creations inspired an entire generation of LGBT+ artists and were key in shaping hyper-pop, now influencing hip hop artists like Playboi Carti and FUTURE.
SOPHIE gave power and a voice to the transgender community. They captured what it felt like to be trans in the music they created, their videos and the lyrics they wrote.
It is truly a sad time for the transgender community as they take to social media to express their grief, founder of London queer club night, WIMP, Xoey Fourr posted on her story: "We've lost another iconic artist, RIP angel you changed the landscape of modern music, were a trailblazer for Queer Trans+ magic and your productions filled our basements and sweaty rooms with complete and utter joy."
She carried on, "You will be missed dearly thank you for changing the world for better."
SOPHIE will be missed heavily by the LGBT+ community and many in the music world. No one will ever be able to replace them but they paved the way for thousands more transgender and queer youth wanting to make life-changing music and live their true life.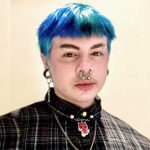 Transgender queer freelance journalist studying at Kingston University.
I am passionate about feature writing and fashion journalism.
Contact me directly for story ideas or if you have your own story to tell at tylaconnor98@gmail.com