Halloween is just around the corner, and as usual there's a whole bunch of spooky events going on in Kingston. If the choice has simply become too overwhelming then fear not, for we've handpicked the best of the bunch for the upcoming week…
Monday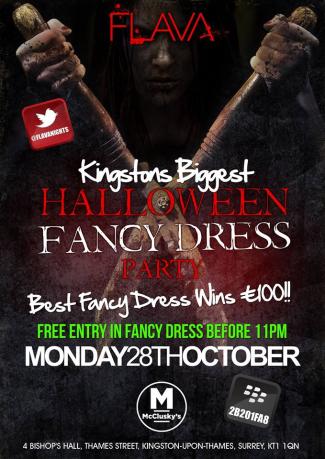 Flava at McCluskys has been transformed into a 'scary yet funky' venue for the night. Fancy dress is optional and they are giving away 1000 free shots. A competition will be going all night for the person in the best fancy dress and the winner will receive £100. It's also free entry for those that get down there in fancy dress before 11pm.
Go onto the events page to get guest list:
https://www.facebook.com/events/221702267998656/?ref_dashboard_filter=upcoming
Tuesday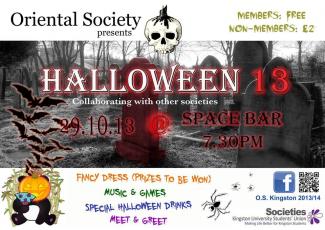 Kingston Uni Space Bar is the venue of a society collaboration, The Oriental Society on Tuesday night. This night is called Halloween XIII.
Fancy dress is a given with it being a Halloween event, and there will be prizes given to those in the best outfits.
It's also free entry for society members and £2 for non-members.
Go onto the events page to find out more information and the location of the after party.
https://www.facebook.com/events/751538638205316/?ref_dashboard_filter=upcoming&suggestsessionid=f62bc5b49ae0bd09567286a3dbdc8bca
Wednesday

Grooveline at Amagi brings to you once again, 'The Monsters Ball.' KUSS and Grooveline have come together to bring you a Halloween to remember. There is not much that has been given away about this night so if you want to know more, then get yourselves down to Amagi on Wednesday.
Go onto the events page for guest list:
https://www.facebook.com/events/466689530111111/?ref_newsfeed_story_type=regular
Thursday, HALLOWEEN NIGHT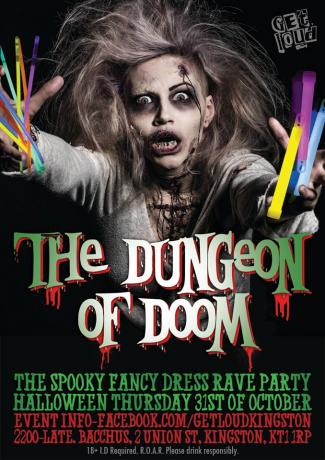 Get loud at Bacchus nightclub in Kingston presents to you 'The Dungeon of Doom'. This is not the usual Thursday night at Bacchus; it's Get Loud's first Halloween so the club is going all out to make it the best Halloween night in Kingston.
The club will be transformed into a spooky dungeon, you will hardly be able to recognise it from the inside. There will be pumpkins, ghosts, cobwebs, UV lighting, glow sticks and so much more. Get Loud also has a few surprises in store and are determined not to give any away before the night. So if you want to know what they are planning you are going to have to attend the event!
Not only will you be partying in a creepy dungeon with surprises lined up, 'The Dungeon of Doom' has been granted an extended license especially for this event so you can party until 4am!
Get Loud describes the music as 'Crunk & Bass', this will be a mix of hiphop, trap, grime, dubstep and drum'n'bass.
Doors open at 10pm, £2 entry if you are in fancy dress before 11pm, and £3 after.
Pint of Carlsberg Lager £2.80, House spirits £2.95 with mixer. 4 shots for £10.
Go onto the events page for guest list:
https://www.facebook.com/events/250073145142311/?ref_dashboard_filter=upcoming